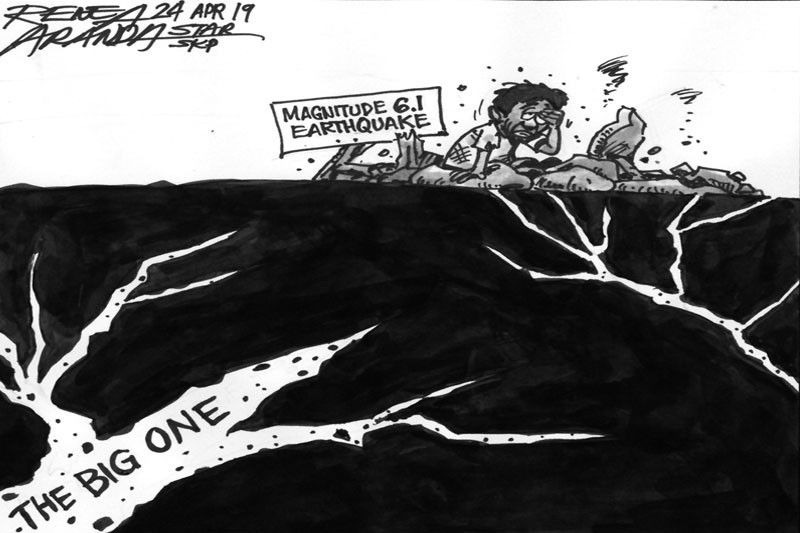 EDITORIAL - A wakeup call
(The Philippine Star) - April 24, 2019 - 12:00am
It wasn't the big one, seismologists stressed, after a strong earthquake rocked parts of Luzon including Metro Manila the other day. Yet the magnitude 6.1 quake caused a four-story supermarket in Porac, Pampanga to collapse and forced the shutdown of the Clark International Airport in Angeles City. Bridges and roads that showed cracks were temporarily closed.
In Metro Manila, several buildings tilted dangerously and may have to be abandoned until their structural integrity has been restored. Other buildings developed cracks. Light railway services were suspended. Power outages hit the affected areas and some telecommunications services were disrupted.
As of last night, the death toll from the Luzon quake had risen to 15, with scores of workers still missing at the collapsed Chuzon supermarket in Porac. Rescue operations continued, but digging through the rubble of a multistory building for survivors requires special equipment and cannot be rushed.
This is just a four-story structure. What happens if skyscrapers collapse? A fire raged at the Petron fuel refinery in Limay, Bataan beginning late Monday afternoon, although the company claimed it had nothing to do with the earthquake. Experts have warned, however, that fires are major hazards during earthquakes, and the country has weak firefighting capability.
Even as aftershocks were recorded, an even stronger quake hit Eastern Samar yesterday afternoon. Tacloban City was among the areas where the magnitude 6.5 quake was felt strongly.
One positive development amid the quakes and hundreds of aftershocks was the sight of people emerging from buildings in an orderly manner, with several wearing hard hats – a clear result of regular quake drills.
Earthquake preparedness, however, involves many other aspects, including efficient responses to fire and medical emergencies as well as the disruption of utilities, transportation and supply lines. The two major earthquakes this week should serve as a wakeup call for the government and property owners about the importance of structural integrity, whether in public works or private buildings.
The best time to prepare for the Big One – or even milder ones – is now. Everyone must bear in mind that neither of the recent earthquakes was the Big One… yet.