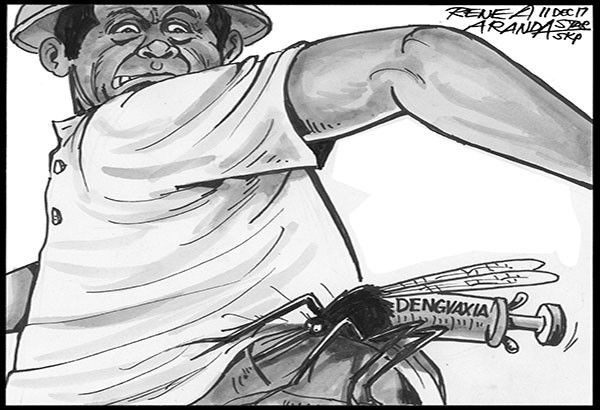 (The Philippine Star) - December 10, 2017 - 4:00pm
Developing a single drug can cost billions and take over a decade of research and clinical trials. Even when a new drug has gone through the requisite rigid testing and has been approved for commercial release, researchers may continue the research and testing to check long-term side effects. All drugs carry warnings about possible side effects and contraindications.
Those who decide to use the new drug at the initial stage do so at their own risk. Sometimes patients or societies are left with no choice. A number of HIV/AIDS patients have been willing to try out new treatments or even participate in clinical trials. A killer disease such as Ebola could be so virulent that communities hit by the epidemic may be willing to test potential vaccines or cures at an early stage. An Ebola vaccine with 70 to 100 percent efficacy was developed only in December last year.
The risks and investments taken by pharmaceutical companies, however, do not exempt them from liability in case something goes badly awry. What the dire side effects might be are being monitored as French pharmaceutical firm Sanofi Pasteur studies the results of longer clinical trials on its Dengvaxia, the world's first dengue vaccine.
Sanofi Pasteur, which specializes in producing vaccines for pharmaceutical giant Sanofi-Aventis, itself announced that its further trials showed possible adverse side effects of Dengvaxia on those who have never had dengue. In the Philippines, this means about 70,000 of over 700,000 recipients of the vaccine, mostly school children, are at risk. The vaccine does provide six-year immunity for those with a history of dengue.
The government is said to be considering asking Sanofi Pasteur for a refund, filing a damage suit, and setting up a trust fund with Sanofi's participation for all recipients of Dengvaxia. The moves are apart from ongoing investigations into the possible liability of former government officials in the procurement and administration of the vaccine.
Even without official demands from the Philippines, it would be good for Sanofi Pasteur to also consider ways of compensating for the effects of its vaccine.
Over the weekend, police officers who received the vaccine were briefed on what they could do and how to detect possible symptoms of adverse reactions to the vaccine. This can be a tricky task, considering that not all the side effects have been identified. No one also knows when the side effects might crop up.
While health officials have stressed that no confirmed death has been reported in connection with the vaccine, misdiagnosis or late detection of symptoms might lead to complications leading to death. For the psychological stress alone, recipients of the vaccine deserve compensation.