Pope Francis' 5 most 'controversial' statements
December 30, 2014 | 7:00am
And why they were not necessarily so
MANILA, Philippines — Pope Francis, the rock star of the Catholic Church, did not become the cover of the Rolling Stone for no reason.
In the first year of his pontificate alone, he has gained popularity among sectors that consider themselves most averse to the Catholic Church after some of his remarks that the many took as surprising rhetoric from a pontiff.
A Vatican media official had even called Pope Benedict XVI's successor "not a politically correct pope."
But is he actually advocating a policy and doctrinal shift in the world's biggest religion? Or is most of the world misinterpreting his words? Here are five of Pope Francis' statements considered by many as controversial.
---
Headline: On gay priests, Pope Francis asks, 'Who am I to judge?'
What he really said: "[If] someone is gay and he searches for the Lord and has good will, who am I to judge?"
Controversial or not? Pope Francis was addressing a question on whether "gay" priests are accepted by the Church. While the words struck reporters who contrasted it with Pope Benedict XVI's writing that homosexual acts are an "intrinsic moral evil," Pope Francis was repeating a teaching long upheld by the Church—that tendencies to homosexuality can be detached from conscious decisions to act on them.
Occasion: Aboard the papal plane en route to Brazil, July 2013
---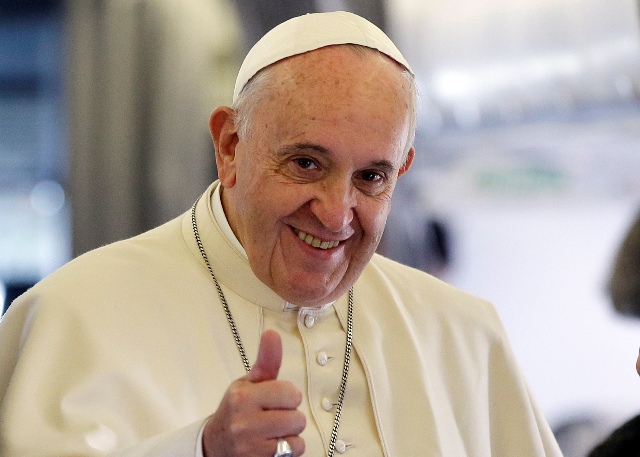 Pope Francis gives the thumbs up sign to journalists during a press conference aboard the flight towards Ankara, Friday, Nov. 28, 2014. He will be in the Philippines from January 15 to January 19 next year. AP/Gregorio Borgia
Headline: Pope Francis backs evolution
What he really said: "God is not a demiurge [or demigod] or a magician, but the Creator who brought everything to life. Evolution in nature is not inconsistent with the notion of creation, because evolution requires the creation of beings that evolve."
Controversial or not? Pope Francis was explaining how the onset of the universe was not a "work of chaos" but created by God out of love. Despite common perception, the Catholic Church has not opposed the evolution hypothesis nor the Big Bang theory the way many Protestant camps do. Pope Pius XII had proclaimed in 1950 that the theory of evolution may be to connected Catholic teaching. This was affirmed by Saint John Paul II in 1996.
Occasion: Address to the plenary assembly of the Pontifical Academy of Sciences, Vatican City, October 2014.
---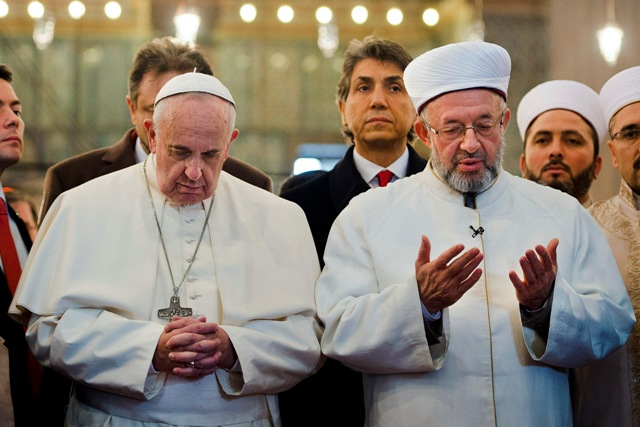 In this photo provided by Vatican newspaper L'Osservatore Romano, Pope Francis, left, joins Grand Mufti of Istanbul, Rahmi Yaran praying in the Sultan Ahmet mosque in Istanbul, Turkey, Saturday, Nov. 29, 2014. AP/L'Osservatore Romano
Headline: Pope Francis: Communists are secret Christians
What he really said: "I can only say that the communists have stolen our flag. The flag of the poor is Christian. Poverty is at the center of the Gospel ... Communists say that all this is communism. Sure, twenty centuries later. So when they speak, one can say to them, 'But then you are a Christian'."
Controversial or not? Pope Francis has been called many things, including being a Marxist, due to his criticisms against abusive practices in capitalism. In clarifying his earlier remarks, the pope was noting what Christianity shares with communism—concern for the poor and the desire to uplift them—despite the two doctrines being in opposing sides in various matters.
Occasion: Pope Francis' interview with Il Messaggero, Rome's local newspaper, June 2014
---
Headline: Pope Francis denounces 'right to die' movement
What he really said: "The dominant thinking sometimes suggests a 'false compassion', that which believes that it is: helpful to women to promote abortion; an act of dignity to obtain euthanasia ... It's a scientific problem, because there is a human life there, and it is not lawful to take out a human life to solve a problem."
Controversial or not? Pope Francis made the statement amid the popularity a campaign led by Brittany Maynard, an American who was suffering terminal brain cancer who said she wanted to die with dignity. Although the Holy Father did not refer to Maynard specifically, the address was timely, reiterating the compassion of the Good Samaritan in the Gospel. "Caring in a special way for the elderly, the infirm and the disabled. Fidelity to the Gospel of life and respect for life as a gift from God."
Occasion: Address to the Association of Italian Catholic Doctors, November 2014
---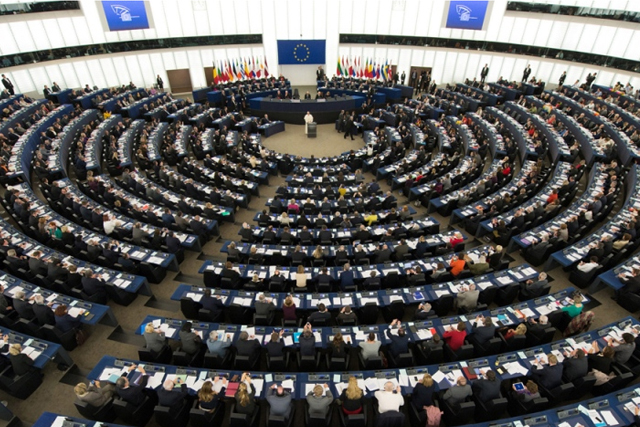 Pope Francis delivers his speech at the European Parliament in Strasbourg, France, Tuesday, Nov. 25, 2014. AP/L'Osservatore Romano
Headline: Pope calls Europe an infertile grandmother
What he really said: "In many quarters we encounter a general impression of weariness and aging, of a Europe which is now a 'grandmother', no longer fertile and vibrant. As a result, the great ideas which once inspired Europe seem to have lost their attraction, only to be replaced by the bureaucratic technicalities of its institutions. "
Controversial or not? While some sectors criticized the pontiff's remarks as insulting to grannies, Pope Francis' statements was direct in pointing out the many ills of Europe, which Pope John Paul II once hailed as the "beacon of civilization." Francis lamented Europe's neglect of the poorest of the poor, the dignity of individuals and human values for mere technological and economic gains.
Occasion: Address to the European Parliament, November 2014
Check out Philstar.com's special coverage of the Papal visit