'History and Her Story': Cory lives on
MANILA, Philippines - The stage was draped in yellow vertical banners that say, "Cory! Cory! Cory!" and a huge screen playing video highlights of her presidency in loop. People gathered around displays of her photos, her signature yellow attires and other priceless memorabilia remembering her person and legacy.
The tribute titled "History and Her Story" celebrates the national icon and hero to millions, who was at the same time, the quiet, humble person to the lucky few who knew her.
Former President Corazon Aquino passed away five years ago but her spirit lives on, reaching out to the public again but now as a symbol of selfless service to the nation with the opening of an exhibit commemorating her life in Glorietta Activity Center on Monday.
A key display in the roving exhibit is a chronicle of the People Power Revolution in her own words typewritten on yellow pages and given to Philippine STAR President Miguel Belmonte, Aquino's wedding godson.
"My brother Peping tried to discourage me from going to EDSA because of the enormous security problem, but I told him I had already asked people to go to EDSA and that I would be there," Cory wrote.
"I gave a very brief speech thanking the people for being on EDSA and telling them that this was the first time in history that civilians were asked to defend the military," she also recalled.
Kris, the famous daughter of the once publicity shy wife to dauntless Senator Ninoy Aquino, told reporters covering the event that she is humbled by her mother's legacy--part of which is the leadership of her brother, Noynoy, who is about to complete his presidency in two years.
Ballsy Aquino Cruz's son, Jiggy Cruz, also remembers the best lessons from his lola.
"She is a role model for simplicity and humility, and growing up what she always said was to always be good," Cruz told Philstar.com. "When you grow up, hindi ka naman tatanungin kung ano'ng grade mo sa Math or sa English. Saint Peter will ask, were you good during your time [on earth]?"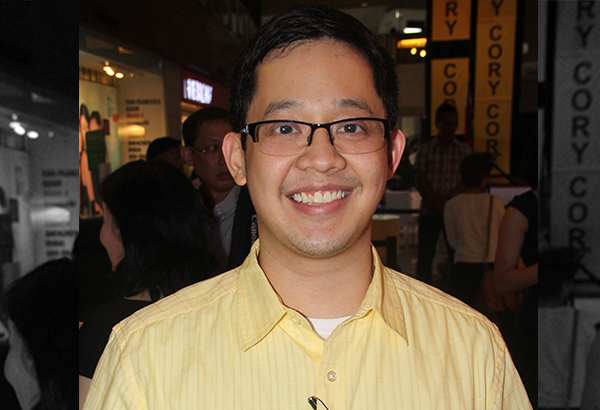 Jiggy Cruz, son of Ballsy Aquino Cruz, at the "History and Her Story" exhibit opening ceremony. Yas Salanga
Jiggy said he hopes Filipino parents will bring the kids to the exhibit to acquaint them with history and Cory's story.
The exhibit, hosted by People Asia Magazine and the Ayala Museum, runs until August 10.