Senate forms panel for Manila Central Post Office rehab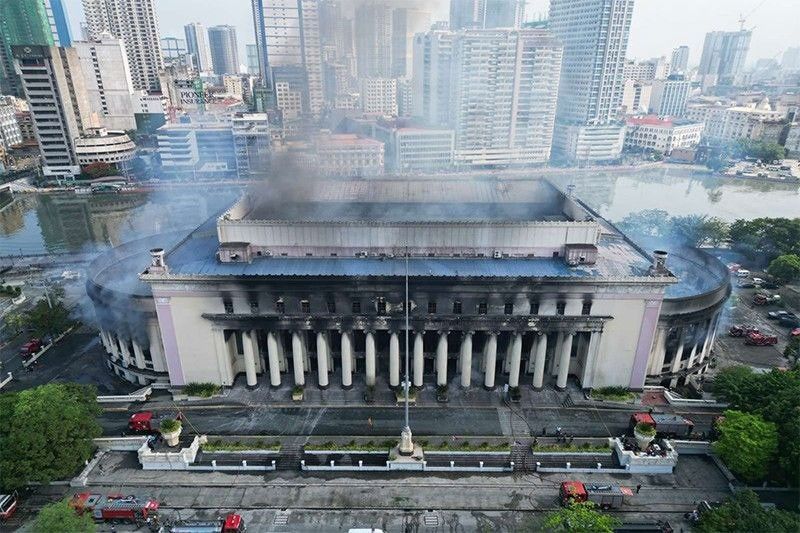 MANILA, Philippines — The Senate has formed a special committee that would oversee the rehabilitation of the Manila Central Post Office, which was razed by a 30-hour fire on May 21.
Voting unanimously on the last day of the first regular session on Wednesday, senators adopted a resolution creating a special panel that will assess the reconstruction of the historic building.
The committee will be tasked to look into the extent of the fire's damage as well as study the estimated cost of the central post office's restoration.
"Actions must be taken for the immediate rehabilitation of the post office building," the resolution read.
The special committee is composed of Senate President Pro-Tempore Loren Legarda, Minority Leader Aquilino Pimentel III, Senators Pia Cayetano, Nancy Binay and Sonny Angara.
As chairperson of the Senate committee on culture and arts, Legarda sponsored the resolution to study, review, assess, examine and inquire into the various aspects relating to the reconstruction of the iconic landmark in Manila.
Legarda noted that the fire that struck the Manila Central Post Office occurred during the observance of National Heritage Month, adding that "this important cultural heritage holds immeasurable value, and its destruction is a profound loss for Filipinos."
According to the Bureau of Fire Protection report, the fire destroyed at least P300 million worth of property, including national IDs stored in the post office building.
The Manila Central Post Office was built in 1926 using a neoclassical design by renowned architects Tomas Mapua, Juan Marcos Arellano and Ralph Doane to house the headquarters of the then Bureau of Posts.
After being damaged during the Battle of Manila in 1945, the building was rehabilitated in 1946 and became the center of Philippine postal services.
In 2018, the National Museum declared the Manila Central Post Office as an important cultural property.