Quezon City village defends guards in hit-and-run probe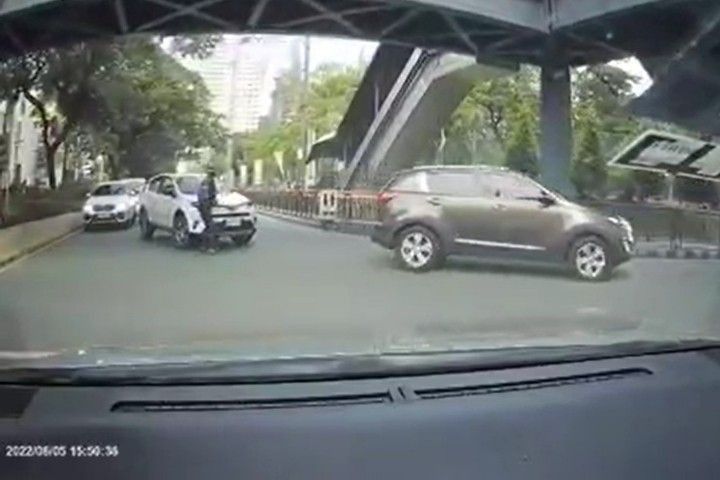 MANILA, Philippines — The Ayala Heights Village Association Inc. (AHVA) in Quezon City has cried foul over what it described as wrongful accusation of the Mandaluyong police that its security guards did not cooperate in the investigation of the owner of a sport utility vehicle (SUV), which ran over a security guard last week.
The Mandaluyong police on Wednesday filed a complaint for obstruction of justice against Jay-ar Gonzales, Gerald Paningbatan and Nixon Palogan before the Quezon City prosecutor's office.
Police accused the security guards of denying them entry into the subdivision where Jose Antonio San Vicente Sr., the registered owner of a Toyota RAV 4 that hit security guard Christian Floralde, resides.
The AHVA board denied that the security guards prevented the police from entering the gated subdivision.
"Our association and security force have been wrongfully accused of obstructing the legal processes," the AHVA said in a letter to its residents.
In the letter, a copy of which was obtained by The STAR, the AHVA board said investigators from the Mandaluyong police first arrived at the subdivision at around 4:50 p.m. on Monday.
"Since the investigating team was not in hot pursuit and merely wanted to talk to the vehicle owner, they were requested by the guards to just wait the next day," it said.
The AHVA board said the policemen did not wait, but left a note with names and telephone numbers of persons whom San Vicente may contact in connection with the incident.
The operatives of the Mandaluyong police returned at around 7:30 p.m. on Monday and requested if they could look at the subdivision's closed-circuit television (CCTV) footage from the time of the accident on Sunday until the following day.
The AHVA board pointed out the police never asked to meet with San Vicente personally during their second visit.
"They did not ask to interview the SUV owner," the AHVA said.
The association said a member of the police investigating team stayed at the CCTV room for 12 hours.
Based on the CCTV footage, the SUV involved in the accident did not enter the village's premises on Sunday.
A source said San Vicente's son, who was reportedly the one driving the vehicle at the time of the incident, is no longer a resident of the subdivision.