Free MRT-3 rides extended to June 30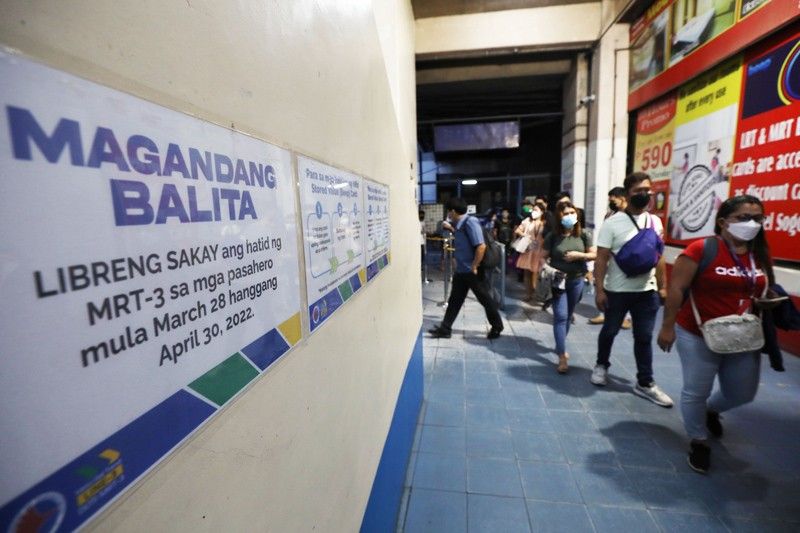 MANILA, Philippines — Free rides on the Metro Rail Transit Line 3 (MRT-3) have been extended for another month, the Department of Transportation (DOTr) announced yesterday.
The DOTr said the "Libreng Sakay" program would be extended anew until June 30.
The department, under the leadership of Transportation Secretary Arthur Tugade, rolled out the government's free ride program on March 28.
It was set to end originally on April 30 before it was extended until May 30.
The DOTr said it opted to extend the free rides until June 30, coinciding with the end of the Duterte administration, to help lessen the financial burden of commuters affected by rising prices of fuel and basic goods.
MRT-3 general manager and director for operations Michael Capati said through the free rides, the rail line would be able to test its capacity to carry more than 350,000 passengers daily.
As of Tuesday, 15,730,872 passengers had taken the MRT-3 trains for free, with an average of 315,000 daily ridership.
The MRT-3 did not record incidents of train breakdowns in the past two months.
Capati said estimated revenue loss due to the free ride program from March 28 to May 24 stood at P286 million.
For the one-month extension, he said forgone revenues could reach between P150 million and P180 million.
"We will get that from our subsidy funding of P7.1 billion in the General Appropriations Act," Capati said.
The MRT-3 management said it would leave to the next administration whether or not to extend the free rides.