PAF gets 2 attack helicopters from Turkey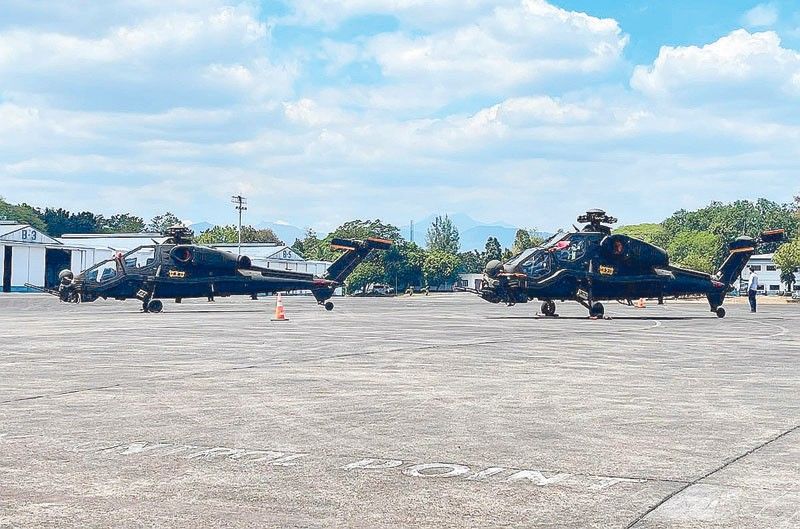 MANILA, Philippines — The Philippine Air Force (PAF) yesterday received two new T-129 attack helicopters acquired by the Armed Forces of the Philippines (AFP) from Turkey.
The aircraft arrived shortly after midnight yesterday at Clark Air Base in Pampanga on two A400M transport aircraft of the Turkish Air Force.
PAF spokesman Col. Maynard Mariano said a total of six T-129 attack helicopters were acquired by the government from Turkish Aerospace Industries in line with the AFP modernization program.
Mariano said the contract price for the helicopters totaled P13,727,248,240, including logistics support and training of PAF pilots and crew in Turkey.
The 15th Strike Wing of the PAF will operate the helicopters, which will be utilized for air support to ground troops and armed surveillance as well as reconnaissance operations, according to Mariano.
"T-129 is a dedicated attack helicopter, much like the AH-1S Cobra that will complement the surface strike systems of the Air Force and will be another game changer in support of the numerous missions of the AFP," he said.
Mariano described the air assets as modern and at par with attack helicopters of other countries.
"The helicopters underwent inspection and test flights before the acceptance ceremony," he said. "These air assets will definitely help in our surface strike capabilities."