COVID-19 frontliners hailed as outstanding government workers
November 15, 2021 | 12:00am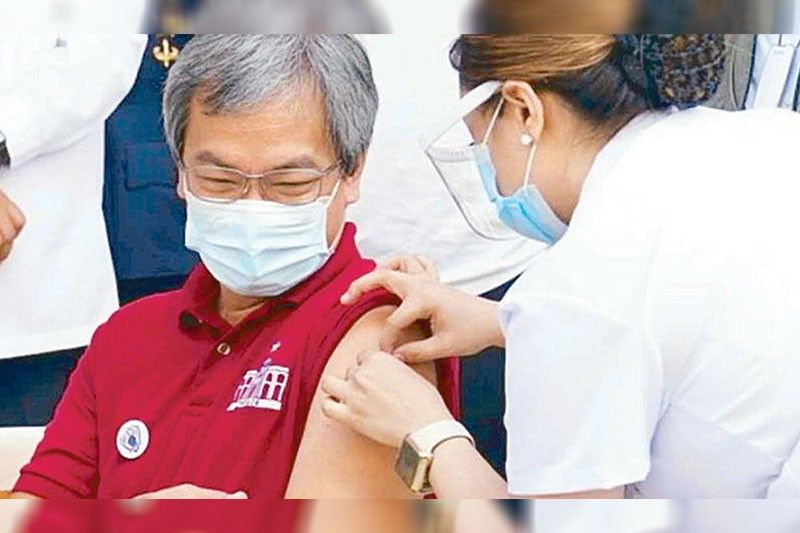 MANILA, Philippines — Heroes in the fight against the COVID-19 pandemic, including medical frontliners, laboratory experts as well as teachers and agriculturists, will be honored in the 2021 Outstanding Government Workers awards, which will be held online today by the Civil Service Commission (CSC).
This year's list of awardees was dominated by individuals and groups from the medical profession as well as from the education and agriculture sectors.
Leading the recipients of the Presidential Lingkod Bayan award is Dr. Gerardo Legaspi, director of the University of the Philippines- Philippine General Hospital, for pushing for the computerization of the PGH's systems and for leading its crisis team in responding to the COVID-19 pandemic while protecting the welfare of medical and non-medical staff.
Other recipients of the Presidential Lingkod Bayan award are retired Philippine National Police chief Gen. Guillermo Eleazar; Researcher II/Scientist I Nelly Siababa Aggangan of the National Institute of Molecular Biology and Biotechnology, of UP Los Baños; Deputy Executive Director IV Flordeliza Hidalgo Bordey of the Philippine Rice Research Institute; Director III Rey Mancera Cueva of the Technical Education and Skills Development Authority, Agusan del Norte; Agricultural Center Chief II/Scientist I Angel Balisi Encarnacion of the Department of Agriculture's Bureau of Fisheries and Aquatic Resources in Tuguegarao City, Cagayan; Executive Director IV Dr. Rose Marie Rosete Liquete of the National Kidney and Transplant Institute (NKTI), Quezon City; the Hope Behind Bars project of the Bataan Peninsula State University, and the Outpatient Drug Treatment and Rehabilitation Center of the Baguio General Hospital and Medical Center.
The COVID-19 crisis management team of the NKTI will be conferred the CSC Pagasa award for its proactive and innovative response in providing medical services to patients infected with the virus.
The NKTI team is also credited for administering hemoperfusion as treatment for patients with severe to critical COVID-19, which lowers the mortality rate by 32 percent and increases the patients' chances of survival to 54 percent.
Other CSC Pagasa awardees are Professor VI Ambrose Hans Guiyab Aggabao of Isabela State University; Supervising Science Research Specialist/Scientist I Dr. Ester Battad Flores of the Philippine Carabao Center; Supervising Tourism Operations Officer Carmel Bonifacio Garcia of the Catanduanes provincial government; Master Teacher I Hadjuria Cornelio Gonzales of Tagabakid Elementary School in Mati City, Davao Oriental; Jobscouts: Pathfinders of Employment Opportunities of the city government of Tagum, Davao del Norte, and Technology Commercialization Team of the Philippine Council for Agriculture, Aquatic and Natural Resources Research and Development, Department of Science and Technology in Los Baños, Laguna.
Medical technologist Lucia Jacinta Benter is among the recipients of the Dangal ng Bayan award for ensuring the effective management of COVID cases in La Trinidad, Benguet through extensive swabbing and contact tracing.
Other Dangal ng Bayan awardees are Administrative Aide I John Laumoc Alcazarin of the municipal government of Numancia, Aklan; Administrative Aide VI Anthony Durante Atas of Commission on Audit-Regional Office I, San Fernando City, La Union; Instructor I Don Sean Arvie Valenzuela Buencamino of Aurora State College of Technology in Baler, Aurora; Master Teacher I Ma. Theresa Hermoso Criste of the Department of Education Schools Division of Cavite; Medical Specialist III Dr. Jose Jonas Diño del Rosario of UP PGH; Teacher II Sherwyne Tubal Manlangit of Cagraray Elementary School in Bato, Catanduanes; Administrative Aide III Aquilino Ronquillo Mapili Jr. of the municipal government of San Jose, Occidental Mindoro; Education Program Specialist II Markson Bosquillos Mejia of DepEd-Schools Division of Sorsogon City, and Head Teacher III Analyn Climaco Perez of Dina-ut Elementary School in Altavas, Aklan.
The CSC said the awardees would receive a gold medal crafted by the Bangko Sentral ng Pilipinas, cash prize and a plaque signed by President Duterte.