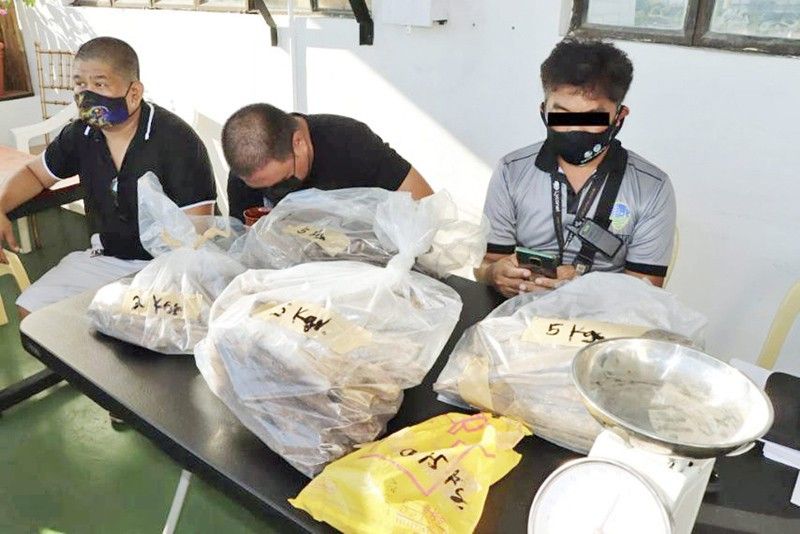 Chips of agarwood are prepared for inventory by law enforcers as Nathaniel Avelino and Mark Gil Espino look on. Image posted on Facebook by the National Bureau of Investigation yesterday.
STAR/File
2 arrested for selling P1.9 million agarwood
MANILA, Philippines — Two men were arrested for allegedly trying to sell 17.75 kilos of agarwood for P1.95 million without a government permit, the National Bureau of Investigation (NBI) said yesterday.
In a statement, the NBI said its Environmental Crime Division apprehended Nathaniel Avelino and Mark Gil Espino in an entrapment on June 15. The operation was staged after the EnCD received information about a group selling agarwood for P150,000 per kilo.
The NBI conducted the sting along with the Department of Environment and Natural Resources' Environmental Law Enforcement and Protection Service and the DENR's National Capital Region office.
The law enforcers confiscated a total of 17.75 kilos of agarwood, a cell phone, a van and a weighing scale.
Avelino and Espino were charged for violation of Section 77 of Presidential Decree 705 or the Revised Forestry Code of the Philippines and Republic Act 9147 or the Wildlife Resources Conservation and Protection Act before the Quezon City prosecutor's office on June 16, the NBI said.
Agarwood, a fragrant resinous wood, is one of the most expensive raw materials used in perfumes and costs at least P160,000 in the Philippines, according to the DENR.
It is extracted from the heartwood of lapnisan and lanete trees that are infected with a type of mold. The trees are included in the national list of plants threatened with extinction.
High-grade agarwood can be sold for as high as $30,000 per kilo and its trafficking has spawned indiscriminate cutting of lanete and lapnisan trees, the DENR said.