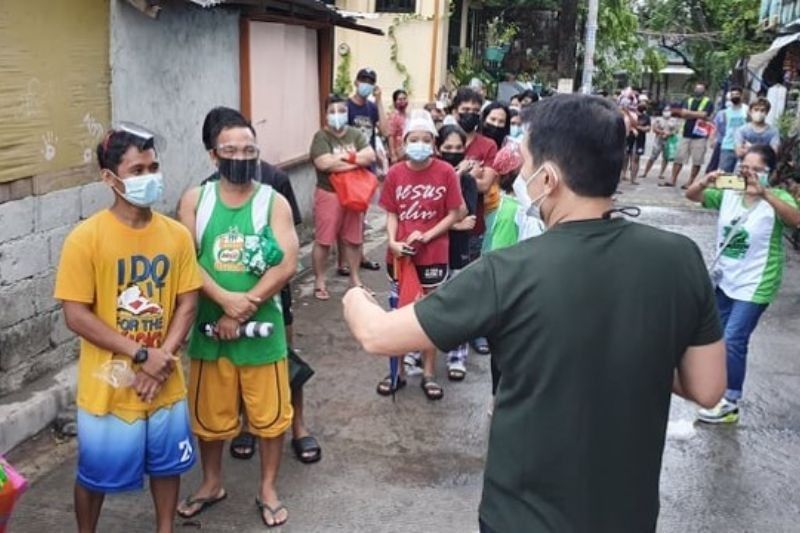 Photo presented to reporters at a press conference shows staff of Councilor Franz Pumaren taking photos as the latter enforces quarantine protocols at a feeding event he organized.
Screengrab
QC moves to contain COVID-19 cases after councilor's feeding program
MANILA, Philippines — The Quezon City government is taking steps to contain COVID-19 infections attributed to the feeding program of a councilor, whom it said did not act irresponsibly, where protocols like physical distancing were disrupted by heavy rain.
The city government has cleared Quezon City Councilor Franz Pumaren of accountability for a food distribution activity dubbed "Kongsina ni Franz (Meals on Wheels)" in late May to give out 300 sacks of rice to residents in Barangay Old Balara.
Speaking at the Laging Handa press briefing Tuesday morning, Mayor Joy Belmonte disclosed that 86 positive coronavirus infections have so far been recorded out of 953 attendees of the event who were tested.
"I want to mention that the Quezon City Police District has absolved [Pumaren] because they found that he did not act irresponsibly anyway since he coordinated with the police and our other law enforcers," she said.
"The superspreader event is already finished, and we just had to make the best of what we had at the time," she also said, adding that "five small areas" have since been placed under lockdown "as an outcome" of the event.
Belmonte said that city contact tracers were still "working backwards" and trying to identify the remaining attendees.
Rain ruins event
The mayor added that it could not have been the councilor's fault that the sudden rain caused the crowd to disperse. The event attracted around 6,000 residents even from other barangays, according to police reports.
"It just so happened that there was a strong rain and that's why there was disorder," she added.
"Having said that, of course, I do believe that was a superspreader event. Because when they went back into their lines, they were very close to each other."
Batasan Police Station 6 earlier said that the activity ended around 9 p.m. with no health incidents or problems reported.
The QCPD in its report also noted that safety health protocols, such as wearing of face masks, face shield and social distancing, "were strictly implemented."
Belmonte on Tuesday said, however, that contact tracing and testing the remaining attendees was not possible because "no contact tracing was done, and no list of the attendees' names was taken."
"We've seen that the spread has already happened from this event, and I see this as a triumph of our contact tracing abilities because we found the positive patients quickly," Belmonte said.
"The problem is not the giving of aid, the problem is the lack of coordination."
City revises guidelines on gatherings
Pumaren at a press conference earlier vowed to monitor the situation moving forward and said he would offer assistance in the event of coronavirus transmission, while the mayor said that new guidelines have already addressed the mass gatherings.
"We've intensified our enforcement moving forward," Belmonte said for her part Tuesday, adding that the enforcement units within the city have been deploying regular foot patrols.
"All the shortcomings we saw have been addressed through additional guidelines...That is our way of ensuring that there are no events in these places in the city," the mayor added.
The city government has since required humanitarian events, such as community pantries, to send the LGU notice at least five days prior to their operations.
Despite the city's clearing of the councilor, the mayor went on to point to weddings and drinking sessions as the cause of continued transmission in the city.
"There are two types of superspreaders that I would like to mention. The first type is from stubborn people who continue to have social gatherings like weddings, parties, and drinking sessions," she said.
"The other type is humanitarian activities from politicians and civil organizations and NGOs who want to help the poor."
READ: QC gov't: Organizers of community pantries, gatherings must notify LGU 5 days prior
Other humanitarian events, including the community pantry of actress and philanthropist Angel Locsin, were issued ordinance violation receipts.
The Quezon City local government earlier said its policy would be to hold violators in the city accountable "regardless of status or position...without fear or favor."
In the immediate aftermath of the event, Belmonte's office issued the councilor a show-cause order demanding an explanation for the event.
The QCPD cleared him of any violations shortly afterward.
READ: QC gov't warns residents of sanctions after pool party prompts community lockdown
Within the largest city in the Philippines, 28 areas remain under special concern lockdown as "preventive measures" due to active coronavirus cases.
To date, the Philippines has recorded 1.27 million cases of the pathogen, 58,854 of whom are still classified as active.
Disclosure: Quezon City Mayor Joy Belmonte is a shareholder of Philstar Global Corp., which operates digital news outlet Philstar.com. This article was produced following editorial guidelines.