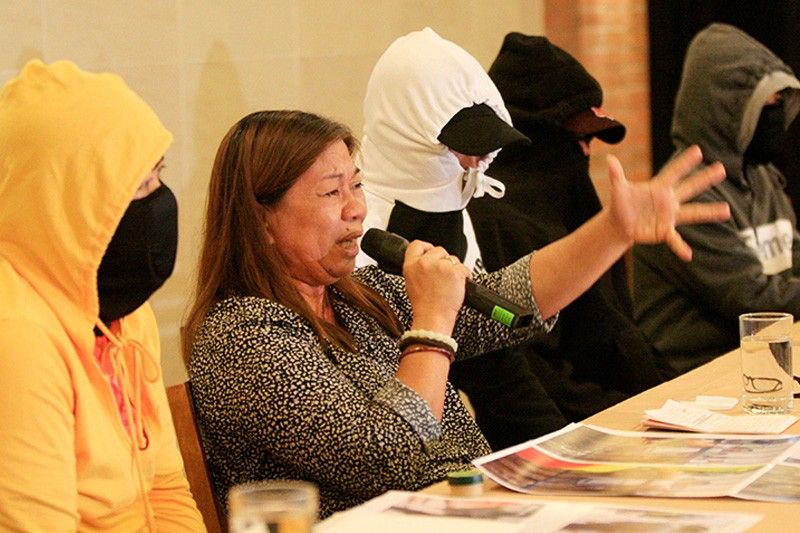 Lalaine Yuson presents four witnesses to the murder of her husband, Batuan, Masbate vice mayor Charlie Yuson III, during a press conference in Manila yesterday.
Edd Gumban
Slain Masbate vice mayor's widow condemns suspects' release
MANILA, Philippines – The widow of slain Batuan, Masbate vice mayor Charlie Yuson III yesterday condemned the release of the four suspects arrested for her husband's slay, as she sought President Duterte's help in investigating the killing.
In a press conference in Manila, Lalaine Yuson broke down in tears as she questioned the order of Manila inquest division chief Jovencio Senados, who recommended the suspects' release for further investigation on charges of murder and frustrated murder.
Lalaine's counsel Edward Marcaida described as "irregular" the release of Bradford Solis, Juanito de Luna, Junel Gomez, and Rigor dela Cruz just three hours into the inquest proceedings a day after the killing.
"Wala na kaming tiwala sa prosecutor ng Manila (We no longer trust the prosecutor of Manila)," Marcaida said, adding that they are mulling filing charges against the prosecutor and seeking the help of the National Bureau of Investigation to handle the case.
Manila chief prosecutor Joselito Obejas begged off from commenting while the case remains pending.
"She can say anything she wants to say against us, just as long as she does not curse at us. We should respect her opinion," Obejas told The STAR yesterday.
Lalaine called on President Duterte and Sen. Ronald dela Rosa to conduct a Senate inquiry into the killing of her husband, who was shot while having breakfast at an eatery in Sampaloc, Manila last Oct. 10.
Lalaine accused Philippine Charity Sweepstakes Office board member Sandra Cam of masterminding her husband's murder. Cam has since sued Lalaine for libel.
The victim's son, Charmax Yuson, beat Cam's son in the mayoral race in Batuan last May.
During the press conference, a witness – who wore a mask and hoodie – slammed the prosecutor's order to release the suspects even though he identified them as the ones who shot at him during the attack.
"I saw their faces while they were shooting at us. Who are they, why were they released?" he said in Filipino.
A female witness called on Duterte to look into the political situation in Masbate, where Yuson's supporters have been threatened and killed.
"Mr. President, we are begging for your help. What will happen to the people in the small town of Batuan?" she said.