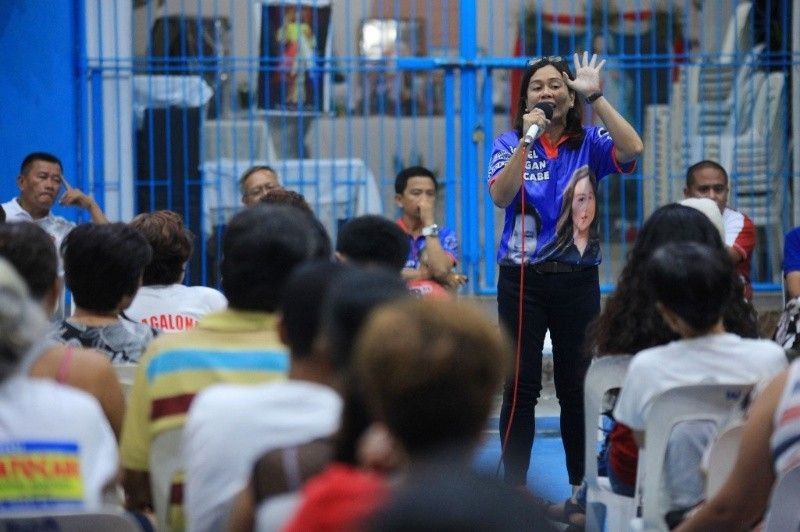 Gertrudes Batocabe, wife of the late congressman Rodel Batocabe, speaking during a campaign rally in the town of Daraga, Albay province on April 30, 2019.
STR/AFP
Slain local execs' kin lead; Batocabe widow trails rival
MANILA, Philippines — A daughter of slain Tanauan Mayor Antonio Halili and the widow of Trece Martires Vice Mayor Alex Lubigan are expected to win in their bids for mayor.
The widow and daughter of former congressman Eufranio Eriguel also won as representative of the second district of La Union and mayor of Agoo, respectively.
Partial, unofficial results of 62.41 percent of election returns show that Halili's daughter Angeline garnered 25,329 voteswhile her closest rival former mayor Sonia Aquino got 16,679 votes.
Halili, who initiated the walk of shame campaign for drug suspects, was gunned down during a flag-raising ceremony on July 2 last year.
Gemma Lubigan was also leading with 27,918 votes against her closest rival Melencio de Sagun with 21,197 votes. Her husband was shot dead also last July, a day after he announced his intention to run for mayor.
De Sagun is the father of the incumbent mayor of Trece Martires, Melandres who was tagged in the killing of Lubigan.
Moises Padilla Vice Mayor Ella Celestina Garcia-Yulo is also likely to win as mayor. She got 13,056 votes compared to Mayor Magdaleno Peña's 5,493 based on the latest count.
Yulo's brother Mark Garcia, a former councilor, and her nephew Councilor Michael Garcia were killed in an ambush on their way home after a campaign rally on April 25.
The incident prompted the Commission on Elections (Comelec) to place Moises Padilla under its control.
Meanwhile, the widow of Ako Bicol party-list Rep. Rodel Batocabe, Gertie is trailing behind Vice Mayor Victor Perete in the mayoral race in Daraga, Albay.
With 88 percent of the votes counted, Perete was leading over Gertie and Mayor Carlwyn Baldo, who was detained for double murder and attempted murder in connection with the killing of Batocabe.
As of 3 p.m. yesterday, Perete, who is acting Daraga mayor, garnered 21,615 votes; Batocabe (17,358), and Baldo, (14,774).
Perete's running mate Junjie Jaucian was also leading in the vice mayoral race.
Daraga was also placed under Comelec control due to the killing of Batocabe and his police escort last Dec. 22.
New Baguio mayor
In Baguio City, retired police general Benjamin Magalong, who led the investigation into the Mamasapano clash that left 44 police Special Action Force commandos dead, is the new mayor.
Magalong got 41,207 votes while his closest rival Vice Mayor Edison Bilog got only 22,609.
Magalong vowed to "strive hard" to fulfill the aspirations of his constituents even as he called on his rivals to "close ranks behind the greater goal of effecting changes that people have wanted."
Baguio City Mayor Mauricio Domogan lost to Rep. Marquez Go in the congressional race.
Go garnered 58,409 votes while Domogan got 30,129 votes.
It was Domogan's first electoral loss in the past 30 years.
Duterte's ex-flame
Agusan del Norte Gov. Angelica Amante-Matba, who according to President Duterte he once fell in love with, was also successful in her bid for a seat in Congress.
Matba garnered 121,785 votes against her brother Rep. Erlpe John Amante who got only 69,087 votes based on the latest count.
In his speeches shortly after he won the presidency, Duterte said Matba supported his candidacy because of their past relationship. He said he fell in "love first sight" with the governor.
Chavit, Floirendo, Alvarez, Gordons
In Ilocos Sur, the charm of former Ilocos Sur governor Luis "Chavit" Singson still worked as he handily won as mayor of Narvacan town.
Singson was proclaimed winner after beating former mayor Edgar Zaragosa with a margin of 16,551 votes.
Davao del Norte second district Rep. Antonio Floirendo was not as lucky in his reelection bid as he was trailing behind Aldu Dujali.
Floirendo's archenemy, former speaker Pantaleon Alvarez, was reelected as congressman of the first district of Davao del Norte.
In Zambales, the Gordon political clan also lost anew in Olongapo City.
Former Zambales vice governor Anne Marie Gordon, Sen. Richard Gordon's sister-in-law, lost to lawyer Rolen Paulino Jr.
The congressional seat of the first district of Zambales, which the Gordons had dominated for several years, was won again by Jeffery Khonghun, a former mayor of Subic. – with Artemio Dumlao, Jun Elias, Ramon Efren Lazaro, Delon Porcalla, Bebot Sison, Edith Regalado