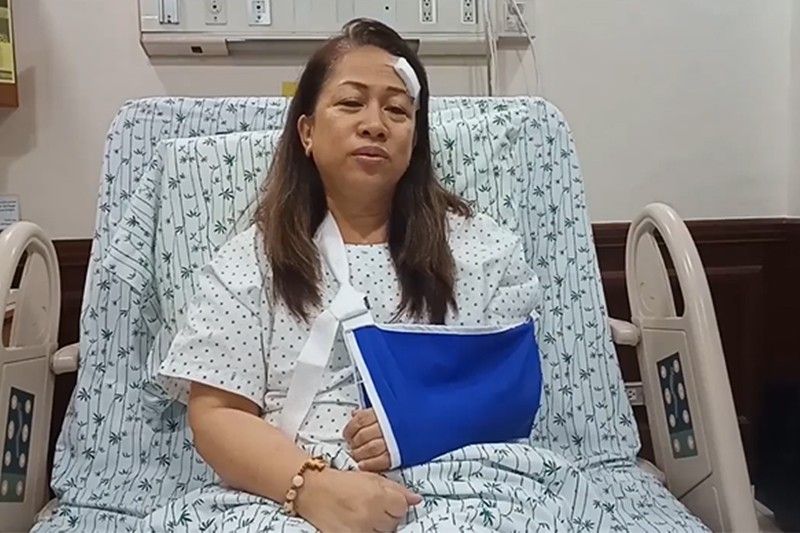 San Fernando, Cebu Mayor Lakimbini Reluya addresses her constituents through a video taken from her hospital bed
Screengrab
Cebu town mayor who survived ambush vows to return to work soon
MANILA, Philippines — Lakimbini Reluya, the mayor of a Cebu town who survived an ambush last week, vowed to return to work as soon as possible.
"Muhangyo ko karon ninyo nga taga-i ko'g higayon nga magpaayo, tungod sa kasakit sa akong lawas, sa akong paghunahuna, ug sa akong dughan (I ask you to give me a chance to recover because of the pain I'm feeling in my body, in my mind and heart)," Reluya said in a video posted on the official Facebook page of the Municipality of San Fernando on Wednesday.
"Gamay nga oras akong gihangyo ninyo aron makabalik ko dayon, para makabalik ko ninyo (I just ask for a little time from you so I can come back soon, and come back to you)," she added.
This is the mayor's first public address a week after the ambush in nearby Talisay City that killed her husband Ricardo "Nonoy" Reluya and two other companions.
She spoke from her hospital bed about needing to recover from the shooting and about her husband, whose body was brought back to San Fernando on Sunday after a four-day wake in Cebu City.
Reluya is running for re-election with her husband as her running mate.
Philippine National Police chief Oscar Albayalde ordered 24-hour security for the mayor and gave the police two weeks to find a suspect.
READ: Albayalde orders 24-hour security for Cebu ambush survivors
The week before Reluya's van was ambushed, Cebu Assistant Prosecutor Mary Ann Castro was murdered while she was driving along Escario St. in Barangay Kamputhaw in Cebu City near the provincial capital building.
Chief Superintendent Debold Sinas, director of the Police Regional Office in Central Visayas, told local media last week that they believe the motive is political.
According to the mayor, she will go back to the office once she is fit for work.

"Kung naa ma'y mulingkod gani, pinaagi sa directives ng DILG (Department of the Interior and Local Government), kadiyot ra na, mubalik ko ninyo (If someone will take over, it will only be for a little while through the directives of the DILG, it will only be quick, I'll be back)," she said.

Current Vice Mayor Fralz Sabalones is currently on leave, and the DILG has not yet decided if it would appoint someone to take over while Reluya is still in recovery.

Last year, Cebu media reported a rise in killings in the third quarter of last year, with between 200 and 250 killings between February and December. — with reports from Rowena Capistrano/Banat News