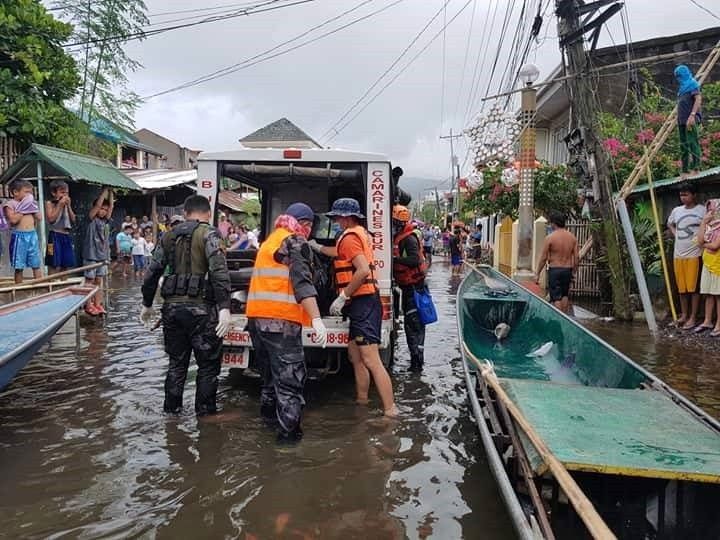 Rescue operations are ongoing in Buhi town, Camarines Sur
Headquarters Coast Guard Bicol's Facebook page
'Usman' death toll reaches 105
(Philstar.com) - January 3, 2019 - 2:43pm
MANILA, Philippines — The number of casualties reported from Tropical Depression Usman increased to at least 105 people from 87 on Wednesday, according to state media.
The report said 23 people are still missing, and 53 were reported injured.
The Office of Civil Defense (OCD) validated 57 of those deaths in Camarines Sur, the province hardest hit by Usman; followed by Albay with 18; then Camarines Norte with 15, Sorsogon with eight deaths, and Masbate with seven.
According to the National Disaster Risk Reduction and Management Council situation report published at 6 p.m. on Wednesday, over 75,000 families or 308,000 people were impacted by the tropical depression.

The OCD said search and rescue operations are ongoing for missing persons in Sangay, Buhi and Balatan in Camarines Sur, while rescue operations are ongoing for three people in Tiwi, Albay.
Camarines Sur was placed under a state of calamity on December 30, while classes province-wide are cancelled until January 7.

READ: Classes suspended as Camarines Sur recovers from 'Usman'
As of Thursday, 12 a.m., 8,571 families or 30,904 people still remain in various evacuation camps in Camarines Sur (8,402 families or 30,129) and Albay (169 families or 775 persons).
Latest estimates peg agricultural damage in the Bicol region at P326 million, while P9.25 million in assistance has been disbursed by various government agencies for relief and recovery operations in affected areas.
Duterte 'satisified' with disaster response
In a Malacañang press conference Thursday afternoon, presidential spokesperson Salvador Panelo said he was satisified by the response of government agencies despite the number of casualties and human displacement caused by the tropical depression.

"It's natural that the president would be sad during times of disaster, we do everything to prepare. But there are things you can't control, and there are times when tragedy strikes," Panelo said in Filipino.

Duterte is scheduled to visit Camarines Sur on Friday afternoon to survey the damage and assess what assistance is needed to help in relief operations.
Asked about the high number of casualties despite Usman being a tropical depression that had weakened as it made landfall in Bicol, Panelo said some had failed to evacuate because they did not receive proper warnings ahead of time. Power was out in some areas before the tropical depression hit the region.

"We should fix the energy [situation] and ask why there was a brownout?" Panelo said. "We will learn from whatever lesson we've seen."