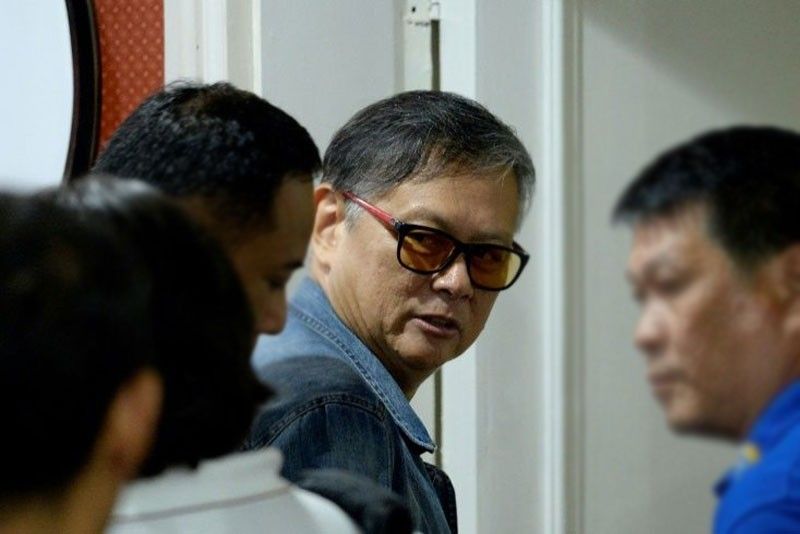 In an 11-page reply before the Sandiganbayan's Third Division, the prosecution panel disputed Reyes' claim that he has "always been respectful" of the court proceedings. AFP
Joel Reyes a flight risk, Ombudsman insists
MANILA, Philippines — Former Palawan governor Joel Reyes is a flight risk and must remain in jail while the Sandiganbayan has yet to affirm his conviction for graft, the Office of the Ombudsman reiterated yesterday.
In an 11-page reply before the Sandiganbayan's Third Division, the prosecution panel disputed Reyes' claim that he has "always been respectful" of the court proceedings.
The ombudsman noted that Reyes fled the country in 2012 when the Puerto Princesa regional trial court found probable cause to proceed with the trial of the former governor and his brother Mario, former mayor of Coron, Palawan, for murder in connection with the killing of broadcaster and environmental activist Gerry Ortega.
The Reyes brothers were arrested at a resort in Phuket, Thailand in September 2015.
"He fled the country when he was just facing the issue of probable cause…The… court should be wary of his claims given his looming imprisonment…when the decision rendered on Aug. 29, 2017 is affirmed," the prosecution paper stated.
The prosecution was referring to the ruling of the Sandiganbayan sentencing Reyes to up to eight years in prison after he was found guilty of graft in connection with the renewal of the permit of a small-scale mining company in 2006.
The anti-graft court has yet to rule on Reyes' motion for reconsideration.
"Aside from this conviction, the accused is a flight risk. The denial or revocation of bail becomes imperative," the prosecution said.
"The issue in the case…is beyond mere probability or tendency of flight for he had ...absconded," it added.
The ombudsman maintained that the Sandiganbayan should have not allowed Reyes to post bail, noting that he was detained for murder, which is non-bailable.
"Now that said circumstance no longer exists, the…court has no more physical hold on…Reyes," the prosecution pointed out.
In an urgent omnibus motion filed on Jan. 8, the ombudsman's prosecution panel asked the Sandiganbayan to cancel Reyes' bail and return him to jail.
Reyes was released from prison on Jan. 5 after the Court of Appeals dismissed the murder charges filed against him. He claimed he has no intention of fleeing the country.