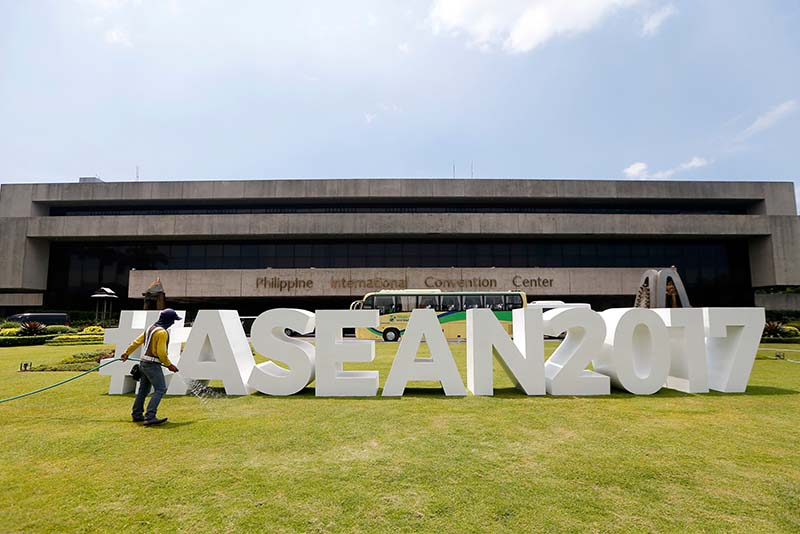 In this April 25, 2017 photo, a worker waters the lawn of the Philippine International Convention Center, the venue for the April 26-29, 2017 30th ASEAN Leaders' Summit in Pasay City, Philippines. In an advisory sent to reporters on Wednesday, Malacañang said: "On ASEAN holiday. No official issuance yet. Will post once provided." AP/Bullit Marquez, file
No classes in Metro Manila on November 16, 17 for ASEAN Summit
MANILA, Philippines — The Metro Manila Council on Tuesday announced that classes in all levels in Metro Manila on November 16 and 17 (Thursday and Friday) will be suspended.
Metro Manila Development Authority Chairman Danilo Lim said the Metro Manila mayors decided to call off classes in light of the country's hosting of the 31st Association of Southeast Asian Nations Leaders' Summit and Related meetings slated mid-November.
"Metro Manila mayors unanimously move for the suspension of classes on November 16-17 for the ASEAN," Lim's announcement on his Twitter account.
The class suspension was also announced during the 9th Metro Manila Council Meeting.
Malacañang earlier said there is no official declaration of non-working days in Manila for the summit yet. The Palace made the clarification after a photo of a supposed memorandum declaring a "special non-working holiday" on November 13-15 surfaced on social media.
The 31st ASEAN Summit and Related Summits, chaired by the Philippines, will be held together with ASEAN dialogue partners Australia, Canada, China, the European Union, India, Japan, New Zealand, Russia, South Korea and the United States.
US President Donald Trump earlier confirmed that he will attend the leaders' summit.