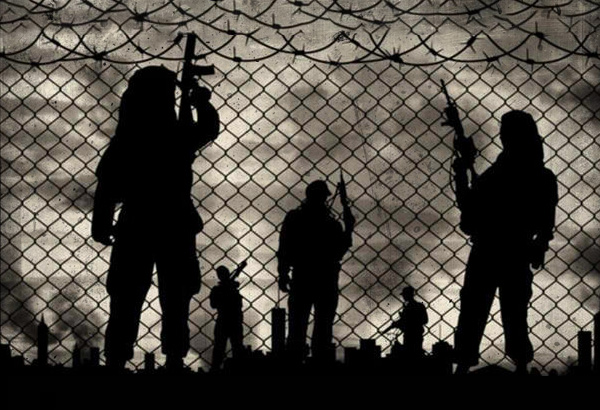 The captured suspect underwent further tactical investigation on his possible motive in disguising himself as security personnel. File
Suspected Abu Sayyaf member involved in mass abduction of foreigners captured
ZAMBOANGA CITY — Police and military forces captured Thursday night a suspected Abu Sayyaf member tagged in the mass abduction of foreign tourists on Sipadan island in Malaysia.
The suspect was identified as Abdulmubin Kudalat Salahuddin, who is currently working as a security guard assigned in a mall here, according to acting Zamboanga City Police Office director Senior Superintendent Diomarie Albarico.
Albarico said Salahuddin was intercepted by the intelligence units of the police and military backed by the anti-terror forces of the Joint Task Force Zamboanga and the 5th Special Action Force Battalion about 10:45 p.m on the old highway of Barangay Guiwan.
The operating forces recovered from the suspect a fragmentation grenade placed inside his sling bag. Police said the suspect was employed in a locally based security agency.
Salahuddin was able to obtain clearance from the National Bureau of Investigation and a security license.
Based on the intelligence dossier, Albarico said Salahuddin was tagged as allegedly supplying firearms and ammunition to the Sulu-based Abu Sayyaf group.
Police Inspector Edwin Duco, Zamboanga City Police Office spokesman, said investigation later found that Salahuddin was also involved in the 2000 Sipadan kidnapping incident.
The Abu Sayyaf group led by slain leaders Ghalib Andang alias Commander Robot and Nadjmi Saabdula alias Commander Global held the Sipadan dive resort, in Pulau off Sabah, under siege during the Easter holiday. Twenty-one people, including nine Malaysians, 10 Europeans, and two Filipino resort staff were brought to Sulu as captives by the militants. The victims were released in batches after huge ransom payment in dollars.
Duco said the captured suspect is temporarily detained at the Zamboanga City Police Office and underwent further tactical investigation on his possible motive in disguising himself as security personnel.