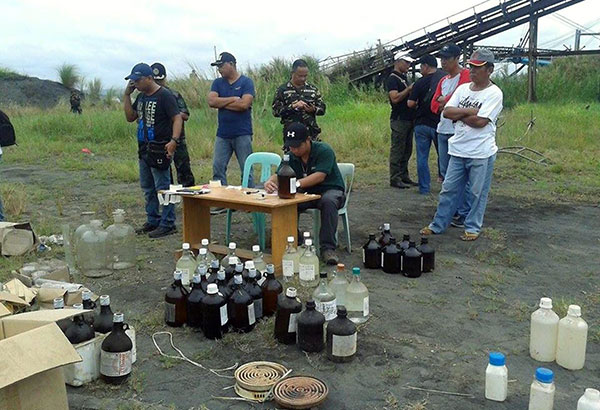 Anti-drug operatives conduct an inventory of chemicals recovered at a shabu laboratory in Aparri, Cagayan on Thursday in this photo provided by the Army's 17th Infantry Battalion.
Shabu lab found in Cagayan mine site
(The Philippine Star) - May 19, 2017 - 4:00pm
TUGUEGARAO CITY, Cagayan, Philippines – Agents of the Philippine Drug Enforcement Agency (PDEA) found a shabu laboratory at an abandoned warehouse in a black sand mining site in Aparri, Cagayan on Thursday.
Laurefel Gaballes, PDEA Cagayan Valley director, said the laboratory was in the compound of Hua-Xia Mining Co. in Barangay Tallungan.
The raiding team found at least 43 gallons containing chemicals and equipment used to manufacture shabu. Authorities also recovered 16 gallons of chemicals used to make explosives.The raid was based on a search warrant issued by Regional Trial Court Judge Oscar Zaldivar.
A certain Lito Lim and Michael Tan, alleged owners of the warehouse, and two unidentified caretakers were not around when anti-drug operatives arrived.
The PDEA and the Philippine National Police said they would file charges for violation of the Comprehensive Drugs Act and the Explosives Law against the owners and operators of the warehouse.
In 2015, a shabu laboratory with chemicals and equipment estimated to cost P3.5 billion were dismantled in Lasam town.
Two Chinese men were killed in a shootout when PDEA agents raided another shabu laboratory in Cauayan, Isabela last year.