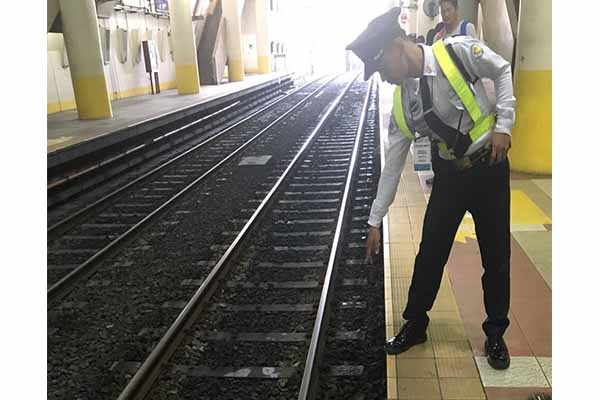 A security guard points to where an accident at the MRT Ayala Station happened on Tuesday, November 14. Department of Transportation
MRT staff trained to respond to emergencies, DoTr assures public
(philstar.com) - November 15, 2017 - 1:20am
MANILA, Philippines — The Department of Transportation assured the public Wednesday that Metro Rail Transit staff have emergency response training as it parried criticism over an accident on Tuesday afternoon that severed a passenger's arm.
A Facebook post alleging that there are no "MRT personnel equipped to help people when there is an emergency" has been making rounds on social media.
But Transport Undersecretary Cesar Chavez stressed: "MRT staff were trained, especially the Safety and Security Unit."
At around 2:36 p.m. on Tuesday, 24-year-old Angeline Fernando suffered a dizzy spell while alighting the train at the MRT Ayala station.
The victim fell onto the tracks in between the first and second car of the same train. Her arm was cut when she hit the coupler, which links the cars together.
Chavez clarified that during the time of Fernando's incident, there was no MRT staff stationed at the platform; only two security guards were present in the area.
The Transportation undersecretary, however, said that the Department of Transportation is still investigating the incident.
Arm has been reattached
Chavez also shared that the surgery has been done to reattach Fernando's arm to her body.
Citing the physician tending to Fernando, Chavez said: "Angeline's arm is reconnected to her body; the bone, the nerve and vessels are reconnected."
He also shared that he has talked with the victim's parents.
Chavez said Fernando's mother told him that "she would sometimes step out of the church when we are attending the mass because she has difficulty breathing around so many people."
Chavez also said that the DoTr will extend financial assistance to the family.
He is also requesting financial aid from other agencies.