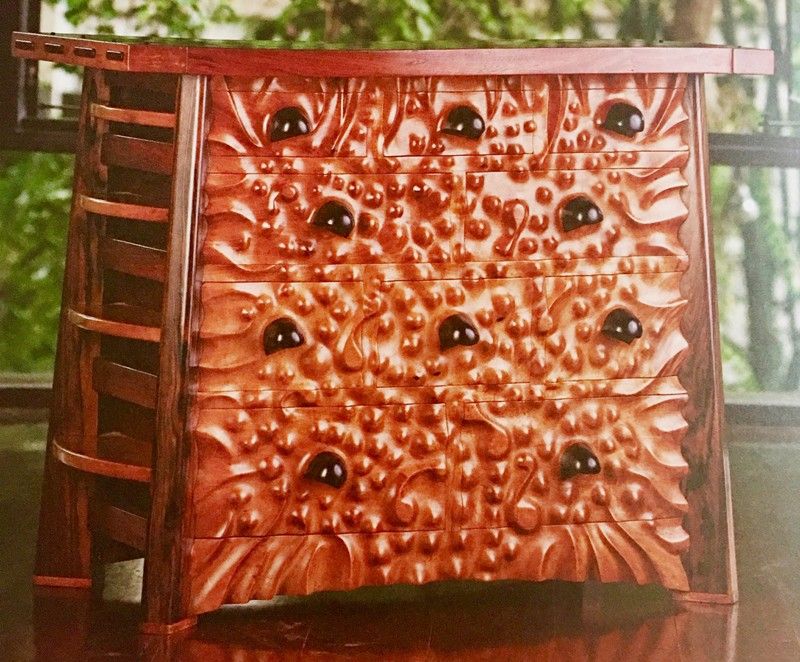 Benji Reyes: Exquisite reverence for wood
There's no cover, just a thick white cardboard followed by several more sheets of blank white paper, before the first two color pages feature sample works by the subject, then the title page: Benji Reyes Works. Hand-sewn, without a cover spine, the 208-page coffee-table book is published by ABS-CBN Publishing Inc.
As a long-time Benji Reyes fan, I'm gratified that a book has finally come out to give tribute to his art and life. It's a special treat just to see all these photographs of his exquisite creations.
The last time I saw some of these pieces in stunning display was during Benji's solo exhibit billed as "Kolektor Series II: 3 Decades of Woodworking" in 2012 at Eastwood Mall.
And I've always felt in awe over the evolution of this admirable artist, who's remained so humble and soft-spoken, a certified family man who also generously nurtures a group of craftsmen understudies he continues to mentor and with whom he shares his creative practice.
I hope I don't jinx him, but I'd certainly plug for him as a prospective National Artist for Sculpture — this despite the undeniable presence of many other outstanding contemporary artists in that field.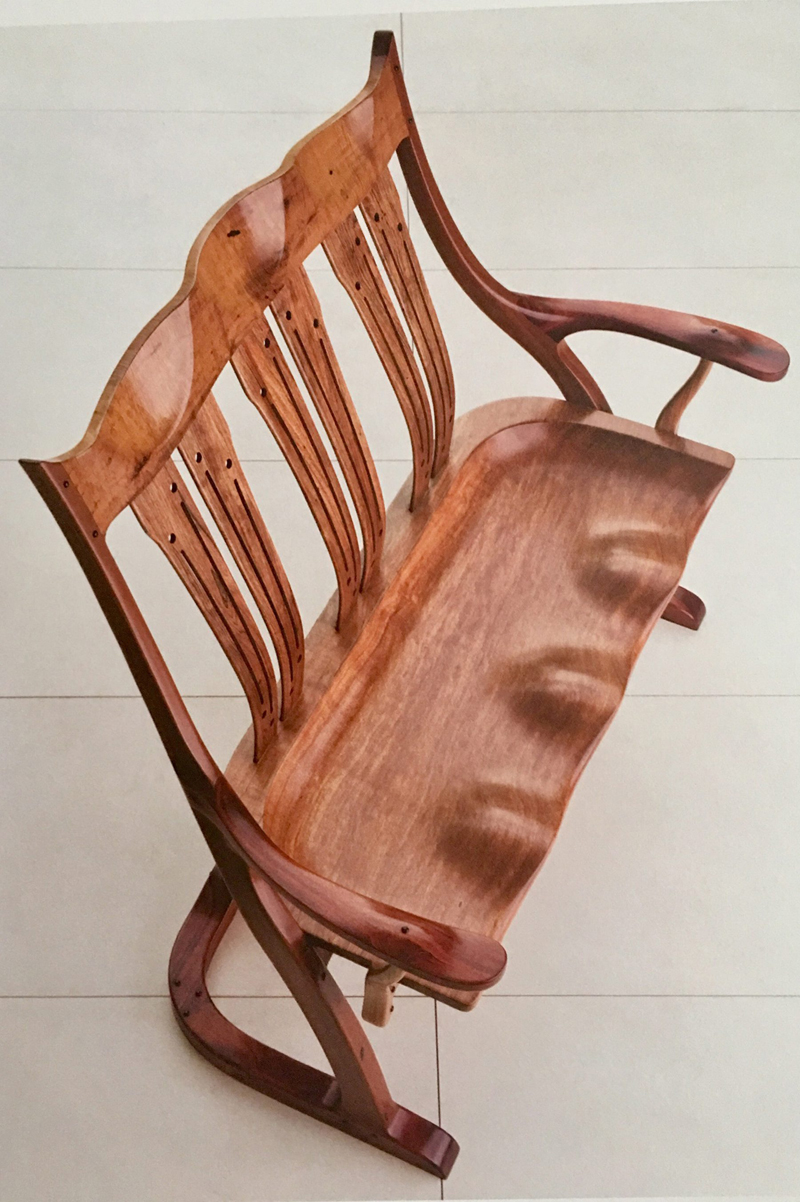 "Kasintahan"
Sometimes I still dream, too, of how it may not yet be too late for a career change, and I could become a successful politician or rock star — so I could have the kind of art furniture that has Reyes' signature. Better than that, I could fund a beach resort where all the structures, cabanas, fittings and décor have come to life from his sketchbooks and hands.
And as a powerful politico, I'd see to it that the Coconut Palace is put to use again, as a living repository of various free-form produce from his unique genius. Yes — a panoply of rocking chairs, love seats, benches, dining settings, ceiling fans, dividers, cabinets, chests, side tables, stairs with whimsical balusters, female figures, playful abstractions.
These are what are offered in elegant page procession in this book, starting with the trophy-like abstraction titled "Ouido" of 2008, of a local wood identified as amboyna buri. Then there's "Venus at 60" from the Tambokita Series of 1996, of dark yakal — saplungan. "Maria Makiling" of 1992 is of molave.
Neil Oshima's photography honors the distinct qualities of each work with consummate decisions on when to focus intimately on details or simply to present the creation whole, at a particular angle or from a chosen viewpoint.
The parade of forms provokes an organic vocabulary of appreciation — of lines, curves, undulations, of supple, sinewy, sensuous finessing, of butt spaces and inviting backrests and armrests, of spindly to massive legs, of spines, strips, slats, slots, spirals, grooves, mix-matching prowess with visually arresting dowels and perfected joinery.
There are the "Salumpwet Pang Tatluhan" (premium), the 1998 "Duyan" of narra, "Tumba-Tumba" (premium) since 2013, "Bangko ni Benru" since 2007, "Silya ni Benru" since 2007, and "Habagat" of 2005, again of amboyna buri, with a curved solid backrest.
The "Bangkusina" is followed by representational female figures — "Mag-anak" (2003) of molave and "Mag-ina" (1986) of narra. A deceptively simple round table, "Buhawi," has a gnarled, spiraling central leg that recalls a waterspout. The coffee table "Kaba-pehan" features a raised glass top, while "Barako" has its thick top slab resting on massive angular legs.
All the pieces are appropriately named, suggesting Benji Reyes' ludic private commentary or curtseys to loved ones, as with "Silya ni Fely" and others. A divider is named "Dibay-dibay." The surface of "Kahabinet – Butlig" has countless small protuberances. A desk is titled "Seksing Sekretarya." Beds are named "Antukin" and "Panaginip."
The chess set named "Tsek Meyt" has its pawns with baldheads but curvaceous behinds, the queens evidently pregnant, and the bishops sporting what look like extravagant paunches or colostomy bags.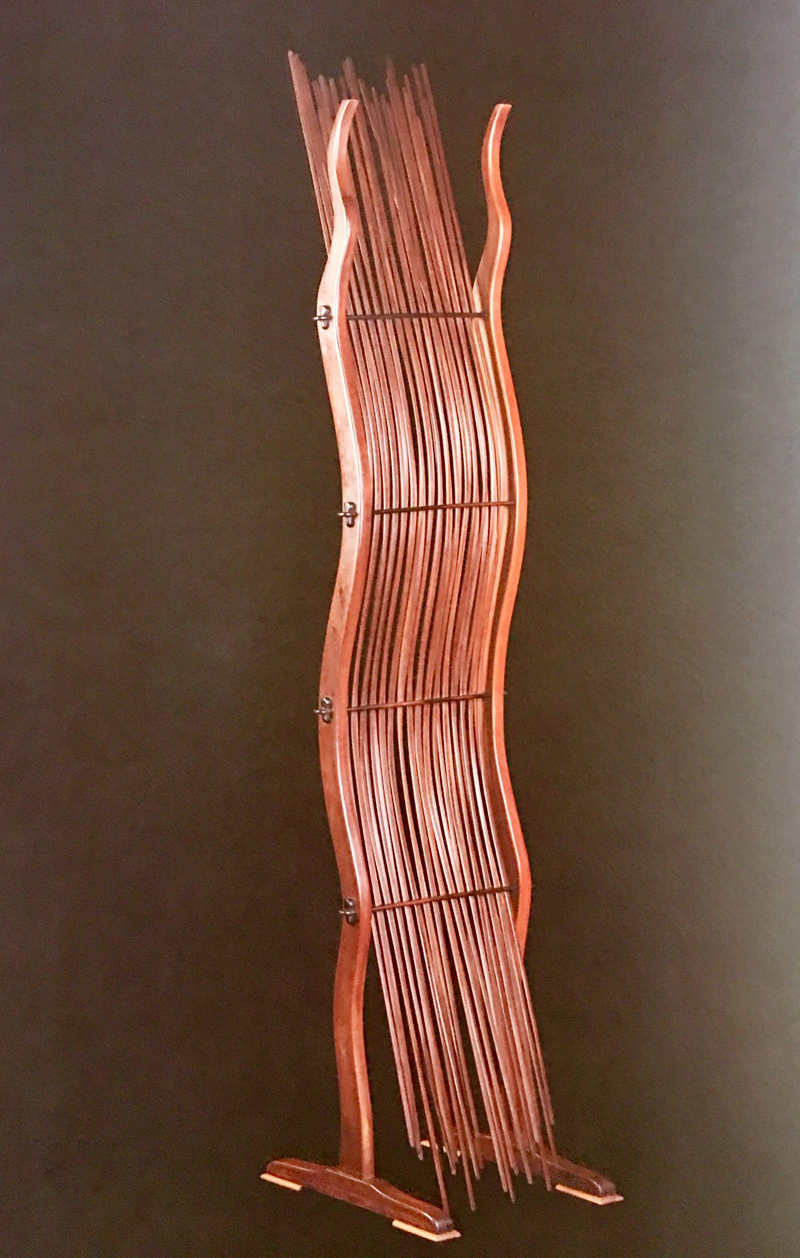 "Dibay-dibay"
Such is Benji Reyes' genius. His reverence for wood doesn't confine itself to serious craftsmanship. Inspiration and imagination are also inclusive of irreverence.
The publisher couldn't have chosen a better writer to provide the text that eventually comes up. Only too fittingly, Carlomar Arcangel Daoana writes "Benji Reyes: The Work of His Hands":
"Reyes has become a byname when it comes to furniture pieces that are heart-stopping for their svelte forms. Certainly, there are other furniture makers who brand themselves as artists for making one-of-a-kind pieces, but his creative process is nourished by the sculptural impulse. One of his first creations was, in fact, 'Mag-ina,' an interpretation of the mother-and-child genre.
"Through his calling as a sculptor, he could create something uniquely beautiful from a medium. His medium of choice, however, concerns not the noble materials of stone and metal but something that has long served its purpose and even discarded: repurposed wood. He forged a path where there was none, creating a revolution of making something entirely new out of segunda mano — way before the word 'sustainable' even became a buzzword. He breathes new life to wood that could have ended up in a junk pile or as firewood in a kiln. Transformed into chairs, beds, doors, and other creations, these once discarded pieces now occupy some of the most prestigious homes in the Philippines.
"… But Reyes is clear that his furniture has to be touched, caressed, inhabited. For every piece is made with the human form in mind — with its joints, curves, weight, and immense capacity for relaxation. Every piece of Reyes is like a puzzle waiting for the body. When they meet in the moment of contact, they become one."