Betty leaves minimal damage in Northern Luzon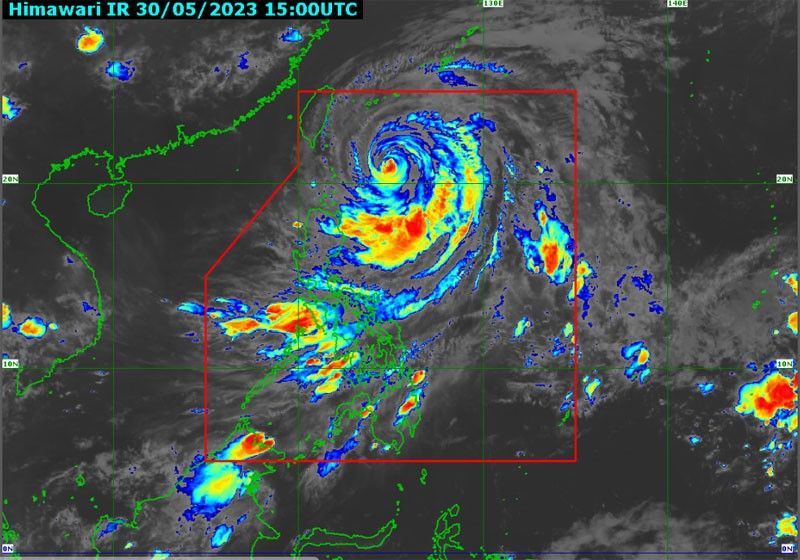 MANILA, Philippines — Contrary to what was expected, Typhoon Betty had minimal impact on Northern Luzon provinces, with minimal damage to property.
Assistant Secretary Raffy Alejandro, spokesman for the Office of Civil Defense (OCD) and the National Disaster Risk Reduction and Management Council (NDRRMC), said the worst is probably over.
"Based on reports we received, the effect is very, in a way, very minimal compared to what we projected a few days ago that it was a super typhoon," he told reporters yesterday.
Alejandro said there were only 5,488 people who were pre-emptively evacuated in the province of Cagayan and in Region 2 or the Cagayan Valley as a whole.
"There were more evacuees in Region 6. And in terms of damage, its very minimal and we're very happy with that, there was no serious damage," he added.
Alejandro said it was good that the OCD, the NDRRMC and local government units (LGUs) still exercised preparedness protocols and procedures.
Cagayan Gov. Manuel Mamba said the damage due to Typhoon Betty in the province was minimal. Except for a collapsed warehouse at the Cagayan Special Economic Zone (CEZA) in Santa Ana town, Mamba said no other major damage to property was reported in the province.
He added that there were no casualties at the warehouse at the CEZA.
"That's the only reported damage. We thank God that the storm changed course and is now moving away," he said over Teleradyo.
Mamba said around 400 individuals from Santa, Calayan and Gonzaga Cagayan who were preemptively evacuate are expected to return to their homes.
The governor added that it is up to the mayors if they will still suspend classes in coordination with the Department of Education.
Betty weakens
Tropical cyclone wind signals are still up over parts of Northern Luzon even as Typhoon Betty is expected to further weaken into a severe tropical storm by late Thursday or early Friday on its way out of the Philippine area of responsibility (PAR).
The Philippine Atmospheric Geophysical and Astronomical Services Administration (PAGASA) said Betty (international name Mawar) was monitored 315 kilometers east of Basco, Batanes as of 4 p.m. yesterday. It was carrying maximum sustained winds of 150 km/h near the center and gustiness of up to 185 km/h.
Signal No. 2 is still hoisted over Batanes while TCWS no. 1 is still up over the northern and eastern portions of Isabela, Apayao, the eastern portion of Ilocos Norte, the northern portion of Kalinga, the northeastern portion of Abra and Cagayan, including Babuyan islands.
PAGASA said stormy weather is expected in Batanes and rains with gusty winds in Babuyan Islands, Cagayan, Isabela, Apayao, Kalinga, Abra and Ilocos Norte due to Betty. The bureau warned of minimal to minor threat to lives and properties due to strong winds.
PAGASA said Betty is forecast to steadily weaken due to cooler ocean waters, dry air intrusion and increasing vertical wind shear. A faster weakening rate is not ruled out due to the extent of the effect of dry air intrusion on the typhoon.
Meanwhile, the southwest monsoon and Betty will bring cloudy skies with scattered rainshowers and thunderstorms over MIMAROPA, Western Visayas, Zamboanga Peninsula, the rest of Ilocos Region, Cordillera Administrative Region and Cagayan Valley.
Around 50 to 100 millimeters of rain are forecast over some parts of northern Luzon.
Isolated rainshowers are forecast over Metro Manila and the rest of the country due to the southwest monsoon.
PAGASA said flash floods or landslides are possible during moderate to at times heavy rains.
Betty is forecast to move slowly northward until today over the waters of Batanes before gradually accelerating north northeastward on Thursday.
It is forecast to exit PAR by late Thursday or Friday early morning.
Pre-emptive evacuation
Twelve families, composed of 42 individuals including 19 children, living near the river in Barangay Lanao, Bangui, Ilocos Norte were pre-emptively evacuated Tuesday morning due to Betty, according to Col. Julius Suriben, Ilocos Norte police director.
Suriben told The STAR that the families were pre-emptively evacuated upon the instruction of Gov. Matthew Marcos Manotoc to ensure their safety due to heavy rainfall brought by the typhoon.
Suriben said he and Ganirex Corpuz, head of Bounty Agroventures Inc. (Chooks to Go), distributed roasted chickens to 12 family heads and 19 Jollibee kiddie meals with toys to the children.
In La Union, Gov. Raphaelle Ortega-David has suspended classes in all levels, both public and private schools, including work in government offices. David said the suspension of classes is to ensure the safety of students.
David decided to suspend classes in the whole province after the towns of Luna and Sudipen earlier canceled classes on Monday.
In Cagayan, the Provincial Disaster Risk Reduction and Management Office (PDRRMO) said some 310 families or around 1,016 residents fled their homes for safer grounds – at least 140 families (425 individuals) from Sta. Ana town, 104 families (371 individuals) from Gonzaga town and 54 families (182 individuals) from Calayan Island, six families (18 individuals) from Gattaran town and six more (20 individuals) from Sta. Teresita.
All evacuees were provided by concerned LGUs with food packs from the DSWD, the Cagayan provincial information office claimed as initial assistance to them.
Rescue and retrieval teams of the provincial government are also on standby, together with the Philippine Army, Bureau of Fire and Protection and local policemen.
The Department of Social Welfare and Development has extended assistance to residents of localities affected by Typhoon Betty, both in northern Luzon and western Visayas.
The Disaster Response and Management Bureau (DRMB) reported that the DSWD Field Office 2 (Cagayan Valley Region) distributed P99,150 worth of food and non-food items to the municipalities of Basco, Batanes; Alcala, Cagayan and Cabagan, Isabela.
The DSWD has also extended assistance to the western Visayas Region, which has been experiencing scattered rainshowers and thunderstorms caused by the southwest monsoon that was enhanced by Betty.
The DSWD Region 6 sent P484,972 worth of humanitarian assistance to families affected by the southwest monsoon rains in Hinoba-an, Negros Occidental. – Delon Porcalla, Jun Elias, Rudy Santos, Artemio Dumlao, Emmanuel Tupas, Romina Cabrera