Marcos swears in Enrile as chief legal counsel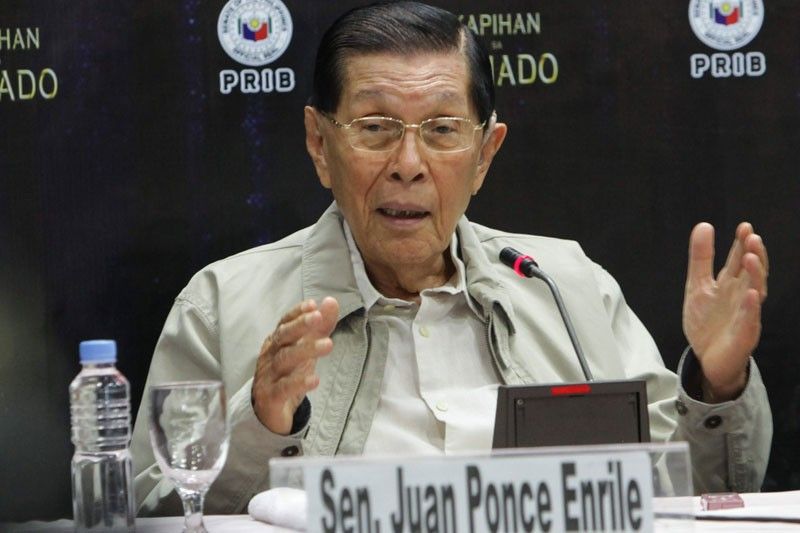 MANILA, Philippines — Former senator Juan Ponce Enrile has officially returned to government as chief legal counsel of President Marcos, the son and namesake of the late dictator whom he served as martial law administrator and helped oust in 1986.
The 98-year-old Enrile took his oath yesterday before the President at Malacañang, making him the oldest Cabinet member of the second Marcos administration.
"We have formally appointed former senate president Juan Ponce Enrile as chief presidential legal counsel," Marcos posted in Filipino on Facebook.
"I am fully confident of Enrile's capabilities and experience as a public servant, and we expect to have better legal assistance on the actions of my administration," he added.
Enrile held key posts during the presidency of the elder Marcos, including finance undersecretary, chairman of the board of directors of the Philippine National Bank and acting head of the Insurance Commission, acting customs commissioner, acting finance secretary and concurrent chairman of the Central Bank's monetary board.
However, Enrile is best known as the elder Marcos' longtime defense minister and martial law administrator.
In 1972, Enrile was reportedly ambushed at Wack Wack subdivision, one of the incidents that prodded the elder Marcos to declare martial law that same year.
During a press conference on Feb. 23, 1986, Enrile withdrew his support for the late strongman and claimed that the ambush at Wack Wack was staged. But he reversed himself 26 years later when he wrote in his memoir, saying the ambush was not faked.
Enrile remained as defense chief during the time of the late president Corazon Aquino, Marcos' successor. He was fired after being linked to a plot to oust Aquino codenamed "God save the queen."
The chief presidential legal counsel served four terms in the Senate during the 8th, 11th, 13th and 16th Congresses from 1987 to 2016.
He was Senate president from 2008 to 2013 and was the presiding officer during the impeachment trial of the late chief justice Renato Corona.
Enrile was among the senators who were slapped with plunder cases in 2014 over their alleged involvement in the multibillion-peso pork barrel scam, where congressional funds were supposedly diverted to fake non-government organizations and non-existent projects.
In 2015, the Supreme Court allowed Enrile to post bail due to his old age and poor health. Enrile sought a Senate comeback in 2019 but lost.
Upon his appointment as chief presidential legal counsel last month, Enrile vowed to devote his time and knowledge for the country because he wants Marcos to succeed. – Janvic Mateo