Overseas Filipinos say lack of preparations, info may keep many from voting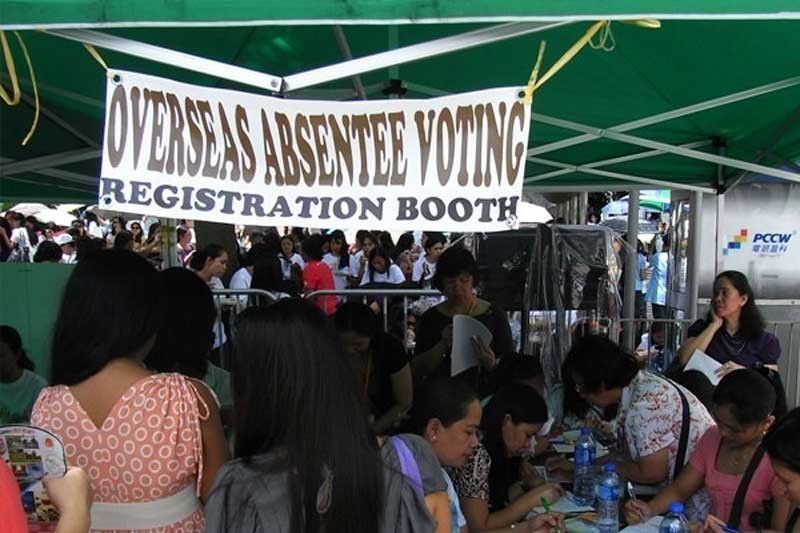 MANILA, Philippines — Overseas Filipino voters said they fear "massive disenfranchisement" because Philippine embassies and consulates are supposedly unprepared for the May polls and have failed to properly disseminate information on how Filipinos abroad can vote.
Overseas voting will be held for a month from April 10 to May 9 through in-person voting or by mailing in their ballots.
However, MIGRANTE International and 1Sambayan representatives abroad said that there is still much that needs to be done ahead of the elections. They said that some voters have yet to receive their mail-in voting ballots and inspections of voting counting machines or other election paraphernalia have yet to be done in some areas.
Saudi Arabia might see lackluster participation
The overseas vote-rich Kingdom of Saudi Arabia might see limited voting participation, MIGRANTE and 1Sambayan convenor Marlon Gatdula said in a briefing on Tuesday.
Nearly 300,000 Filipinos will be voting through three voting centers in Saudi Arabia. Data from the Commission on Elections showed that 74,656 voters are registered at the Philippine Consulate General in Jeddah, 55,981 in the Philippine Overseas Labor Office in Al Khobar, and 151,968 registered Filipino voters in the Riyadh Philippine Embassy.
"May mga lokasyon na kailangan pa magbiyahe ng 12 oras para lang maka-boto by land. Kung ang pondo at ang manpower na gagamitin ng Comelec ay limitado, marami sa mga kababayan natin ang hindi pa rin makakaboto at hindi ma-pa-practice ng kanilang karapatan," Gatdula said.
(It takes 12 hours to travel to some voting locations by land. If the funds and manpower to be used by the Comelec are limited, then many of our country will still not be able to vote and will not be able to exercise their rights.)
Gatdula added that some of their members would not be able to vote because they fear being red-tagged by some personalities. Meanwhile, he said some household workers do not have the "legal basis" to ask permission from their employers to vote.
Previously, he said, only 42% of the registered voters in Saudi Arabia were able to participate in the elections.
Gatdula said they were also advised at the last minute on the final testing and sealing of vote-counting machines (VCM).
Late preparations in Hong Kong
Meanwhile, United Filipinos in Hong Kong Vice Chairperson Shiela Tebia-Bonifacio said the country's consulate in the special administrative region just held its town hall meeting for the elections last weekend.
She said that in the past overseas elections, the consulate would hold community meetings to inform organizations on electoral procedures months before the start of the elections and back then, the consulate would call for a meeting almost every two weeks.
The consulate also used to form committees with the Filipino community in Hong Kong ahead of the polls. That has not been seen for the coming polls.
There are 93,886 registered voters based in Hong Kong, 14,000 of which are said to be first-time voters. In the same briefing held Sunday, Tebia-Bonifacio said they learned that only around 40% of the total registered voters would be able to cast their votes.
The consulate told them that only five voting precincts will be open, with only one VCM each. Representatives expressed concern as in previous elections, the machines would break down because of the volume of votes it had to process.
With voters constrained for time each day and with most casting their ballots in the last two Sundays of the voting period, Tobia-Bonifacio said a maximum of around 40,500 — not even half of the total registered Filipino voters in Hong Kong — may be able to vote in the 30-day voting period.
Most Filipino workers in Hong Kong are only able to go out on their day off, which usually falls on Sundays. Meanwhile, because of the COVID-19 surge, some employers reportedly do not allow their employees to go outside their homes.
READ: Situation for OFWs in COVD-hit Hong Kong not that bad, House panel told
"They could have had an opportunity to vote through mail, at least if that option was open to them. We had, as I said, this is almost the third year of the pandemic, the consulate or the DFA (Department of Foreign Affairs) should have done something about that in preparation," 1Sambayan convenor in Hong Kong Daisy Mandap said in a mix of English and Filipino.
Mail-in ballots might arrive late
For regions that actually facilitate the mail-in voting system for Filipino voters, representatives from Canada, Europe, and the United States say that the ballots were distributed late.
READ: Comelec: 'All systems go' for absentee voting
Ballots are sent to voters by their respective embassies or consulates, but migrant voters will shoulder the cost of mailing back their ballots for counting.
However, representatives expressed concern regarding the poor mailing system that often leads to the disqualification of their votes
"Marami sa kababayan natin dito noong nakaraang eleksyon nung 2019 dinatnan ng balota nila a day after o one week after ng election, meaning hindi sila nakaboto talaga. Ilang beses din kami nag request ng dialogue dahil dito sa absentee voting… ayaw nila makipag-usap sa amin," 1Sambayan Italy coordinator Egay Bonzon said.
(Many of our fellow Filipinos here in the last 2019 election received their ballots a day after or one week after the election, meaning they were not able to vote. We also requested a dialogue several times because of this absentee voting, but they won't talk to us.)
In Canada, representatives said issues began with the short two-week extension they were given when migrants were attempting to register for the upcoming elections. 1Sambayan representative from Canada Earl Dacera also said many registered voters have yet to receive their ballots and accreditation for poll watchers remains slow.
There are four offices — one embassy and three consulates — serving almost a million Filipinos across Canada's 10 provinces and three territories.
"Talagang kulang sa information dissemination dito sa overseas voting," Dacera said.
(We really lack information dissemination on overseas voting.)
Meanwhile, Nerissa Allegretti of 1Sambayan USA said overseas Filipino voters in the US are still in the dark as to how voting will be conducted as they have yet to receive "clear guidance" and some have not received their mail-in ballots.
Filipino migrants, who total 1.697 million registered voters from across the world, may start casting their ballots in less than a week through in-person voting or by mailing-in their ballots.