Palace: De Lima given due process in drug cases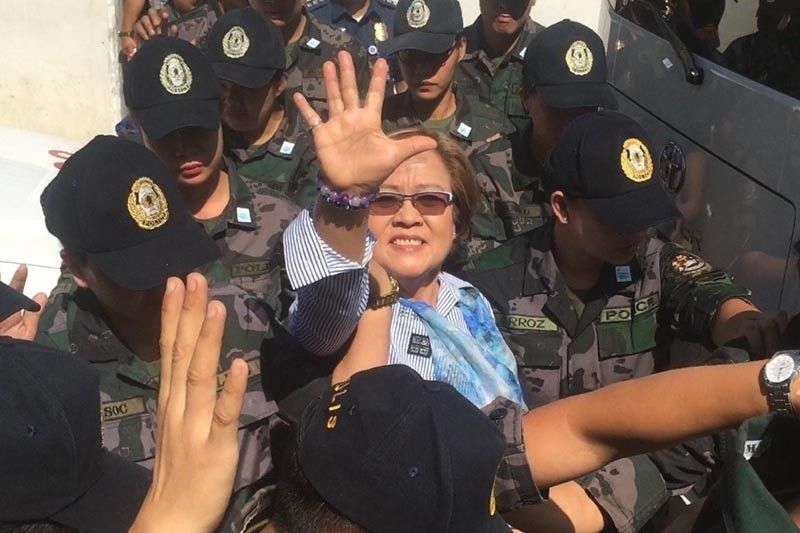 MANILA, Philippines — Detained Sen. Leila De Lima has been afforded due process in drug charges she is being tried for, the Palace said Tuesday after presidential candidates over the weekend commented on her detention since 2017.
De Lima, an outspoken critic of President Rodrigo Duterte, previously lauded Vice President Leni Robredo and labor leader Leody De Guzman for speaking out against her detention. She has repeatedly denied involvement in the illegal drug trade at the New Bilibid Prison and has said the cases against her are politically motivated.
"While we respect the opinions of the presidentiables who gave their stance on Senator De Lima's detention, we have to underscore that the senator has been accorded due process in all stages of her criminal prosecution," Presidential Communications Secretary Martin Andanar said in a statement shared by state-run media PTV4 on Twitter.
Andanar noted that De Lima, who is running for reelection, made her remarks in the middle of the campaign period so it is "understandable she wants to get the sympathy vote from the Filipino electorate."
He said, however, that the "rule of law must always prevail."
De Lima has claimed that she is being politically persecuted and that Duterte has a personal vendetta against her — as Commission on Human Rights chair and later as justice secretary, she had investigated allegations of a "Davao Death Squad" linked to extrajudicial killings in Davao City.
She also claimed that other presidential bets, who were asked whether she should be freed from jail, were afraid to talk about the issue of political persecution due to a "climate of fear" under the Duterte administration.
De Lima has been detained at the Philippine National Police Custodial Center since February 2017 over charges of conspiracy to commit illegal drug trading. She is accused of having hand in the proliferation of the illegal drug trade at the New Bilibid Prison when she was justice secretary.
She has constantly denied the accusations. In 2021, a Muntinlupa court acquitted her in one case, stating that the prosecution "failed to elicit strong evidence to sustain a finding of guilt beyond reasonable doubt on the part of De Lima." She still faces two more drug charges and is mounting a senatorial re-election from her detention cell. — Angelica Y. Yang with Kristine Joy Patag