ADB approves $2 million grant for government's Typhoon Odette emergency response
February 9, 2022 | 9:25am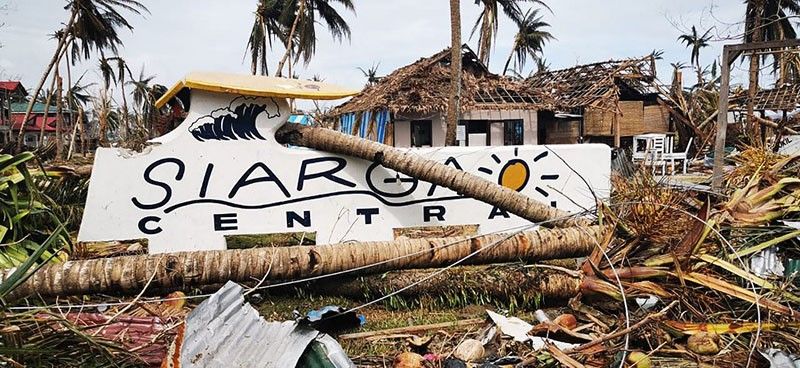 MANILA, Philippines — Multilateral lender Asian Development Bank (ADB) just approved a $2 million grant to support the Philippine government's emergency response to Typhoon Odette (international name Rai), which brought destruction to central and southern provinces in December last year.
The grant, which will come from the ADB's Asia Pacific Disaster Response Fund, seeks to provide humanitarian assistance in 15,000 households, or roughly 75,000 people affected by the typhoon — in the form of food vouchers, and logistics support for food delivery and assistance.
ADB will be teaming up with the United Nations World Food Programme (WFP) to deliver the food assistance to the communities.
"This assistance will help finance the humanitarian needs of those residents, especially people living in remote areas," ADB Director General for Southeast Asia Ramesh Subramaniam said in a statement posted on the bank's website.
Typhoon Odette pummelled portions of the country in December, making landfalls in Surigao del Norte, Dinagat Islands, Southern Leyte, Bohol, Cebu, Negros Oriental and Palawan before exiting in the West Philippine Sea.
It displaced hundreds of thousands of locals in Visayas, and brought destruction of over 1.7 million houses across eight provinces.
Estimates from the National Disaster Risk Reduction and Management Council show the typhoon has caused P24.6 billion or nearly $500 million in damage to crops, public infrastructure and private property.
ADB, whose headquarters are in Mandaluyong, Manila, has vowed to help its member countries become prosperous, inclusive, resilient and sustainable.
As It Happens
LATEST UPDATE: January 5, 2022 - 10:42am
PAGASA says severe tropical storm Rai entered the Philippine Area of Responsibility at around 7 p.m. Tuesday. It was assigned the local name Odette.
January 5, 2022 - 10:42am
Telco giant Globe has completed network service repairs in municipalities of Anda, Dauis, Loon and Panglao in Bohol, San Fernando in Cebu, and Baybay, Albuera in Leyte, and Limasawa in Southern Leyte.
Services in Mindanao's Tagana-an, Surigao del Norte have also been restored as of January 4.
Globe says it has equipped local government units affected by Super Typhoon Odette with an M360 platform, used to send SMS updates to their offices and constituencies. "Palawan, Southern Leyte, and Cebu municipalities Naga, Cordova and the city of Mandaue, were among the first to avail of this free service," the telco says in a release.
January 5, 2022 - 10:39am
Network coverage has been restored in 98% of areas with PLDT and Smart coverage in Bacolod.
The telco group says in a release that network services have been restored in 90% of Visayas cities and municipalities affected by Super Typhoon Odette.
Earlier, PLDT-Smart reported the full restoration of services in Antique, Iloilo, Eastern Samar, Northern Samar and Western Samar.
January 4, 2022 - 2:44pm
The Technical Education and Skils Development Authority in the Cordillera is sending 19 trainers to Bohol, one of the provinces that was hit hard by Super Typhoon Odette last December.
The trainers will help in the recovery and rebuilding efforts in the province by giving skills training to Boholanons.
TESDA Cordillera, along with the TESDA in the Ilocos region, will be giving free training, particularly on construction-related courses. The training will help in the rebuilding homes and other structures destroyed by the strongest typhoon that visited the country since Super Typhoon Yolanda.
The trainers are from the Provincial Training Centers of TESDA Kalinga, TESDA Mountain Province, TESDA Abra, TESDA Apayao, and TESDA Ifugao. There are four trainers for Electrical Installation and Maintenance, nine trainers for Carpentry, and six trainers for Masonry. — The STAR/Artemio Dumlao
December 28, 2021 - 1:39pm
The Department of the Interior and Local Government and other regional goverment offices in SOCCSKSARGEN has sent relief supplies for typhoon-stricken areas in the Caraga Region.
The supplies were transported in a 24-vehicle convoy that included dump trucks.
The humanitarian mission is a joint initiative of the Regional Inter-Agency Task Force on Emerging Infectious Diseases and the Regional Task Force on COVID-19.
The convoy on Tuesday follows an initial shipment of relief supplies to the Caraga Region that the DILG regional office initiated.
The provisions — clothings, food rations and hygiene kits — were received by DILG personnel in the Caraga region. — The STAR/John Unson
December 28, 2021 - 10:03am
Total agriculture damage from Typhoon Odette is at P5.79 billion and counting, Agriculture Secretary William Dar says.
More than 70,000 hectares of agricultural land were affected.
Meanwhile, more than 506,000 houses were damaged by the super typhoon and may reach up to 600,000, Housing Secretary Eduardo del Rosario says.