Opposition unity talks still ongoing
September 25, 2021 | 12:00am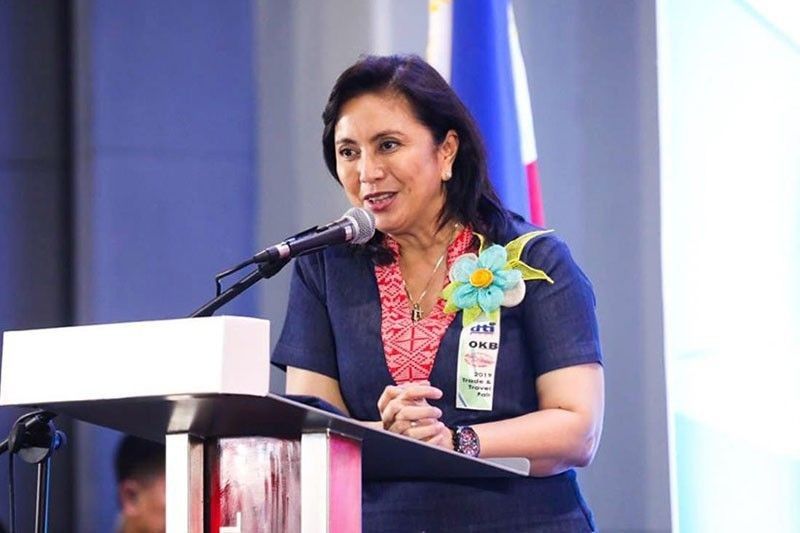 MANILA, Philippines — While admitting heartbreak over the failure to meet other potential presidential candidates, Vice President Leni Robredo said she is not giving up on a unity ticket among opposition forces.
"We were this close (to having a meeting)… That's why it is heartbreaking for me," Robredo said in a mix of English and Filipino during an interview with Radyo Katipunan yesterday. "But I am not giving up."
Earlier, she confirmed plans to meet with Sen. Manny Pacquiao and Manila Mayor Isko Moreno regarding a unification ticket.
The two, however, already declared their plans to run for president this past week.
Despite this, Robredo said she is still willing to continue with the discussions if communication lines are still open.
In a message to her supporters, the Vice President stressed the need to exhaust all possible avenues to ensure better governance next year.
"Trust me. When it comes to the elections, I only have one thing in mind: to make sure that we will stop this kind of governance that is the root of suffering, poverty and death of many of us," she said in Filipino.
"It is my duty to do everything in pursuit of this goal. We need to talk to all of those to whom we can talk, think and pray hard, and exhaust all possible avenues to present the best chances for better governance come 2022," she added.
Yesterday, Robredo's supporters left messages outside her office, urging her to run for president.
Assuring them that she is aware of the upcoming deadline to file certificates of candidacy (COCs), she expressed gratitude but was still cryptic in her response. "What has to happen, will happen," she said.
She also addressed those who feel that she is afraid to lose due to lack of resources and machinery. "Do I look like I am tired? Do I look scared? Do I look nervous?" she asked.
To her supporters, she said: "I hear you, I see what you see. I am with you in your frustrations and hopes for our country… Thank you for understanding, for the encouragement, for the trust. Thank you for your love for our country."
In an interview with ANC, Robredo's spokesman Barry Gutierrez reiterated her position regarding the unity ticket.
"Her perspective is up until the point where they actually file certificates of candidacy, lines remain open and it's still possible to work for a unified candidate or set of candidates for the opposition," he said.
"So she remains committed to that and as she has said previously, she will still continue to pursue discourse and try to exhaust all means to forge a possible unity before she makes her decision," added Gutierrez.
'United opposition still possible'
?Last Thursday, an analyst said a united opposition ticket is still possible and that Robredo will play a crucial role in it.
"At end of day, we can still find unity because everyone is still simply announcing their interest to run and we have until the first week of October to see who files actual candidacy," Stratbase ADR Institute president Dindo Manhit said in interview with "The Chiefs" over Cignal TV's One News.
"Under our election laws, we allow substitution – in this case up to Nov. 15. So there's always the possibility of unity still," he added.
Manhit said Robredo can play a big role in building a broader coalition. "Maybe the narrative of Vice President Robredo is different. Because what I hear from her pronouncements is she wants to unite the opposition," he said.
"Maybe (she can be) an instrument of finding a common good, of common interest among themselves and build an opposition campaign… I still (see) a big role for VP Leni," he added, noting that she can take the lead in campaigning for the unity candidate should she decide not to run herself.
1Sambayan's choice
Opposition coalition 1Sambayan convenor former Supreme Court associate justice Antonio Carpio is also not discounting a unity ticket, although his group is announcing its presidential candidate on Sept. 30.
"The unity talks will continue because as you know, even after you have filed your certificate of candidacy, you can withdraw, you can slide down, you can run for other offices," Carpio said during a virtual forum yesterday.?But 1Sambayan will proceed with announcing who they will support in next year's elections.
"We are proceeding according to our own timetable… They have their own considerations, and we have to respect that," Carpio said on its impending announcement even without the opposition party candidates coming together.
"But of course, something might come out. There might be a rush of renewed hope for a unity ticket. Anything may still happen," he said.
According to Carpio, Davao City Mayor Sara Duterte-Carpio remains the administration candidate to beat despite her earlier declaration that she will not run for a national post.
"We all know that her reason is because the father is running, but the father could withdraw any time and that means she could go back as a nominee, as a candidate," he said.
He also floated the possibility of Duterte-Carpio teaming up with former senator Ferdinand Marcos Jr.?
Minority president
Meanwhile, Manhit told The Chiefs that a multi-cornered battle for president is possible if there would be no unity among some allied candidates.
"What will happen to us is we will have a… minority president again, even lower than what we saw last time," he said.
"But I still believe that there could be three, at least three maybe, but to have the usual five or six? Some of them will just drop out quietly – not officially – but quietly fade," he added, noting the cost of running a campaign in the middle of the pandemic.
During the interview, Manhit also stressed the need for Moreno to present himself as an alternative to the present administration despite his position of being a neutral candidate.
"When you run against candidate of president, you can't be in the middle anymore. Maybe you can be in the middle in terms of your views. But you will position yourself as somebody who is an alternative to the president," he said.
"Maybe what he means is that he is in the middle in terms of policy," he added.
?JV Ejercito
?In a separate development, former senator Joseph Victor "JV" Ejercito announced his bid to return to the Senate.
In deciding to throw his hat into the ring, Ejercito cited the need to continue his legislative work on improving the health care system, tourism and boosting infrastructure development to hasten the country's recovery from the COVID-19 pandemic.
Ejercito, who has themed his campaign as "The Good One," said he thought long and hard on whether or not to run again for the Senate but he was heartened by support coming from various organizations, political groups and ordinary citizens that made him decide to go for it.
"Our voters deserve better choices. Our country deserves the good ones who will help achieve prosperity for all, not leaders who think only about lining their pockets with public money," Ejercito told reporters in an online press conference.?Ejercito, who belongs to the Nationalist People's Coalition, was mentioned recently by President Duterte as a possible adopted candidate of his administration slate.?The sponsor of the Universal Health Care Law said he also got overtures from the camp of Robredo as well as from 1Sambayan. – Paolo Romero