Davao journalist 'mistakenly' arrested in 2019 vows to take legal fight to Supreme Court
August 12, 2021 | 12:45pm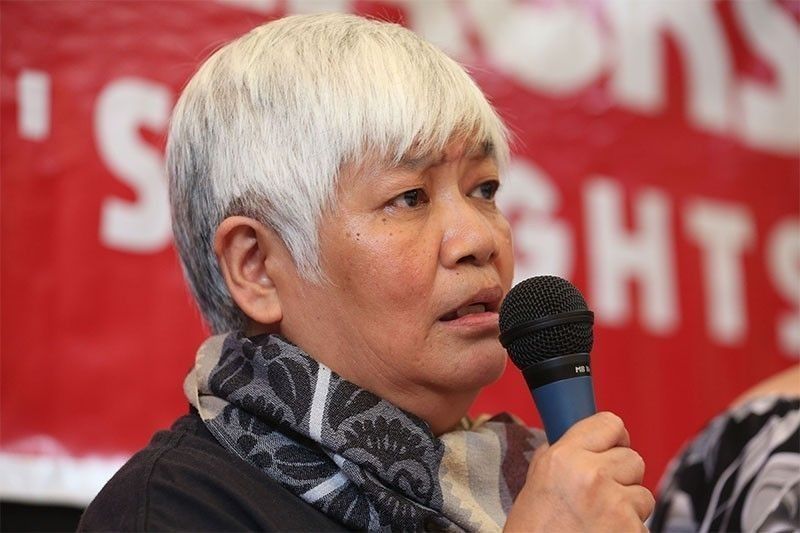 MANILA, Philippines — Davao-based journalist Margarita Valle, who was arrested and locked away for hours based on mistaken identity, vowed to continue to seek accountability from the police and military, in a fight that goes beyond just her case and extends to other journalists.
Members of the Philippine National Police-Criminal Investigation and Detection Group arrested Valle in June 2019 at Laguindingan Airport after they mistook her for Elsa Renton, an alleged communist rebel who has standing warrants for a string of cases.
Valle filed administrative and criminal complaints against authorities before the Office of the Ombudsman, but, in the end, only two cops were in slapped with a three-month suspension. All respondents were cleared of kidnapping, serious illegal detention as well as violation of the anti-torture act complaints.
Now Valle and her counsel Kathy Panguban, from the National Union of Peoples' Lawyers, vow to take their fight to higher courts, to the Supreme Court of the Philippines.
In a virtual press conference, Valle claimed government officials can now get away with crime through legal jargon. "Simple neglect of duty as they call it now easily excuses command responsibility and accountability," she said.
"Though they may be taunting our discomfiture, big bullies that they are, we just cannot allow this transgression without a fight," Valle added.
Mistaken identity
The Office of the Ombudsman in a June 24 resolution affirmed its dismissal of complaints against members of the Philippine Army and PNP-CIDG as it held that Valle's legal team was not able to adduce enough evidence to overturn the presumption of regularity in the authorities' performance of official duty, Panguban explained.
The Ombudsman junked their motion for reconsideration and said matters raised in their appeal were a "mere rehash of the arguments that this Office has already considered and passed upon."
Panguban said Valle is resolute in taking her case to higher courts.
"We have enough evidence that this is not just a simple case of mistaken identity," she said, adding that this defense "has never been a lawful cause to arrest and detain a person."
International Association of Women, Radio and Televisions Philippines president Lynda Garcia raised "grave concerns" on the dismissal of complaints. "It is unacceptable to the attack made against her and her duty as truth-teller," she added.
Panguban said they are eyeing filing a Petition for Certiorari under Rule 65 of the Rules of Court, alleging grave abuse of discretion on the part of the Ombudsman in drawing up the assailed resolution.
RELATED: CHR: 'Mistaken identity' arrest of columnist shows need for due diligence in operations
A fight beyond her case
But beyond the legal fight draining her and her family and colleagues' meager resources, Valle admitted to losing more over the incident:
Her "equilibrium" and will to write.
"It is hard enough as it is to detach my mind from the personal, emotional part of this development in the so-called mistaken identity brouhaha, and yet like it or not, I must confront it just to survive, if not to claim back my equilibrium that has long been destroyed, and so difficult to take back," Valle said.
The columnist admitted that she had been experiencing difficulty in writing. Many attempts to write a column remain unfinished. She said psychological and even spiritual help were offered to her, but the trauma lingers.
"Lies. Manueverings. Paulit-ulit bumabalik sakin yung excuses ng pulis at military (The excuses of the police and military keep coming back)… The trauma of those hours that I was cut off the world [is still too much], even by just thinking about it now," she added.
Valle said that although her family does not tell her directly, she knows that they too have been affected by the case. "So I really want a solution, because I don't want it to happen to my children," she added in Filpino.
Her son Rius, also engaged in advocacy work through the Save our Schools Network, said they want "maximum accountability, we want people to be held behind bars."
"We want this to not happen, not just to journalists, to Indigenous Peoples, to all who are marginalized," he added in Filipino.
Fighting back and awareness
National Union of Journalists of the Philippines chairperson Jonathan de Santos, also an editor at this news website, admitted that while developments may not inspire hope, Valle's story should not be forgotten and authorities may still be held accountable.
He said the public must know that this is what happened to Valle, a known journalist. "Aside from awareness of the case, [awareness] of the public that this is how they treat journalists, this is what could happen to journalists," de Santos added in Filipino.
"If we don't stand up against it, to push [against it], there is a bigger chance that this can happen again as an undeclared policy of the government," he added.
Figures from the NUJP show that there have been 223 incidents of attacks and threats against the members of the press from the start of President Rodrigo Duterte's administration on June 30, 2016 to April 30, 2021. It also recorded 19 killings, eight slay attempts and 52 incidents of intimidation.
Manila Today editor Lady Ann Salem was arrested in December 2020 and was accused of illegal possession of firearms and explosives.
The Mandaluyong court has since ordered her released after it found the search warrant that led to her arrest as void. Alternative media journalist Frenchiemae Cumpio, executive director of Eastern Vista, was arrested in February 2020 and continues to be detained to this day.