NCR a 'high-risk' COVID-19 area again amid Delta variant threat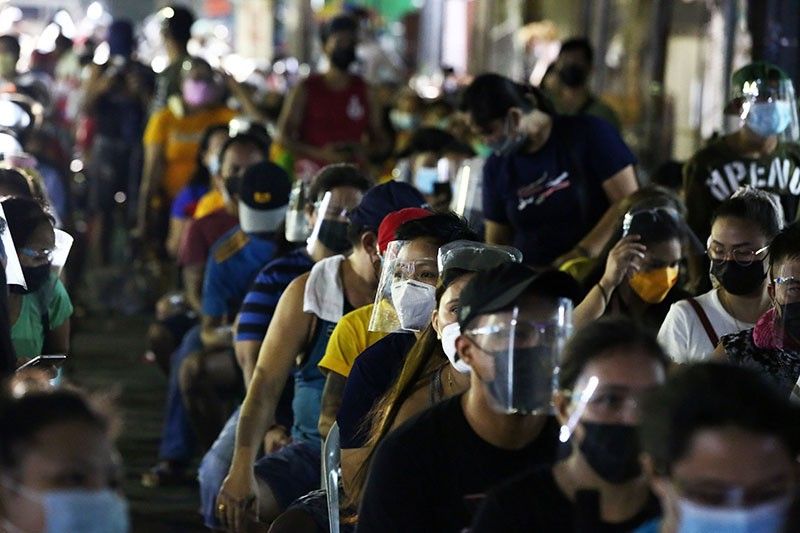 MANILA, Philippines — The Department of Health has reclassified Metro Manila as a "high risk" COVID-19 area along with five other regions, as an official said the impact of the highly infectious Delta variant is now being felt across the country.
Such a pronouncement came just a month after DOH downgraded the capital region to low-risk status when cases then were going down after the months-long hard lockdown.
It is now seeing an uptick in cases, and average daily infections were up by 65% from July 27 to August 2.
"The impact of the Delta variant is now observed nationally and in select regions and areas of the country," said Undersecretary Maria Rosario Vergeire at a Palace briefing.
Other regions now considered high-risk are Central Visayas, Ilocos Region, Cagayan Valley, Cordillera Administrative Region and Northern Mindanao.
Vergeire said the areas showed a moderate two-week growth rate and a high average daily attack rate. The ADAR refers to the number of new cases in an area over a two-week period, divided by the population there.
Metro Manila stood with the highest ADAR at 8.96, Central Visayas with 8.79, Ilocos Region with 8.47, Cagayan Valley with 7.50, CAR with 7.48, and Northern Mindanao with 7.47.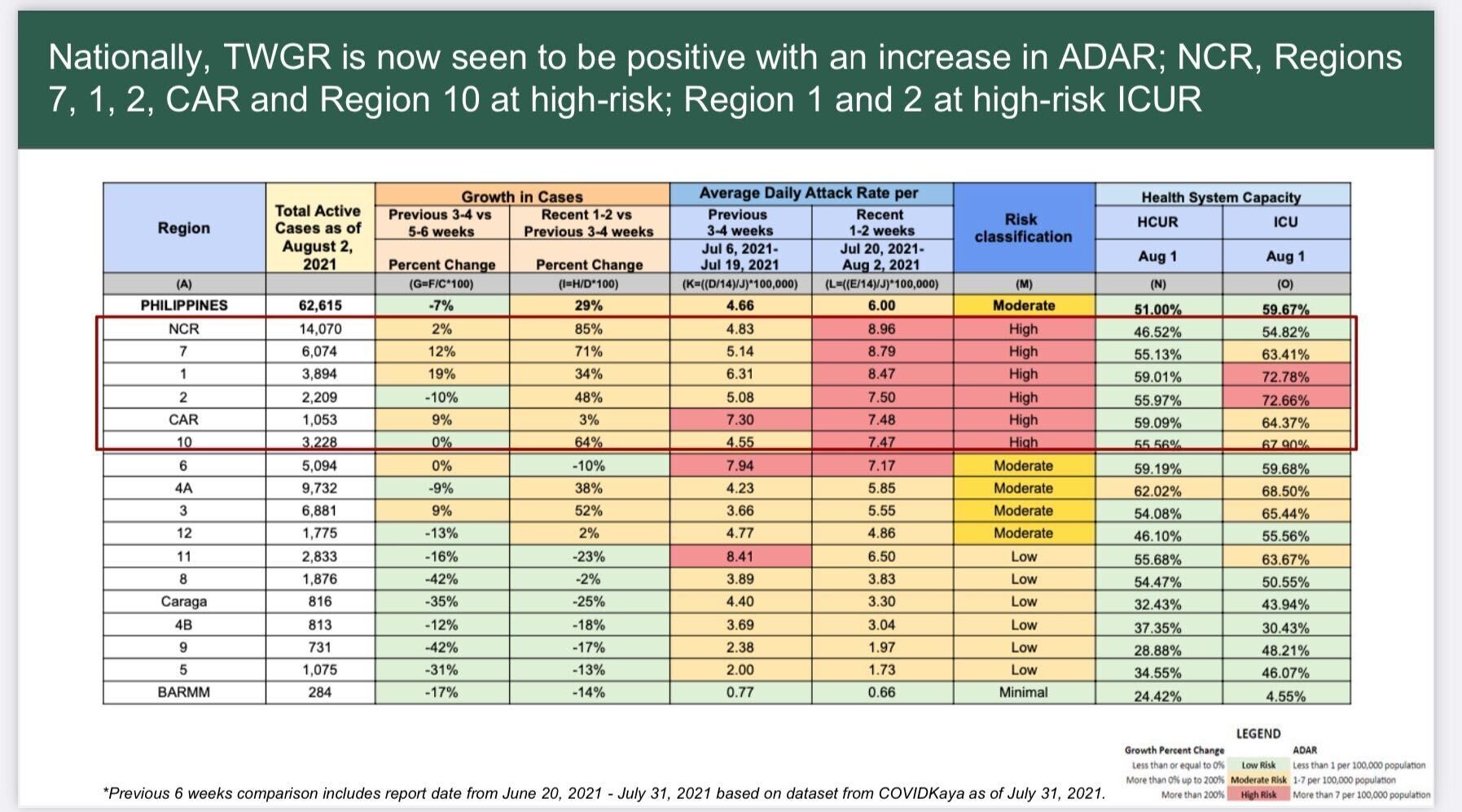 The health official added that Ilocos Region and Cagayan Valley now have high risk ICU utilization rate at 72.78% and 72.66%, respectively.
Health care utilization rate there is at 59.01% for the former and 55.97% for the latter.
Areas with moderate-risk ICU utilization, meanwhile, are Northern Mindanao at 67.90%, CAR at 64.37%, and Central Visayas at 63.41%.
Ahead of stricter lockdown
In the capital region, the numbers are at 46.52% HCUR, and its ICU occupancy rate is at 54.82%.
Vergeire said all cities here reported a positive two-week growth rate, with Pateros and Malabon at "critical risk."
Thirteen areas also have high risk ADARs: Makati, San Juan, Pasay, Las Piñas, Navotas, Muntinlupa, Parañaque, Valenzuela, Pasig, Mandaluyong, Taguig, City of Manila, and Quezon City.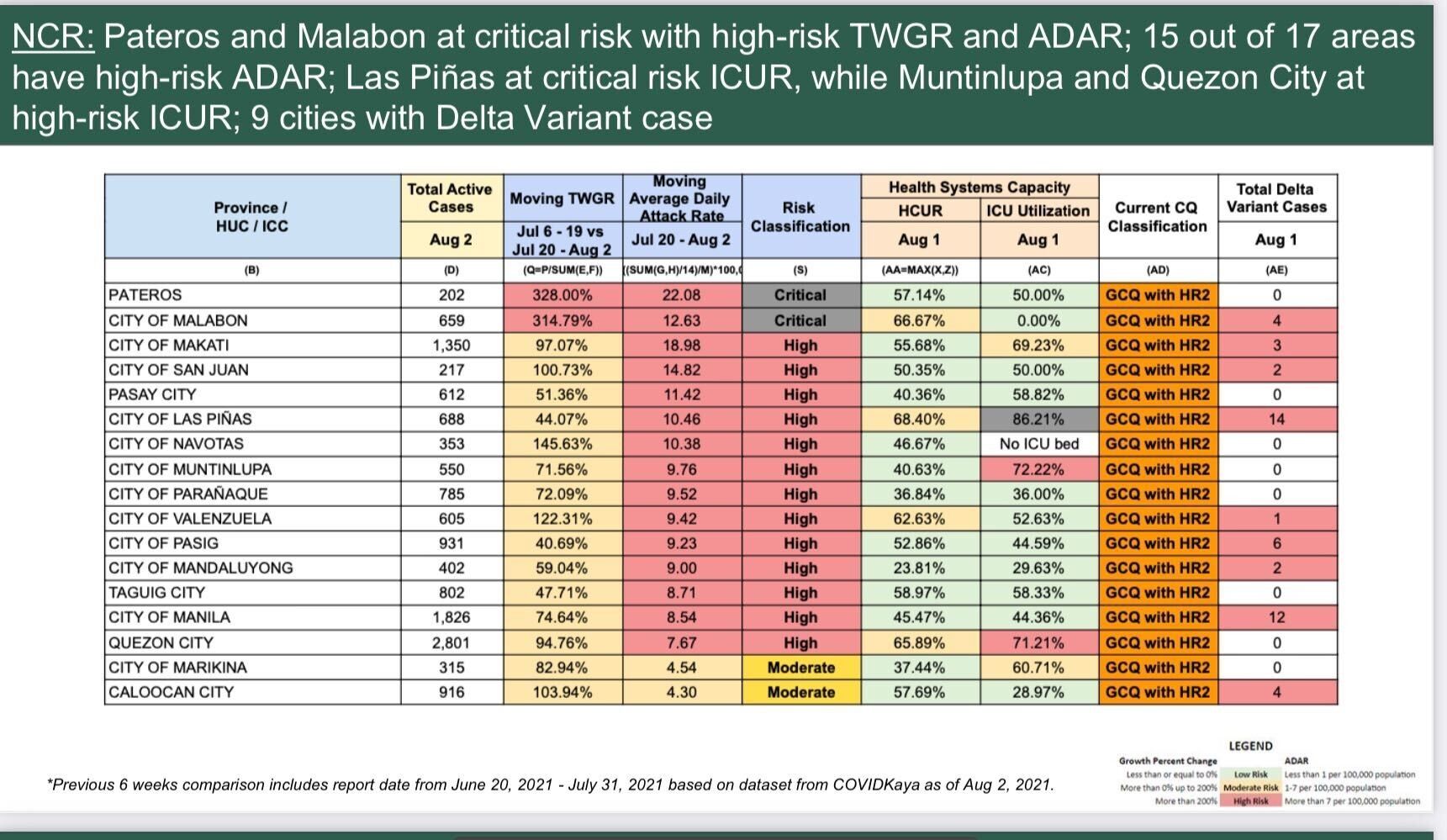 DOH also flagged three cities for their ICU utilization rates, namely: Las Piñas whose 86.21% puts it already at critical level, and Muntinlupa (72.22%) and Quezon City (71.21%) at high-risk level.
Nine cities in the capital region have reported cases of the Delta variant of COVID-19, accounting for 47 of the country's total 216 to date.
Metro Manila will to revert to enhanced community quarantine by August 6 that would stretch to August 20.