Duterte, Dominguez deny government underspent Bayanihan funds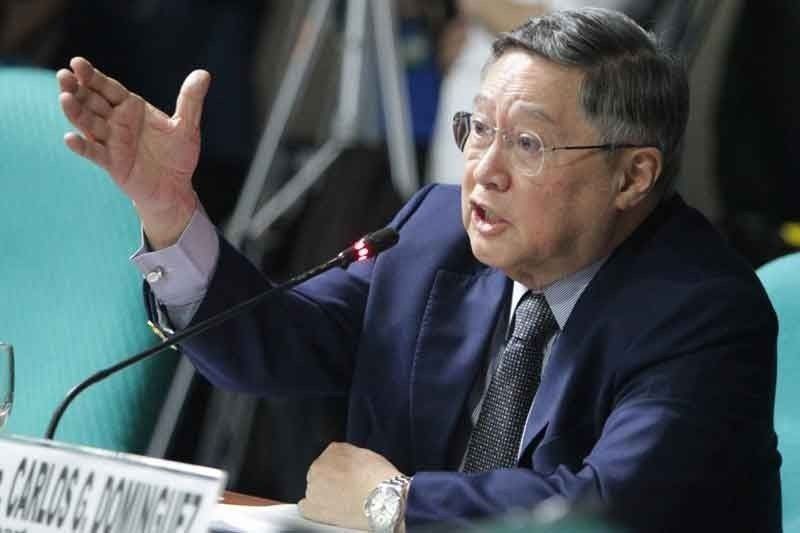 MANILA, Philippines — The Duterte administration has denied underspending funds intended to address the COVID-19 pandemic, which has left more than 27,000 people dead in the Philippines and dragged its economy into a recession.
During a meeting with key officials last Saturday, President Duterte asked Finance Secretary Carlos Dominguez III to react to the claim of Senators Panfilo Lacson and Vicente Sotto III that there was underspending in the Bayanihan funds. Bayanihan is a law that allocated funds for the government's pandemic response.
Citing data from the budget department, Dominguez told Duterte that the government has already released P660 billion.
"What they are referring to as 'underspending' is P6 billion or one percent of the total," the finance chief said.
"The Department of Budget (and Management) and ourselves are going to each
department to see where the P6 billion is. But Mr. President, this is one percent problem... In relation to what we have released of 660 billion, this is one percent, okay, and we are sure that it will be released," he added.
Dominguez said economic managers are asking each department "to really spend the money."
Duterte then chided Congress for supposedly not listening to Dominguez when he was explaining how state funds are used.
"The problem is, you know, one thing very wrong with Congress is that they are not listening when you are talking. So it would be better to give it a little shout. That's true. In Bisaya, it's called tira-pasagad or shooting aimlessly. Tell them that one percent," the President said.
"The criticism is always on the executive department, and we execute the laws. So when they say that you are not spending the money correctly because there is underspending, and it turns out it's only one percent... I'd like to tell Congress now that when Secretary Dominguez is talking to you, please listen," he added.
In a statement, the finance department said a total of P665.72 billion has been released to fund the government's COVID-19 response and to mitigate the economic losses of low-income households, small businesses and other vulnerable sectors reeling from the pandemic-related restrictions.
"Dominguez has always pointed out that President Duterte's policy of fiscal discipline and prudence and the tax and economic reforms he has put in place since 2016 allowed the government to get its act together and prepare financially when the COVID-19 pandemic struck last year," the department said.
Meanwhile, Dominguez said the government has set aside P45 billion in next year's national budget for its vaccination efforts as he assured the public that there would be enough supply of COVID-19 jabs for the country's adult population this year.
The amount, he added, can be used to fund both additional pandemic vaccines or booster shots, depending on the recommendation of the health department.
"We had a meeting with (Budget) Secretary (Wendel) Avisado and (Health) Secretary (Francisco) Duque (last Friday) and we noted that we have in the budget for next year already 45 billion pesos for additional vaccinations," Dominguez said during a meeting of the government's pandemic task force last Saturday.
"Just to assure you... Mr. President, and the health community, we do have the money for that. Now the question is: how do we use that money? Are we going to need booster shoots? Are we going to need another set of vaccinations? Whatever it is, please tell us so that we can properly allocate these funds," he added.
Dominguez said the Philippines has received 30 million vaccine doses as of July 23 and is expected to receive a total of 171 million jabs this year, noting that the country's entire adult population could be vaccinated by the end of the year.
"So those 171 million is more than enough to vaccinate the entire adult population of the Philippines and the money is already available for that, OK. So there is no problem with the money for this year," the finance chief said.?"So, Mr. President, I don't think we are good only until six months, I think we are good beyond 2022."
He noted that 65 million doses are expected for delivery within the third quarter while another 55 million doses may arrive by the fourth quarter this year.
The government is also expecting the COVAX Facility to deliver additional volumes of vaccines this semester. The finance department's International Finance Group has said the Philippines can access a maximum of 49 million doses from COVAX.
The World Health Organization has recommended that countries inoculate 40 percent of their population by yearend and 70 percent by the middle of 2022.