Duterte to preside over PDP-Laban meeting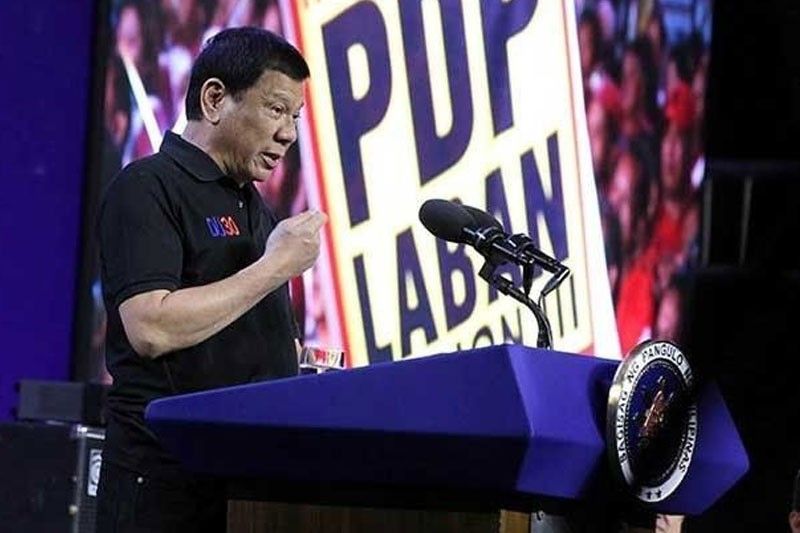 MANILA, Philippines — President Duterte is set to preside over the Partido Demokratiko Pilipino-Lakas ng Bayan (PDP-Laban) national assembly on July 17 in Clark, Pampanga, amid the feud between the factions of acting party president Sen. Manny Pacquiao and vice chairman Energy Secretary Alfonso Cusi.
PDP-Laban acting secretary general Melvin Matibag confirmed the meeting yesterday, saying it was Cusi who called for the gathering.
"We will see what will happen," presidential spokesman Harry Roque said at his regular briefing when asked to comment on the likelihood that the President's presence in the assembly would only further widen the rift.
"In all organizations, there is democracy, all members' views are heard. Let's just see what the PDP-Laban's decision will be," he said.
Meanwhile, Malacañang is unfazed by threats to expel Duterte as chairman of the ruling PDP-Laban political party.
Roque said the President could win any election hands down with or without a political party.
"They can do whatever they want. Once the President decides to run as vice president, he will run regardless of which party or no party at all," Roque said when asked about reports that Duterte may be removed from the party after some members questioned the legality of the resolution urging him to run for vice president next year.
Roque belittled the PDP-Laban, founded by the late Senate president Aquilino Pimentel Jr., which only had a handful of allies prior to Duterte's presidential run in 2016.
"We know PDP-Laban had very few members before Pangulong Duterte became president," he said. "PDP-Laban's membership was just one jeepney before President Duterte joined it. If they will expel him, then you will return to just a handful (that fits into) a jeepney."
In another development, Roque brushed aside former senator Antonio Trillanes' tirades against the President, whom the former Magdalo soldier described as "drug-crazed" when he appeared in public for his weekly Talk to the Nation.
"Well, that's gutter talk and we will not respond to it," Roque said.
Surigao del Sur Rep. Prospero Pichay Jr. warned Trillanes that he could face libel charges for "unfounded" allegations that Duterte and Sen. Bong Go siphoned P6.6 billion in public funds.
Pichay said Duterte's signature is nowhere to be found in documents from the Department of Public Works and Highways (DPWH) involving government contracts.
"I'm sure you're not going to see signatures of the President or Sen. Bong Go. So what is your basis?" he said.
Go earlier described Trillanes' plunder exposé as an old issue that he has already addressed in 2018.
For Pichay, Trillanes is resorting to black propaganda to bolster his chance in the 2022 elections.