Community pantries to get vegetables donated by Supreme Court justices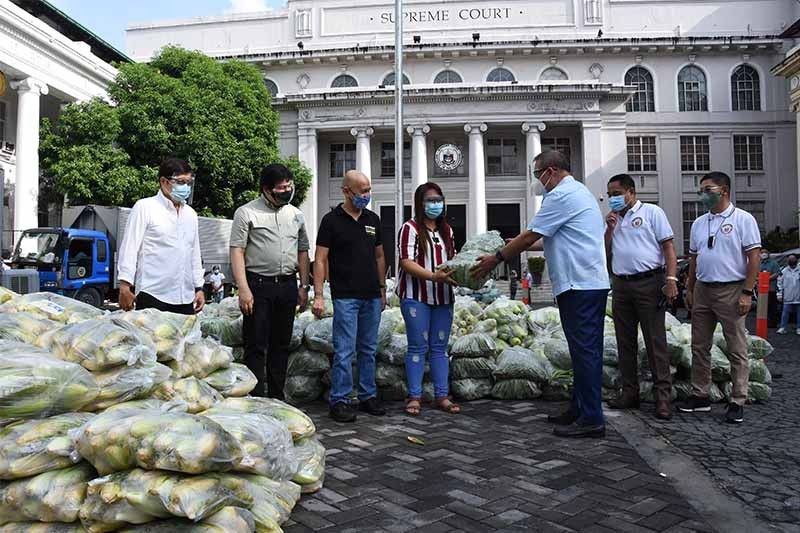 MANILA, Philippines — Community pantries that sprung across the country amid the prolonged lockdown in the country received support from the Supreme Court as justices donated tons of vegetables to fill food banks in Metro Manila.
"The 14 incumbent magistrates of the Supreme Court, using their personal resources and working collectively, purchased more than 14 tons of vegetables form farmers to be distributed top various community pantries," the SC Public Information Office said in a statement.
Community pantry organizers have reported being surveilled and profiled by police officers when they started the initiatives in March. National Task Force to End Local Communist Armed Conflict officers have also red-tagged them — accusing them of having links to communist rebels without presenting evidence.
The red-tagging of community pantry organizers also figured in the recently terminated oral arguments on the Anti-Terrorism Act of 2020, with justices asking what the basis government officials is for associating community pantry organizers to the New People's Army and whether red-tagging supports the allegations of petitioners of future contingent surveillance.
Chief Justice Alexander Gesmundo was among the magistrates present at the SC grounds in the turnover of the vegetables. Senior Associate Justice Estela Perlas-Bernabe, Associate Justices Benjamin Caguioa, Marvic Leonen, Ramon Paul Hernando, Mario Lopez, Edgardo delos Santos and Jhosep Lopez were also present.
The donated vegetables will be given to the indigent ward of the Philippine General Hospital, the Manila Police District and to community pantries in Metro Manila, the SC PIO said.
"All justice is based on ethical compassion," it added.
The turnover of donated vegetables took place on Thursday, on the eve of the SC's 120th anniversary. — Kristine Joy Patag