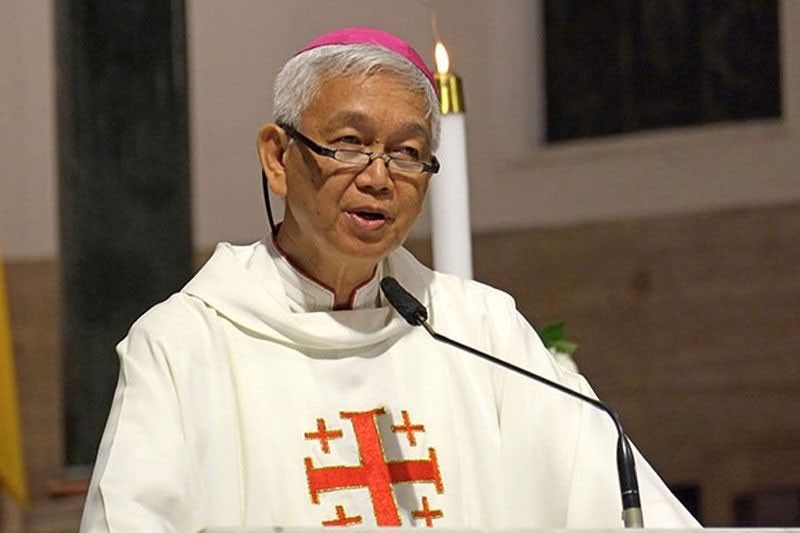 File photo showing Bishop Broderick Pabillo, the apostolic administrator of the Archdiocese of Manila.
Interaksyon/Photo from CBCP News
Bishop to Catholics: Be missionaries through social media
MANILA, Philippines — Archdiocese of Manila apostolic administrator Auxiliary Bishop Broderick Pabillo yesterday urged Catholics to be missionaries through social media.
"Catholics could be missionaries and spread the Good News with just a click of their fingers through the social media," Pabillo said in his homily at the St. Joseph Parish in Gagalangin, Tondo in celebration of the Ascension of Jesus Christ, the opening of the Laudato Si Week and the 55th year of World Day of Communication.
The Manila prelate said that when Jesus ascended to heaven, He left behind the mission for Catholics to continue communicating the Good News.
"The advances in technology allowed people to have a wider reach in communication. It has widened mass communication such as radio, television and newspapers, and this is further widened by social media," he said.
"Even if the people are told to stay inside the safety of their homes to prevent being infected with COVID-19, we can be missionaries by our finger tips," he added.
In fulfilling the mission, Pabillio said Catholics should see themselves "not only as receivers of news, but also spreaders of news."
"People should not just be content by watching and reading posts in social media sites. Instead, they should use the social media to also connect and give," he added.
The bishop also advised the public to practice discernment on what posts they should read or give attention to. "Let us choose well what we receive. Let us not poison our minds and hearts of wrong, vulgar and evil messages that can also be seen in social media sites," he said.