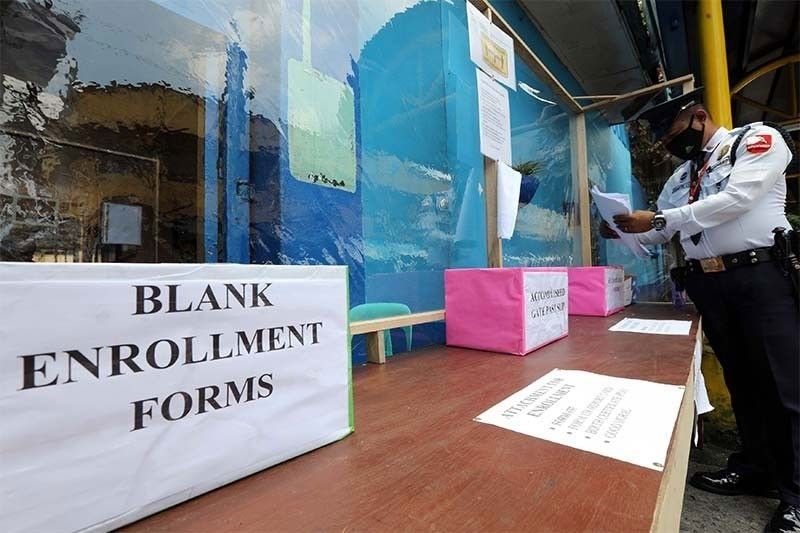 This undated photo shows the Department of Education allowed enrollment through the drop box system
The STAR/Michael Varcas, file
DepEd extends early registration in public schools
MANILA, Philippines — The Department of Education (DepEd) has extended the early registration for incoming Kindergarten and Grades 1, 7 and 11 students in public schools until the end of the month.
In an advisory on Monday, DepEd said public schools will continue to accept early registrants until May 31, a month later than the original end of early registration period on April 30.
Latest data showed that more than 4.2 million students have already signed up during the conduct of early registration that started on March 26.
Most of those who registered are incoming Grade 1 students with 1,490,647, followed by incoming Grade 7 with 1,049,298; Kindergarten with 919,428 and Grade 11 with 794,768.
Incoming students in Grade 2-6, 8-10 and 12 levels are considered pre-registered and do not need to participate in the early registration process.
DepEd said remote application may be done online or through text, while physical registration in schools and barangays in low-risk areas should strictly follow public health and safety protocols.
Earlier, the agency authorized school division superintendents to implement full remote early registration even in areas under modified general community quarantine depending on its current risk assessment level.
DepEd Undersecretary for planning and human resource and organizational development Jesus Mateo reminded field offices to utilize available online platforms and dropboxes in the conduct of remote early registration.
"Similar to the previous year, early registration forms will be available in barangay halls and other public spaces. An early registration dropbox will be made available for parents or guardians to collect and submit the forms in these identified places," he said.
In areas where in-person early registration is allowed, only parents or guardians are permitted to transact within school premises.
Mateo said regional and division offices must establish hotlines for the provision of technical assistance to schools on policy and process-related concerns.
Meanwhile, schools were encouraged to set up hotlines and provide their respective official school details to the general public to answer queries and concerns related to early registration.
DepEd also reminded the schools of the strict implementation of the cut-off age in kindergarten, citing a previous policy that students should be five years old by Aug. 31 for those that will start their school year in August.
The early registration for incoming kindergarten and Grades 1, 7 and 11 students is conducted every year to help DepEd and the schools prepare for the incoming school year.
It also seeks to locate, identify and register out of school youth and children identified as living with disabilities, having chronic illness or nutritional problems, a victim of child abuse or economic exploitation, those in conflict with the law or living in the streets.
The registration period also encourages schools, local officials and other members of the community to reach out to those displaced due to natural disasters, those living in a geographically isolated area, stateless or undocumented and those longer in school but are interested in going back.
Meanwhile, Sen. Sherwin Gatchalian is pushing for the allocation of up to six percent of gross domestic product (GDP) for the overall budget of the education sector next year to help spur the sector's recovery from the COVID-19 pandemic.
Gatchalian said such allocation was recommended by the United Nations under the Sustainable Development Goal 4.
He said the education sector has been allotted a budget of P759 billion for this year or four percent of GDP to help address the challenges of the pandemic. A big chunk of the budget – 3.2 percent of GDP – goes to basic education.
"We want to make sure that the budget for the education sector is responsive to the new normal by rechanneling some of the programs to distance learning – increase the use of the internet and protect the health of our teachers and our school officials," Gatchalian emphasized.
Aside from meeting the UN spending targets, Gatchalian also proposed the following steps in financing education: ensuring efficient funding at the local level to improve learner outcomes, ensuring coverage for vulnerable groups and adjusting the national budget to adapt to the new normal. – Cecille Suerte Felipe