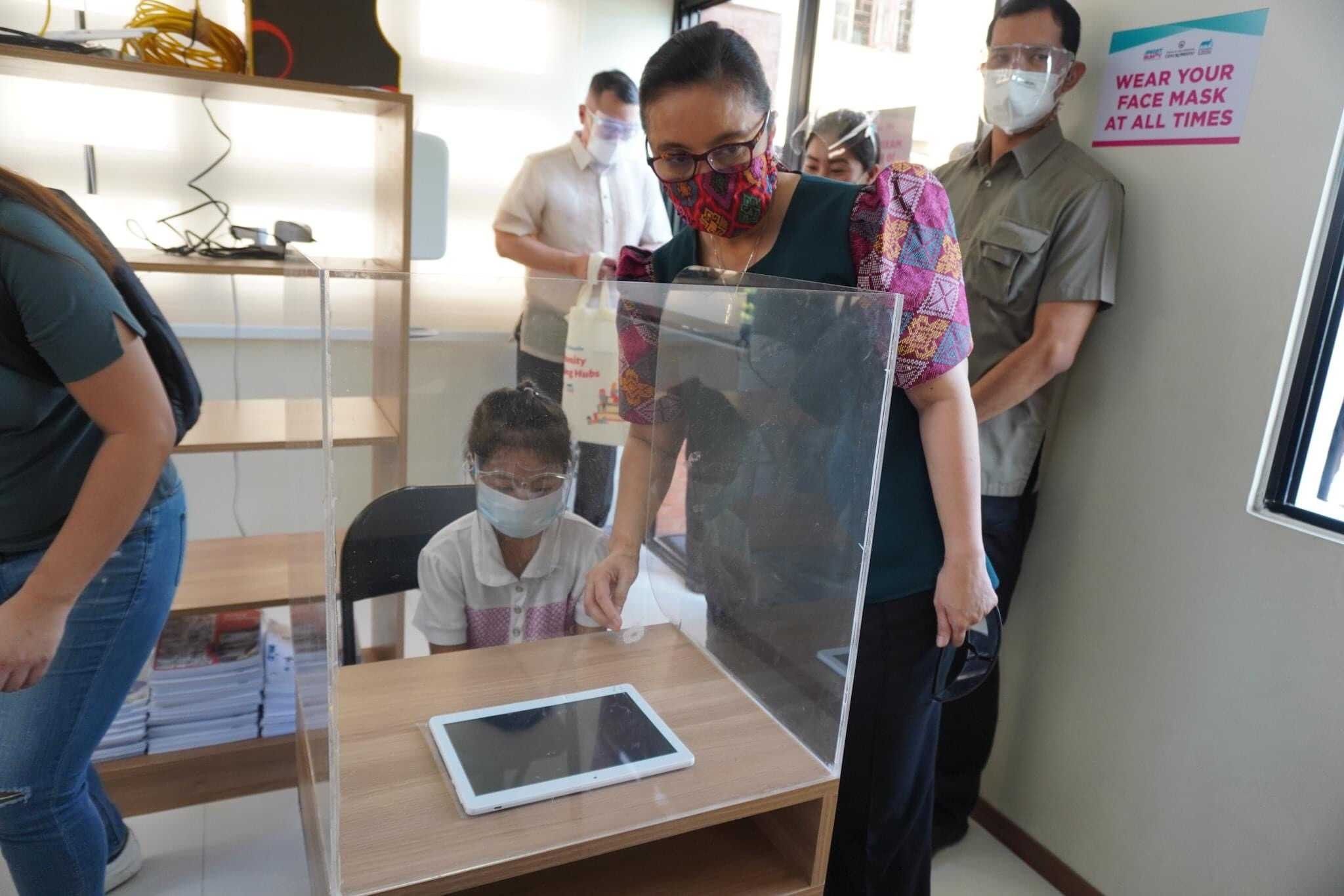 Vice President Leni Robredo visits the OVP's community learning hub in Pasig City in this October 2020 photo
Release/OVP
After pilot test nod on in-person classes, Robredo tells gov't to be open to suggestions
MANILA, Philippines — Vice President Leni Robredo on Sunday said government should be more open to suggestions after its approval this week of a pilot test for resuming in-person learning in low-risk areas, a move she had been pushing for in the past.
The Duterte Cabinet had given the go signal for the education department's proposal, which is set in January next year and will take place in over 1,000 schools in areas with low coronavirus transmission.
Such follows as government conceded that the distance learning setup, DepEd's answer to continuing classes amid the pandemic, is far from ideal as difficulties persist months since it began in October.
"Kung mas bukas lang sila sa suggestions, mas marami na sanang bata 'yung natulungan," she said over radio dzXL. "Ilang beses na natin 'to na-discuss [dito] pero 'pag galing sa akin shina-shut down, iniinsulto pa nga tayo pero later on gagawin din nila many months after."
(If they were only open to suggestions, many students would have already been assisted. We have discussed this many times in our radio show but when the suggestion comes from me, it's shut down get insults, only for them to do it months later.)
Robredo had called for the resumption of physical classes in low-risk areas, citing challenges under distance learning such as no signal or internet access for students and teachers as well as gadget availability.
In October, the OVP opened its community learning hubs in various areas geared to help learners without internet connection in their homes.
The said project, however, faced question from the administration after DepEd said the hubs were not approved by the agency.
Official exchanges between Robredo and Secretary Leonor Briones later on showed that the education chief herself called it a "good initiative" before distancing from the top opposition figure's efforts.
"Sana 'yung mga solusyon na binibigay natin akma sa sitwasyon on the ground, hindi 'yung one size fits all," Robredo said. "'Yung sitwasyon sa Metro Manila hindi 'yun 'yung sitwasyon sa baba lalo na 'yung mga isla o bukid, malalayo wala namang COVID cases."
(The solutions we give to supposedly solve our problems should match the situation on the ground. The picture in Metro Manila is not the same as those in islands or farms, far from having COVID-19 infections.)
The vice president added that her visits to areas showed local education officials in some regions in favor of limited on-site learning but are constrained as they await a decision from the higher-ups.
"Ang hindi nare-realize after 'pag hindi bukas sa suggestions hindi naman ako 'yung nabibiktima. 'Yung nabibiktima ay 'yung mga bata," Robredo said. "Siguro hindi kasi sila masyado bumababa on the ground kaya hindi nararamdaman 'yung urgency ng ibang pangangailangan."
(What they don't realize is if they are not open to suggestions, it is the children who suffer. Maybe this is because they rarely go down to the ground hence they don't feel the urgency of other necessities.)
Per DepEd's own timeline, schools that would be selected as sites for the pilot study would be made known by December 28, with the actual run set from January 11 to 23 next year.
The move would see smaller class sizes of around 15 to 20 students following staggered schedules. It is also not mandatory and will only be for students who have the approval from parents or guardians.
Education officials have also outlined measures to be followed in schools for the pilot run, such as disinfecting facilities regularly, monitoring symptoms, as well as upgrading school clinics for better health services.
President Rodrigo Duterte in May disallowed the reopening of schools without a vaccine yet for the coronavirus that had since stirred calls from groups to forego the year in learning until the country weathers the pandemic.
Tensions between the country's top leaders peaked in November after Duterte incorrectly claimed that Robredo was behind calls for his whereabouts amid the recent typhoons that hit the country, as government faced criticism for its disaster response.
As It Happens
LATEST UPDATE: December 26, 2020 - 6:24pm
Follow this thread for updates on when classes will resume, and how those classes will be conducted.
Photo: Students wearing protective face masks have their temperatures taken while entering their college campus in Manila on January 31, 2020. AFP/Ted Aljibe
December 26, 2020 - 6:24pm
President Rodrigo Duterte announces that face-to-face classes in certain areas are cancelled due to reports of a new coronavirus strain.
November 30, 2020 - 3:01pm
International students have arrived in Australia for the first time since the country shut its borders to curb coronavirus in March, with a charter flight touching down in Darwin on Monday.
Australian universities have been leaking cash due to the country's indefinite border closure, which has locked out foreign students who keep the billion-dollar sector afloat.
A plane chartered by Charles Darwin University (CDU) carrying 63 international students arrived in the northern city of Darwin as part of a pilot programme aimed at kickstarting the higher education industry.
The students — from mainland China, Hong Kong, Japan, Vietnam and Indonesia — travelled to Singapore to catch the flight and will now spend 14 days in a government quarantine facility.
The mix of new and continuing students are enrolled across a range of undergraduate and postgraduate courses including law, nursing and engineering. — AFP
November 26, 2020 - 12:07pm
The University of the Philippines will implement a 'no-fail' policy for the current semester, the Office of the Student Regent announces.
The Office of the Vice President for Academic Affairs will release guidelines for the policy, where no grades of "4" (Conditional) or "5" (Fail) will be given.
November 12, 2020 - 6:05pm
Filipinos dealing with the aftermath of a series of major typhoons cannot continue classes under current conditions, Samahan ng Progresibong Kabataan says in a release as it demanded that classes and other academic work be postponed until the 19th.
"As Typhoon Ulysses continues to wreck havoc in Central Luzon and the Greater Manila Area and southern Luzon still grappling with widespread flooding, power outages and intermittent internet signals making distance learning of any kind practically impossible," the group says.
"We demand the suspension of ALL classes and submission of academic requirements in ALL levels NATIONWIDE until November 19. Millions need decisive action from our government officials NOW," it also says.
October 29, 2020 - 8:08am
The UN and World Bank plead in a new report Wednesday for schools to remain open despite COVID-19 risks, highlighting the damage the pandemic has inflicted on children's education, especially in poor nations.
Children in impoverished countries have been deprived of close to four months of schooling since the pandemic began early this year, while pupils in rich nations benefiting from remote learning have lost six weeks, the report said.
"Prioritizing reopening schools and providing much-needed catch-up classes are critical," says Robert Jenkins, education chief at the UN children's fund UNICEF.
"We don't need to look far to see the devastation the pandemic has caused to children's learning across the world," he adds in a statement. — AFP