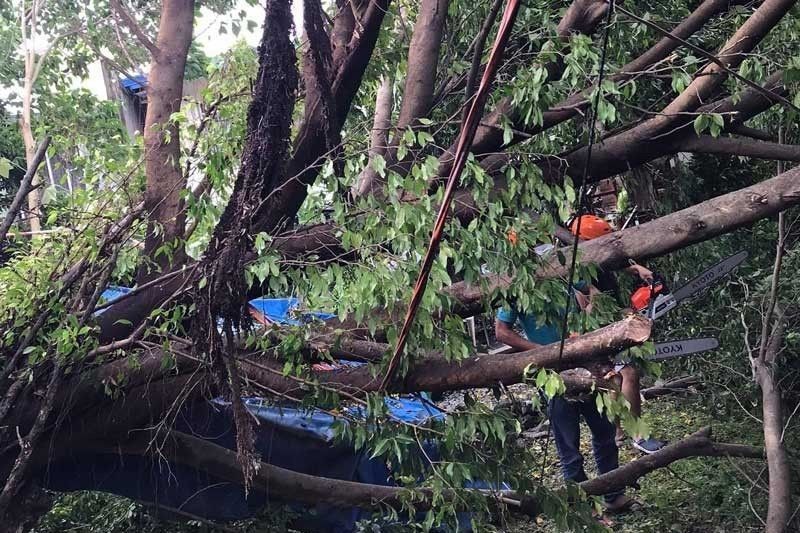 This October 26, 2020 photo shows operations to clear debris left behind by Typhoon Quinta
Batangas PIO Facebook page
Quinta death toll reaches 4; 13 missing
MANILA, Philippines — The death toll from Typhoon Quinta rose to four after two persons drowned in Negros Oriental, the National Disaster Risk Reduction and Management Council (NDRRMC) reported yesterday.
The fatalities, a 60-year-old woman from the municipality of Siaton and a man from Bindoy town, drowned.
The NDRRMC earlier reported that Artemio Bumiltac, a 60-year-old farmer from Cagayan Valley, and Gloria Rivas, 70, of Mauban, Quezon died at the height of the typhoon.
"All fatalities were caused by drowning," NDRRMC spokesman Mark Timbal told reporters.
Timbal said 13 people, including nine fishermen in Catanduanes and Camarines Sur, remain missing. Four others are still missing in Bauan, Batangas; Odiongan, Romblon; Iloilo, and Negros Oriental. One was reported injured in Mogpo, Marinduque.
Authorities have launched search and rescue operations for the missing individuals.
The NDRRMC said at least 22,029 families or 77,793 individuals fled their homes.
Timbal said the evacuees are housed in 843 evacuation centers in Metro Manila, Calabarzon, Mimaropa, the Cordilleras and Regions 3, 5, 6, 7 and 8.
The Batangas City government has declared a state of calamity due to widespread destruction caused by Quinta.
Mayor Beverley Rose Dimacuha signed an executive order declaring a state of calamity to hasten rescue, recovery relief and rehabilitation efforts.
More than 300 families in the city have been evacuated to safer grounds.
Agriculture damage hits P402 million
Initial damage to the agriculture sector in areas affected by Quinta reached P402 million.
The Department of Agriculture reported that initial losses in the farm sector was estimated at P401.73 million.
This covers 14,252 hectares of agricultural lands with production losses at 20,568 metric tons, affecting some 16,531 farmers in Ilocos Norte, Rizal, Quezon, Camarines Sur, Albay, Masbate, Aklan, Antique, Camarines Norte, Catanduanes and Sorsogon.
The high value crops sector was hardest hit at P242 million or 60 percent of the damage. Quezon was severely affected among the provinces.
Sen. Bong Go said the government is ready to provide assistance to typhoon victims.
Go said concerned government agencies would provide assistance to affected communities, such as search and rescue, repair of damaged infrastructure, provision of relief goods and medicine as well as restoration of electricity.
"The President gave assurances that the government is ready to help those affected by the typhoon," Go said.
Go called on regional offices of government agencies to be responsive to the needs of typhoon victims in their jurisdictions.
He also urged the residents staying in evacution centers to follow protocols set by local disaster officials.
Go, who chairs the Senate committee on health, asked government officials to ensure that evacuation centers are COVID-safe.
LPA to enter Phl
Quinta left the Philippine area of responsibility yesterday but a new weather disturbance is expected to enter the country in the next 48 hours.
As of 5 p.m. yesterday, tropical cyclone wind signal no. 1 remained hoisted over Kalayaan Islands, the Philippine Atmospheric, Geophysical and Astronomical Services Administration (PAGASA) said.
The low-pressure area spotted east of Luzon developed into a tropical depression yesterday. It was forecast to enter country today or tomorrow and would be locally named Rolly.
Based on latest forecast, the approaching weather disturbance is likely to make landfall over Bicol or Eastern Visayas between Saturday night and Sunday morning, PAGASA weather specialist Ariel Rojas said.
Rojas said the tropical depression could intensify into a severe tropical storm before it hits landmass, warning the public of possible floods and landslides in areas hit by Quinta.
PAGASA said light to moderate to at times heavy rains would persist this morning over Western Visayas, Zamboanga Peninsula, Batanes, Cagayan, Occidental Mindoro, Oriental Mindoro, Romblon, Palawan, Basilan, Sulu and Tawi-Tawi.
Roads closed, power lines down
At least 17 national road sections remain impassable due to Quinta, Department of Public Works and Highways (DPWH) Secretary Mark Villar said yesterday.
DPWH teams continue to conduct clearing operations and restoration works to open these roads, Villar said.
He said DPWH workers have cleared 16 road sections nationwide.
Several transmission lines in Luzon remain unavailable after being affected by Quinta, the National Grid Corp. of the Philippines (NGCP) said.
In an advisory, the NGCP said there are nine transmission lines unavailable as of Monday night.
Among these are the Batangas-Mabini 69-kilovolt Line; Calaca-Balayan-Nasugbu/Calatagan 69-kV Line; Naga-Libmanan 69-kV Line; Naga-Lagonoy 69-kV Line; Naga-Iriga 69-kV Line; Naga-Tinambac 69-kV Line and two 500-kV and one 230-kV lines.
The NGCP has mobilized 21 line crews, with 12 additional groups from northern Luzon, Metro Manila and the Visayas to speed up restoration of affected facilities.
The NGCP reported that seven transmission lines have been restored.
These are the Batangas-Bauan 69kV Line; Batangas-Ibaan-Rosario 69-kV Line; Bay-Calamba 69-kV Line; Calaca-Taal 69-kV Line; Pitogo-Mulanay 69-kV Line; Daraga-Sorsogon 69-kV Line and the Tiwi-Malinao-Tabaco 69-kV Line.
Meanwhile, rains spawned by Quinta increased the water elevation of Angat Dam by more than four meters yesterday.
Mina Ingusan-Ancheta of the Bulacan public affairs office said the dam's water level was at 198.80 meters, up from 194.10 meters on Monday.
Ipo Dam's water elevation was at 100.85 meters and Bustos Dam at 16.60 meters.
Funds, relief goods
The Department of Social Welfare and Development (DSWD) said it has enough standby funds and stockpiles for distribution to families affected by Quinta.
Social Welfare Undersecretary Rene Glen Paje said the agency has P302 million in standby funds that can be used for quick response operations to support those affected by the typhoon.
The DSWD also has almost 250,000 food packs worth P119 million as well as food and non-food items amounting to P475 million.
Paje said some of these relief items were prepositioned in the regions affected by Quinta.
He said there are stockpile funds in DSWD regional offices in Central Luzon (P17 million), Calabarzon (P12 million), Mimaropa (P35 million), Bicol (P35 million), Western Visayas (P68 million) and Eastern Visayas (P38 million). – Helen Flores, Cecille Suerte Felipe, Jose Rodel Clapano, Ramon Efren Lazaro, Catherine Talavera, Janvic Mateo, Arnell Ozaeta, Louise Maureen Simeon