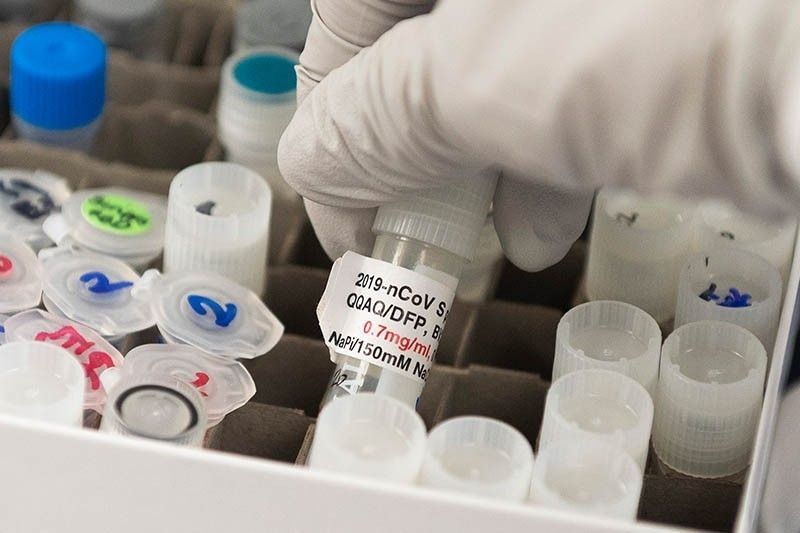 In this file photo Dr. Nita Patel, Director of Antibody discovery and Vaccine development, lifts a vial with a potential coronavirus, Covid-19, vaccine at Novavax labs in Gaithersburg, Maryland on March 20, 2020, one of the labs developing a vaccine for the coronavirus, COVID-19.
AFP/Andrew Caballero-Reynolds
WHO COVID-19 vaccine trial seen to start in December
MANILA, Philippines Updated 6:24 p.m.) — The clinical trial of candidate vaccines against coronavirus disease led by the World Health Organization will start in December, the Department of Health said Monday.
The vaccine clinical trial was initially scheduled to begin in the country by end-October.
"WHO has announced they would start the trials by December 2020. By November, they will begin in one site and then the different clinical trials in other countries including the Philippines will follow by December of 2020," DOH Undersecretary Maria Rosario Vergeire said in a briefing.
More details including the trial sites will be announced within the week, she added. Government officials earlier said that areas with high level of COVID-19 transmission would be identified as trial sites.
The country has allocated P89 million for the WHO-led vaccine trial.
Vaccine recipients under the solidarity trial will be individuals aged between 18 and 60 years old. Excluded from the trial are pregnant women and those with comorbidities.
Delay
Department of Science and Technology Secretary Fortunato de la Peña said he was "disappointed" that the start of the WHO-led solidarity trial for COVID-19 vaccines will be delayed in the country.
"I was rather disappointed when I saw the news that the pilot for the WHO trial will be in the Americas and the trial here will have to be moved to December because we were expecting that when it is already announced, then we can already proceed maybe in a few weeks time with WHO trial here," de la Peña said in a forum organized by the Foreign Correspondents Association of the Philippines.
"But anyway, we also have the independent trials that are already in relatively advanced stage of evaluation," he added.
The vaccine candidate of Chinese drug maker Sinovac Biotech hurdled the initial stage of screening for clinical trials in the country. It is still undergoing the evaluation of the Single Joint Ethics Research Board.
The Philippines is also assessing the application of Russian firm Gamaleya Research Institute and American company Johnson & Johnson's Janssen to conduct Phase 3 clinical trials in the country.
The DOST chief also said that Australian biotechnology company Vaxine Pty Ltd has expressed interest in conducting a clinical trial of its candidate vaccine in the country.
According to WHO's latest draft landscape of COVID-19 vaccines, there are 44 candidate vaccines in clinical evaluation. Of the figure, 10 are currently in Phase 3 clinical trials.
Treatments
Vergeire also said that interferon had been removed from WHO's trial on COVID-19 treatments after it was found that the drug "did not reduce the mortality among COVID-19 patients."
Meanwhile, the use of remdesivir will continue because the United Nations health agency wants to gather more data to support initial findings on the antiviral drug, she added.
The Solidarity Trial published interim results on October 15 found that remdesivir along with hydroxychloroquine, lopinavir/ritonavir and interferon had "little or no effect" on overall mortality for patients hospitalized with COVID-19.
Last week, the US Food and Drug Administration granted full approval to remdesivir as treatment for hospitalized COVID-19 patients.
The Philippines' COVID-19 caseload reached 371,630 Monday, with 7,039 deaths.
As It Happens
LATEST UPDATE: December 4, 2020 - 3:06pm
Pharma giants Sanofi and GSK said on July 29, 2020, that they have agreed to supply Britain with up to 60 million doses of a potential COVID-19 vaccine. The agreement covers a vaccine candidate developed by France's Sanofi in partnership with the UK's GSK and is subject to a "final contract."
This thread collects some of the major developments in the search for a vaccine to ease the new coronavirus pandemic. (Main photo by AFP/Joel Saget)
December 4, 2020 - 3:06pm
The World Health Organization said it was considering introducing electronic vaccination certificates, as hopes for an end to the pandemic were boosted after Britain became the first country to approve use of a Covid-19 vaccine.
"We are looking very closely into the use of technology in this Covid-19 response and one of them is how can we work with members states towards something called an e-vaccination certificate," WHO Europe expert Siddhartha Datta told an online press briefing Thursday.
Introducing such a certificate, which would make it possible to identify and monitor people who have been vaccinated, has not been finalised and would have to be drawn up in accordance with national laws, Datta said.
It would not be an immunity passport, which is supposed to assure that its carrier is protected against the disease because they have been infected and recovered. — AFP
December 4, 2020 - 12:39pm
Moderna plans to have 100 to 125 million doses of its COVID-19 vaccine available in the first quarter of 2021, the vast majority of which will go to the United States, the biotechnology company announces.
Between 85 and 100 million of the doses will be distributed in the United States, with the rest of the world receiving the remaining 15 to 25 million, the Cambridge, Massachusetts-based company says in a statement.
Moderna also confirms that it expects to have 20 million vaccine doses available in the US by the end of 2020. — AFP
December 2, 2020 - 3:42pm
Britain's approval of BioNTech-Pfizer's vaccine against COVID-19 marks a "historic moment" in the battle against the pandemic, the US pharma group's chief executive says Wednesday, after his company won the first such authorisation in the West.
"Today's Emergency Use Authorisation in the UK marks a historic moment in the fight against COVID-19," says Pfizer CEO Albert Bourla.
The US company and Germany's BioNTech adds that they expected further regulatory decisions from other countries "in the coming days and weeks". — AFP
December 2, 2020 - 3:20pm
UK approves Pfizer-BioNTech vaccine for rollout from "next week".
Britain on Wednesday becomes the first country to approve Pfizer-BioNTech's COVID-19 vaccine for general use and says it would be introduced next week.
"The government has today accepted the recommendation from the independent Medicines and Healthcare products Regulatory Agency (MHRA) to approve Pfizer-BioNTech's Covid-19 vaccine for use," the department of health says in a statement.
"The vaccine will be made available across the UK from next week," the statement says, with priority groups including care home residents, health and care staff. — AFP
December 2, 2020 - 2:41pm
President Rodrigo Duterte grants authority to the Food and Drug Administration to issue emergency use authorization for COVID-19 vaccines, Executive Secretary Salvador Medialdea says.
Duterte's Executive Order 121 also allows FDA to release emergency use authorization for COVID-19 drugs, prescribing conditions and for other purposes.