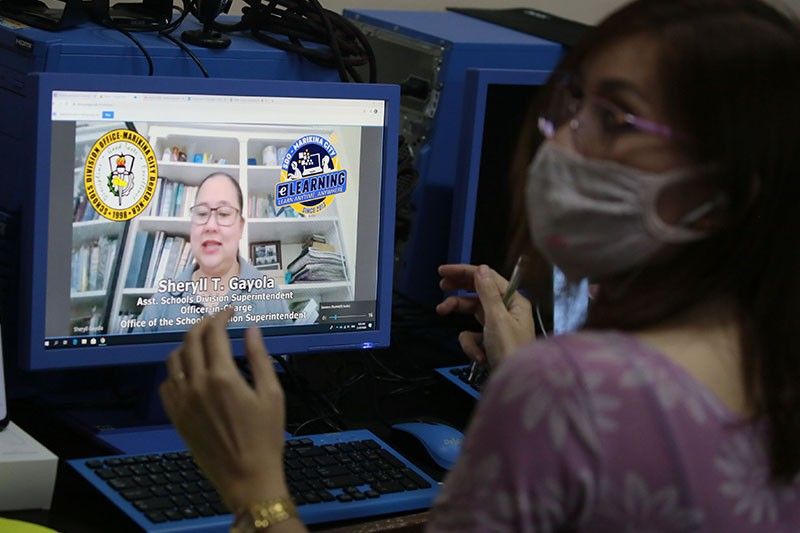 Teachers at Jose Dela Peña National High School in Marikina City undergo webinar training on e-learning on July 21, 2020.
The STAR/Michael Varcas
DepEd urged to hire more teachers to ease load and reduce class sizes
(Philstar.com) - October 1, 2020 - 4:01pm
MANILA, Philippines — A teachers' group on Thursday urged the Department of Education to hire more teachers ahead of the opening of classes on October 5.
This comes after Education Undersecretary Jess Mateo during a virtual briefing Monday revealed that DepEd is planning to hire learning support aides (LSAs) to supplement the pandemic-induced transition to blended learning this coming school year.
LSAs were defined by Mateo as "qualified individuals who can work together with a teacher in providing learning opportunities using various learning delivery modalities that promote achievement and progression of learners."
Following this announcement, the Alliance of Concerned Teachers urged DepEd to instead hire at least 150,000 teachers with their own teaching load.
ACT said hiring more teachers would allow for either the lessening of teaching time from six hours to five or the reduction of class sizes to 40 students instead of 50.
"The group forwards the hiring of retrenched private school teachers as priority, then the hiring of college graduates with a degree in education to augment the agency's teaching workforce," ACT Secretary-General Raymond Basilio said.
"The shift to remote learning and the lack of ample state support for such has more than doubled the workload—not to mention the expenses—of already overworked public school teachers. This will likely result in further decline of education quality and burn out among our educators," he added.
ACT estimated that DepEd would need P45 billion to hire 150,000 teaching personnel "with a salary similar to that of a Teacher 1," which is a monthly basic salary of around P20,574 as of 2019. The group added that these funds can be sourced from the Central Office's "huge allocation" for Maintenance and Other Operating Expenses (MOOE).
"Since we want these personnel to perform teaching tasks, it's only fair that they be given salaries similar to what other teachers currently receive, unlike DepEd's proposal to pay para-teachers a measly P6,000–P11,000. This will also give them a head start in public schools that can be their edge for regularization upon meeting the minimum requirements," Basilio added.
Undersecretary Mateo on Monday said DepEd plans to compensate LSAs according to the minimum daily wage rates set by the National Wages Productivity Commission per region.
Basilio said that the estimated P45 billion needed to hire 150,000 teachers is "highly realizable with proper budget prioritization and can be a start at improving the quality of education in the country."
"Furthermore, this is a step towards achieving Undersecretary Mateo's pronouncement of cutting down classes to 20 students each which will entail at least the doubling of DepEd's present teaching workforce," he added.
Ease 'congested' workload of teachers
Basilio further cited the Magna Carta for Public School Teachers which provides that teachers must teach only a maximum of six hours while the remaining two hours of their shifts should be used for other teaching-related tasks.
Given what he called the different and more complicated form of teaching required by blended learning, Basilio urged DepEd not to rigidly impose the maximum hours allowed by RA 4670 especially given the shortages in government funding.
Sen. Win Gatchalian on Monday called for a Senate probe into the implementation of the same law, citing what he called the "congested" workload of teachers this coming school year.
"Even with these provisions in the Magna Carta, teachers are burdened with non-teaching tasks, even before the COVID-19 pandemic hit the country," Gatchalian, who chairs the Senate committee on basic education, said.
He pointed out that, even before the opening of classes, teachers and principals are already juggling multiple tasks such as preparing learning materials, attending webinars, and completing courses on various learning modalities.
The senator also emphasized that teachers "receive additional designations on student guidance, budget, disaster response, and health," citing a February 2019 policy paper from the Philippine Institute for Development Studies (PIDS).
He added that teachers are also expected to participate in government programs such as mass immunization, deworming, feeding, and election, among others.
"Our teachers and principals can be considered frontliners in the continuation of education despite the threat of COVID-19. Part of safeguarding their welfare is to ensure that they are not overwhelmed by too much work," Gatchalian said in Filipino. — Bella Perez-Rubio
As It Happens
LATEST UPDATE: October 9, 2020 - 12:24pm
Follow this thread for updates on when classes will resume, and how those classes will be conducted.
Photo: Students wearing protective face masks have their temperatures taken while entering their college campus in Manila on January 31, 2020. AFP/Ted Aljibe
October 9, 2020 - 12:24pm
A group of teachers warns of class disruptions and drop-outs if the problems have not been resolved a week after classes were opened.
"The Department of Education should objectively assess and boldly address the critical problems experienced in the first week of school opening, rather than patting its own back for its imagined success. If the agency has any foresight, they should know that the school year they opened is hanging by a thread," says Raymond Basilio, Alliance of Concerned Teachers secretary general.
October 6, 2020 - 10:54am
The resumption of classes on Monday was not a victory as claimed by Education Secretary Leonor Briones, Samahan ng Progresibong Kabataan says in a statement.
"Our leaders look at the millions disenfranchised and call it victory. They look at the teachers contracting the virus and march forward. They look at the millions of dropouts and four students dead and call it a new venture," the group says.
"You send millions to school with an underfunded and exclusive education system that leaves millions out anyway. Opening classes does not mean that you have accomplished the slightest thing. We have raised our voices for six months, and you have sat on your hands watching dropouts rise. This is not victory over COVID-19, this is the defeat of common sense," the youth group adds.
October 5, 2020 - 8:04am
Education Secretary Leonor Briones officially declares school year 2020-2021 open in an address streamed through Facebook.
She says this ends the debate on whether classes should resume and whether the department is ready for the blended learning system required by health and safety protocol against the novel coronavirus.
October 4, 2020 - 12:49pm
As public school teachers get ready for the resumption of classes on Monday, Sen. Risa Hontiveros calls for government support for them, including the proper medical benefits in case they get sick.
She says teachers should also get an additional allowance for internet access and to print out learning materials as well loans for computers and laptops for them to implement distance education.
"The government should spend for these because this is part of the teachers' official obligations," she says in Filipino.
October 3, 2020 - 2:51pm
A group of teachers calls for accountability from the government for "delaying and still failing to ensure the delivery of safe, accessible, and quality education amid the pandemic."
"We've repeatedly heard Sec. Briones give thanks to the President over his claimed 'support' for blended learning. Yet, after two postponements, President Duterte still has nothing to show beyond lip service," says ACT Secretary General Raymond Basilio.
"This government remains to be unresponsive to the people's just and urgent demands in relation to school opening at the height of the health and socio-economic crisis. This is a huge disservice to the Filipino people and a violation of the youth's fundamental right to education, with the President as the main culprit while Sec. Briones was complicit to these injustices," he adds.