Duterte puts Metro Manila, nearby provinces back on GCQ until August 31
(Philstar.com) - August 17, 2020 - 11:21pm
MANILA, Philippines (2nd update 11:59 p.m.) — After 13 days of modified enhanced community quarantine, the government's coronavirus task force is reverting Metro Manila and neighboring provinces Laguna, Cavite, Rizal and Bulacan back to general community quarantine from August 19 to 31, President Rodrigo Duterte announced Monday.
Speaking after the meeting of the coronavirus task force on Monday night, presidential spokesperson Harry Roque said that the rest of the Philippines would be under modified GCQ.
"I would like to thank Russia and China for offering to share us with the vaccine," Duterte said. "All of the economies of the world and all individual countries have fallen flat...it is uncontrollable because people cannot really work, they cannot really be productive."
LIVE UPDATES: COVID-19 and extended quarantine in the Philippines
Before his public address, Duterte also appeared in a minute-long live stream posted on the Facebook page of close aide Sen. Christopher "Bong" Go, where the president addressed rumors circulating that he flew to Singapore for medical treatment.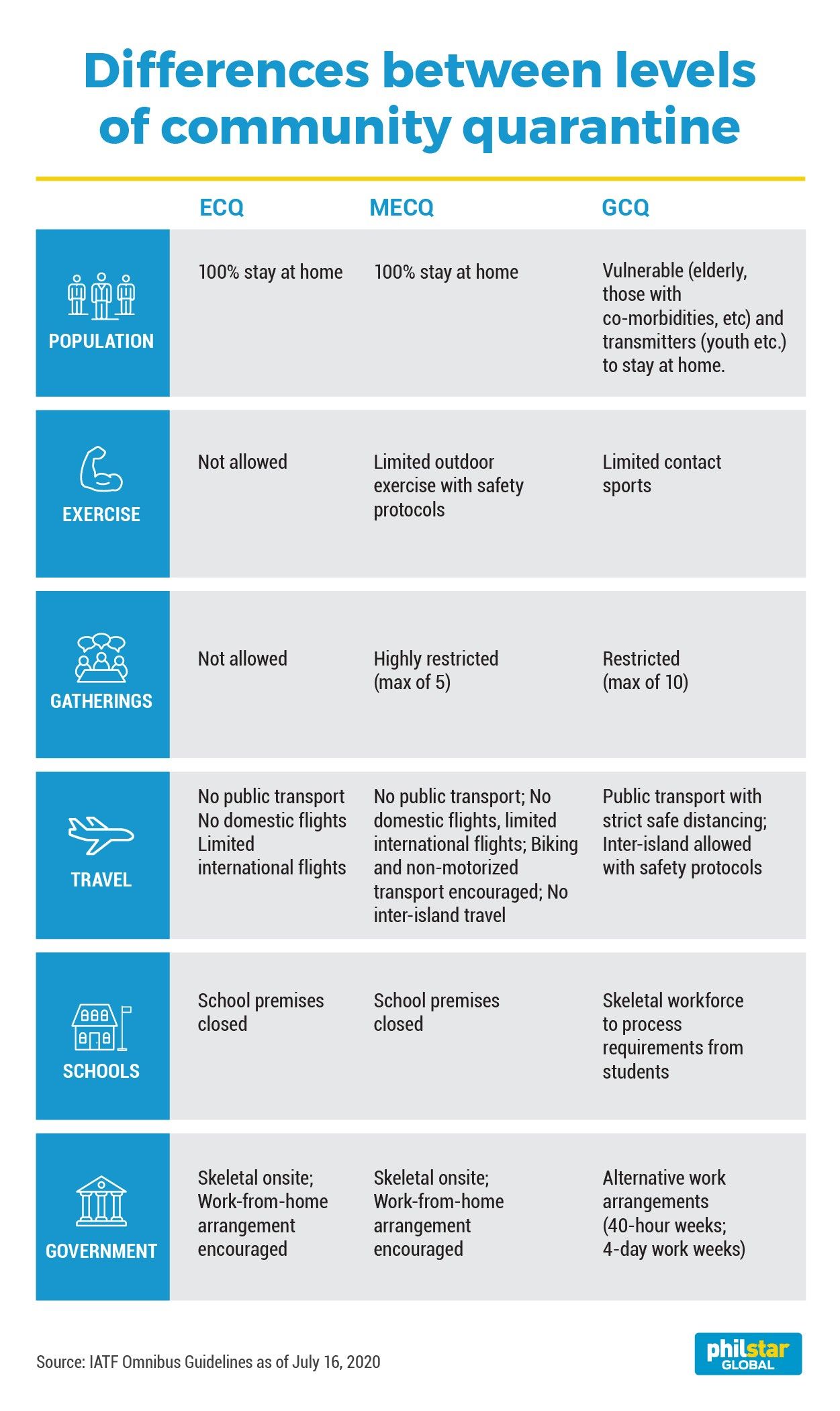 "As you can see clearly, I have been in Davao all along, and we're avoiding COVID," the president said in a mix of English and Filipino. "The admonition is 'wash your hands, wear a mask, cover your eyes, and stay home.' That's what I did. I'm here in Davao, don't believe in the rumors."
'Vaccine is the only solution'
From June, when the first general community quarantine was put in place to restart the country's economy, to August 4, the first day of the second modified ECQ, the national caseload grew by 93,995 cases.
The imposition of MECQ came on August 2 after medical professionals and frontliners over the weekend issued separate statements urging the national government to reform and recalibrate its response to the COVID-19 pandemic, slamming what they called the administration's militarist approach.
Retired military general Carlito Galvez, Jr., peace adviser and chief implementer of the National Task Force Against COVID-19, has said that the government has since recalibrated its approach in the 13 days of modified enhanced community quarantine.
Five months, or exactly 153 days into the government's community quarantine, the Philippines is still under the world's longest quarantine.
As of the latest update by health authorities on Monday, 164,474 cases have been recorded in the country since the new pathogen emerged in China in late December.
"The only solution available to humankind at this time of our life...the only answer is always a vaccine," Duterte said during his address.
GCQ for COVID-19 hotspots
The new quarantine protocols Malacañang announced imposes GCQ and implements random police control points for the following areas besides Metro Manila that have seen continuous rise in COVID-19 cases.
Bulacan
Nueva Ecija
Batangas
Cavite
Quezon
Rizal
Iloilo City
Cebu City
Lapu-Lapu City
Mandaue City
Talisay City
Consolacion town
Minglanilla town
No strict protocols, meanwhile, will be observed in the rest of the country. — Franco Luna; Video report by Efigenio Toledo IV; Infographic by Rico Alonzo