Canteens, smoking areas pose highest risk for workplace infection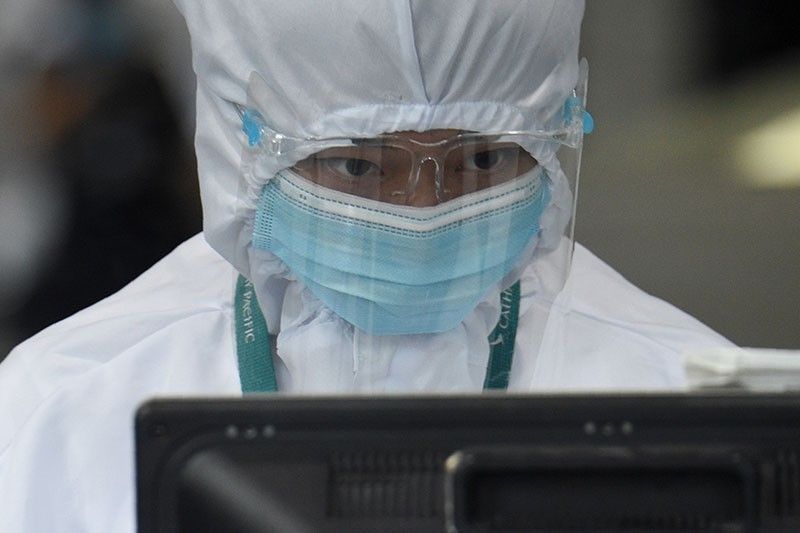 MANILA, Philippines — Canteens and smoking areas in workplaces were found to be the hot spots for coronavirus infection, according to National Task Force against COVID-19 response chief implementer Carlito Galvez Jr.
He made the statement yesterday as the National Task Force (NTF) and local officials in Laguna proposed to set up isolation facilities for workers in industrial and techno parks.
Galvez said that workplaces in Metro Manila, Bulacan, Cavite, Laguna and Rizal have been found guilty of a "great violation" of minimum health standards such as physical distancing.
"We saw that the most critical areas right now are the workplace, in what we call economic hubs," Galvez said at the launch of the One Hospital Command in Makati City.
The Department of Trade and Industry (DTI) is also planning to require additional health protocols, which include setting up isolation rooms and having designated health officers for businesses allowed to continue to operate so they can be prepared to respond to COVID-19 cases in the workplace.
In an interview with Agenda on Cignal TV's One News yesterday, Trade Secretary Ramon Lopez said the DTI would be requiring businesses to comply with additional health protocols.
"We will issue new protocols, new announcement for additional precautionary measures at place of work," he said.
Among the additional protocols is for establishments to have isolation rooms in the workplace or to make arrangements for isolation facilities near the office to be used by workers positive for the virus.
He said businesses would also have to assign a health officer, as well as conduct training on procedures to be followed in case one of the employees is suspected to have the virus or turns out to be positive for SARS-CoV-2.
"There should be standard operating procedures on what to do when a worker has symptoms or reports he was exposed to someone with COVID. Where is the worker going to be taken for the swab test? If there is a need for isolation, there should be an isolation room," he said.
In case there is a need to test employees suspected to have the virus, he said polymerase chain reaction (PCR) tests should be used and not rapid test kits.
For micro, small and medium enterprises, he said they should make arrangements with the barangay on how to respond to COVID-19 cases.
The Inter-Agency Task Force on Emerging Infectious Diseases (IATF) and NTF vowed to use the 15-day modified enhanced community quarantine (MECQ) it imposed in Metro Manila, Bulacan, Cavite, Laguna and Rizal to control the further surge of COVID-19 transmissions and lower the number of positive cases in these areas.
This was the commitment made by the IATF and NTF during a virtual meeting with Metro Manila mayors on Monday.
"Let's use these 15 days to return us to GCQ (general community quarantine)," Interior Secretary Eduardo Año, who is also NTF vice chair, told the mayors.
Galvez emphasized the importance of securing timely and accurate data, especially in crafting policy guidelines and recommendations.
He also encouraged the local government units (LGUs) to closely work with the IATF and NTF, especially in sharing vital information that will help the government improve its COVID-19 prevention and mitigation measures.
Authorities had earlier identified the mass transport systems that were reopened and public markets as major areas of transmission.
"We have these kinds of spikes and we saw that mass transport and common areas where our workers eat are very vulnerable," he added. Workers also lacked orientation in terms of minimum health standards, Galvez said.
COVID-19 testing czar Vince Dizon said the government would use the current two-week MECQ lockdownto recalibrate its pandemic response strategy.
"We are strengthening testing and tracing in communities," Dizon said at the same event.
In July, the government eased restrictions to GCQ in most parts of the country to resuscitate the economy flattened by the pandemic.
COVID-19 infections, however, surged with the easing of lockdowns, with the Philippines tallying over 115,000 cases as of Wednesday.
The spike in infections prompted health workers to plead for a "timeout," a call that President Duterte heeded by reverting Metro Manila and nearby provinces to MECQ for two weeks.
This developed as top officials of NTF met with representatives of local government units in Calamba, Laguna to discuss ways on how to contain the further spread of the disease after Laguna, as well the provinces of Bulacan, Cavite, Rizal and Metro Manila, were placed under MECQ on Tuesday.
During the meeting, Santa Rosa Mayor Arlene Arcillas suggested the construction of these facilities so that industrial and techno park workers who may test positive for COVID-19 would no longer have to return to their homes to do self quarantine and consequently risk infecting their families and neighbors.
"I noticed that majority of these areas (industrial and techno parks) have no isolation. So, my suggestion now is prioritize the isolation of positive cases in the companies because we cannot control it," Arcillas said.
Galvez supported the mayor's recommendation, pointing out that it will also prevent overcrowding in isolation facilities set up by LGUs in Laguna.
Meanwhile, the IATF and Health Secretary Francisco Duque III reported that 34 percent of confirmed coronavirus cases in Region IV-A are from Laguna.
Año called on the LGUs to provide their health workers with all the support they need, while intensifying efforts to strictly enforce quarantine guidelines in the community.
"Let us help our health workers. Let us provide accommodation and even shuttle services. Let us take advantage of this period… And lastly, implement minimum health standards – face mask, social distancing," he said.
Galvez said the NTF is now mobilizing at least five Coordinated Operations to Defeat Pandemic (CODE) teams that will conduct regular visits to LGUs on a rotational basis.
CODE is the government's patient and community-focused response which is anchored on the National Action Plan on COVID-19's prevent-detect-isolate-test-treat strategy.
It includes community-based activities which aim to promote preventive behavior, carry out active case finding through house-to-house symptom checks and conduct RT-PCR testing for symptomatic patients.— Louella Desiderio