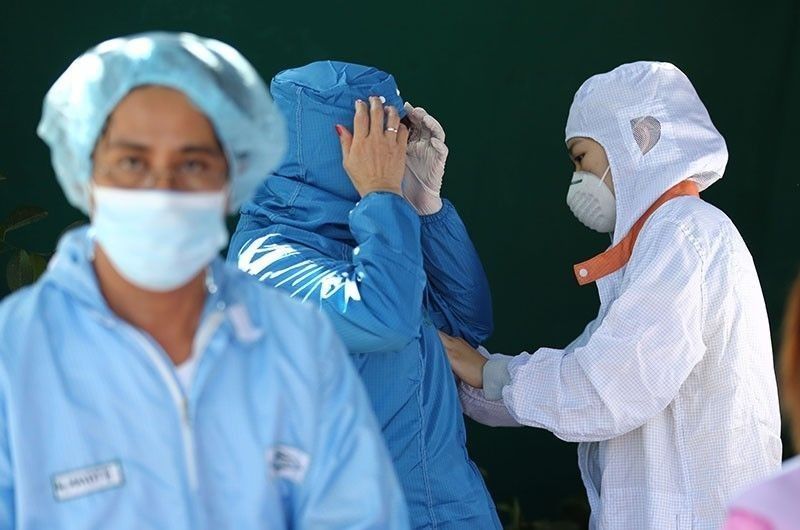 Health workers of St. Jude Family Hospital in Los Baños, Laguna receive on March 25, 2020 donated personal protective equipment from different business sectors in the province.
The STAR/Walter Bollozos
Doctors sorry if Duterte took their suggestions as 'call for a revolt'
(Philstar.com) - August 3, 2020 - 3:15pm
MANILA, Philippines — The Philippine College of Physicians on Monday apologized that President Rodrigo Duterte took the call of medical workers for a return to a stricter quarantine as their demeaning the government and calling for a revolution.
In a clarificatory letter posted on PCP's website, Dr. Mario Panaligan, PCP president, said that Duterte's "quick response on the matter was highly appreciated" and that help that the president had offered the medical community would "go a long way."
Panaligan stressed, however, that the call for ECQ was not just give medical doctors a chance to rest and also provide the best quality of health care to patients.
He said, though, that the PCP was "taken aback and surprised" at some of Duterte's comments about the medical workers who gave a statement on Saturday.
"If you closely review the virtual conference on August 1, there was never a call for a revolt nor was there any threat of leaving patients on their own since our oath instructs us to 'first do no harm' to anyone who needs our help," Panaligan said.
He said that by training and by their nature, doctors are not used to making ultimatums "but if our requests and observations were taken as an assertive display of indignation, we apologize for the way the message was taken in a negative light."
Panaligan said the PCP wrote the Department of Health a letter in April requesting for test kits to be reserved for healthcare workers who would be on duty on two-week rotations.
He said that the PCP had highlighted then that making sure healthcare workers are healthy would help address their anxieties and boost their morale.
"Three months have passed since that time and after other requests like quarantine facilities for HCWs, insurance coverage and protection from verbal castigation and physical violence to name a few have been left unanswered, we patiently held on as soldiers into battle," PCP said in its letter, adding that these concerns were "left unheeded."
The Inter-Agency Task Force for the Management of Emerging Infectious Disease were shown discussing those concerns at a televised meeting on Sunday when the president made his speech.
"If we just knew that your office was not briefed in detail about the situation of our workers in both government and private hospitals, we would have sought a private audience with you to settle these issues and made things clear and right," he also said.
Although Duterte approved the imposition of Modified Enhanced Community Quarantine on Metro Manila, Laguna, Cavite, Rizal and Bulacan, he also scolded the medical workers who called for a stricter quarantine classification.
"There would have been no need for you into itong ganito (this kind of thing), raising your hands as if sasabihin ninyo (saying) 'revolution, revolution'," the president said Sunday night.
He said that the doctors should have written him a letter or sought a meeting with him instead of "sending a message without even giving government a chance [to address the concerns]."
"Ngayon anong gusto ninyo (Now what do you want), I will implement other things in this government without informing you. Would you be happy with that?" he also said.
He added: "If you think this can be solved revolution, then by all means, start it." — Jonathan de Santos
READ: Duterte tells frontliners: No need to raise hands as if calling for revolution
As It Happens
LATEST UPDATE: December 9, 2020 - 3:44pm
Metro Manila and other "highrisk" areas were placed under a modified enhanced community quarantine last May 16, which is more relaxed than ECQ, but has more restrictions compared with the general community quarantine (GCQ). Bookmark this page for updates. Photo by The STAR/Michael Varcas
December 9, 2020 - 3:44pm
The local government of San Juan Batangas orders the closure of Blue Coral Beach Resort in Laiya Aplaya following repeated violations of COVID-19 protocols.
This comes after a video of a large group partying without face masks, face shields and not observing physical distancing at the beach of the resort were sent to the Department of Tourism.
San Juan Mayor Ilderbrando Salud has issued a memo revoking the business permit of the beach resort. — Report from Rosette Adel
LOOK: A group was seen partying without face masks/face shields at a beach in Laiya, San Juan, Batangas. The individuals are also not observing the physical distancing protocols at the beach.

Video from: DOT @PhilstarNews pic.twitter.com/mlyU9DvGf7

— Rosette Adel (@rosette_adel) December 9, 2020
December 7, 2020 - 10:29pm
President Rodrigo Duterte says he will ask local government units to make necessary arrangements on vacant hotels and motels to allow COVID-19 patients to stay in their premises.
Duterte says he will ask the Congress to find a way to compensate the hotels that will accommodate coronavirus patients.
"To the owners of hotels, inns, motels to accommodate the Filipinos who are in need of help. I will assume the full responsibility of paying you pagdating ng panahon," Duterte says in a recorded speech aired late Monday.
December 7, 2020 - 4:25pm
The Zamboanga City government strongly opposes proposals of Interior Secretary Eduardo Año in allowing children to go to malls and other public places with their parents.
The local official and health authorities also disapprove of the possibility of expanding the manner of classes to face-to-face classes engagement as part of the 'new normal.'
Mayor Maria Isabelle Climaco-Salazar expresses her disapproval, citing critical observations by local health officials here about the eminent contamination from the deadly Severe Acute Respiratory Syndrome CoronaVirus (SARS-CoV) which causes the coronavirus disease 2019 (COVID-19).
"It is not still safe to allow children to go out except for medical reasons or emergency cases," Salazar says in her virtual presser. — The STAR/Roel Pareño
August 18, 2020 - 4:47pm
Sen. Bong Revilla, who earlier tested positive for COVID-19, was rushed to the hospital, according to his wife Bacoor Mayor Lani Mercado.
"He is being rushed to the hospital. His latest X-ray shows that he has developed pneumonia and isolation in a regular facility is no longer ideal," Mercado says in a Facebook post Tuesday.
August 18, 2020 - 4:23pm
The Department of Health reports 4,836 additional COVID-19 cases in the country, pushing the total number of confirmed cases in the country to 169,213.
The DOH also logs 182 new recoveries, bringing the total of recovered patients to 112,861. The national death toll is now at 2,687 with the addition of 7 new reported deaths.
Total active cases (net of COVID-19 deaths and recoveries) in the Philippines is now at 53,665.