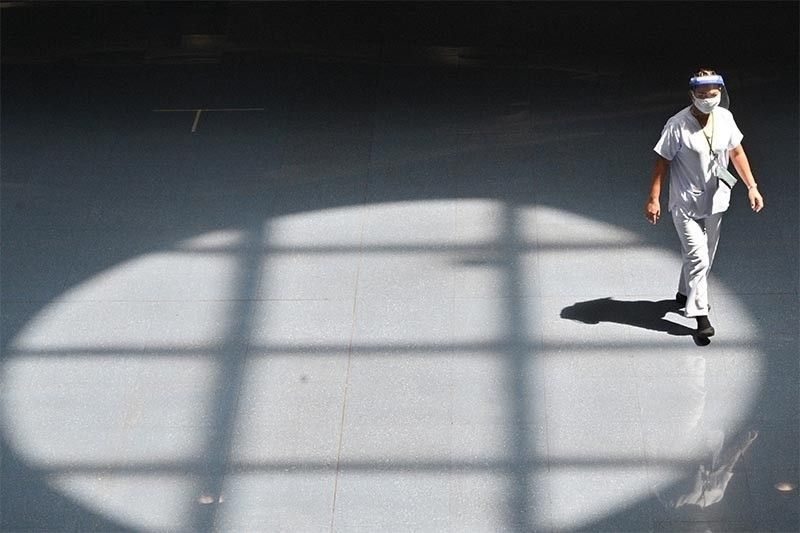 A shopper wearing a face mask and shield walks inside a mall in Manila on June 2, 2020, a day after the government eased up quarantine measures aimed at preventing the spread of the COVID-19 novel coronavirus in the country's capital.
AFP/Ted Aljibe
Solgen office on indefinite lockdown after employee tests positive for COVID-19
MANILA, Philippines — The Office of the Solicitor General said Monday that its premises will be on lockdown after one employee tested positive for the coronavirus.
The test result of the employee was released on July 12, Sunday. "Effective immediately, I will lock the OSG premises down until further notice," it said in a statement.
The OSG said no one will be allowed to enter the office's premises except for employees of its Financial Management Service and the sanitation and disinfection team. Documents will not be received or sent out until further notice.
Last week, the Supreme Court directed officials of the executive branch to file its comment on the first four—and consolidated—petitions challenging the constitutionality of the Anti-Terrorism Act of 2020, within 10 days from receipt of order.
At least three more petitions have been filed since the SC's order.
The OSG said they are currently conducting contract tracing, monitoring employees who had close contact with the patient, decontamination and sanitation of office premises as well as OSG buses for their personnel.
Some Manila court offices also on lockdown
In a memorandum posted by the Supreme Court Public Information Office, Manila Metropolitan Trial Court Executive Judge Carissa Ann Manook-Frondozo said that its Manila MeTC Branch 30 and MeTC Manila Office of the Clerk of Court will be on lockdown starting July 13.
The lockdown on Branch 30 will be lifted on July 24, while the Office of the Clerk of Court may be open on July 22.
This was after an employee from each of the offices tested positive for COVID-19.
Staff of the two offices are directed to undergo self-quarantine for 14-days and conduct contact tracing to persons they may have contact with.
Manila MeTC Branch 30 may conduct hearings via video conference and accept pleadings electronically. Meanwhile, the MeTC-OCC in Manila shall receive applications for bail and questions on other urgent matters through their hotlines and e-mail addresses.
The Department of Health announced early Monday that it logged 2,124 new COVID-19 infections on Sunday, July 12, bringing the total number of coronavirus cases in the country to 56,259.
The number of new recoveries exceeded the number of new cases for the day, as 2,009 people were given a clean bill of rate. This puts recovery count at 16,046.
Fatality toll meanwhile is at 1,534.
As It Happens
LATEST UPDATE: August 2, 2020 - 9:24am
Other regions and provinces in the Philippines considered moderate and low-risk areas will be placed under general community quarantine starting May 1. Bookmark this page for updates. (Main image by The STAR/Edd Gumban)
August 2, 2020 - 9:24am
Motorcycle riders on Sunday hold a protest at the Commission on Human Rights grounds on Sunday against motorcycle barriers that they as well as engineers have said are unsafe.
ABS-CBN's TeleRadyo reports that the group, Kagulong, says the barriers are also expensive aside from being unsafe.
August 1, 2020 - 4:11pm
Presidential spokesperson Harry Roque says that President Rodrigo Duterte has directed the IATF-EID to act on the concerns of the healthcare workers immediately.
"The Palace considers our skilled, tireless and dedicated healthcare workers as important frontliners in the battle against COVID-19." says Roque. — The STAR/Christina Mendez
August 1, 2020 - 2:27pm
The Department of Health says they support the call of medical frontliners "to ensure appropriate implementation of community quarantines to ensure the protection of our health workers."
"But while the government is taking the necessary actions to address the situation, we emphasize that it is also the duty of every citizen to ensure that our health system is not overwhelmed. With this, we continue to call on everyone to BIDA Solusyon," the department says.
"We welcome this opportunity to continuously work with the medical societies and our healthcare workers on a united and strategic course of action to win the battle versus this pandemic," it adds.
July 31, 2020 - 10:22am
Filipinos appear to have different opinions on going to work and attending religious services in case the community quarantine ends next month according to a Social Weather Stations survey.
The poll released Friday found that 55% feel comfortable and 40% feel uncomfortable about going to work after lockdown.
The same survey showed that 45% of Filipino adults feel comfortable while 54% feel uncomfortable about going to church or mosque if the community quarantine is lifted.
July 31, 2020 - 9:38am
Metro Manila will remain under general community quarantine starting August 1, President Rodrigo Duterte announces.
Other areas to remain under GCQ are Bulacan, Cavite, Laguna, Rizal, Cebu City, Lapu-Lapu City, Mandaue City and Zamboanga City.
The rest of the Philippines will be under modified general community quarantine.