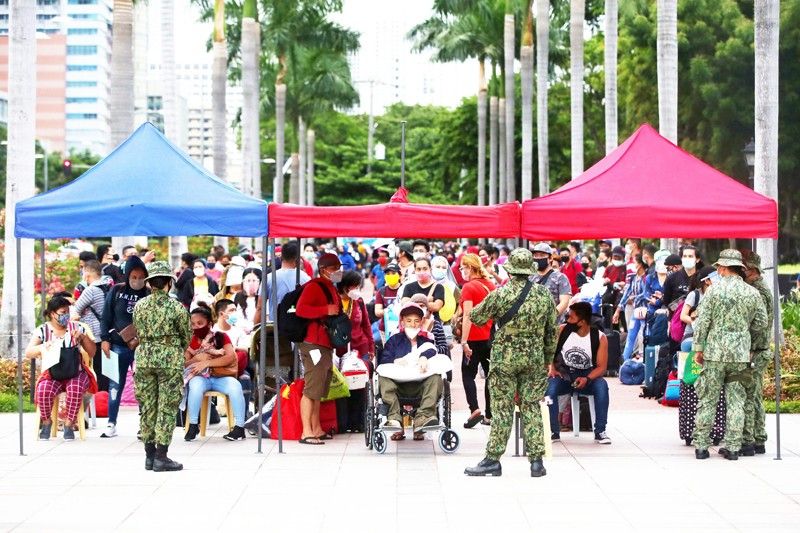 Hundreds of locally stranded individuals line up at the Quirino Grandstand in Manila yesterday for rapid testing prior to boarding buses bound for their home provinces as part of the Hatid Tulong program of the government.
Miguel de Guzman
Government agencies urged to assist returning LSIs
MANILA, Philippines — Sen. Bong Go has reiterated the need to assist locally stranded individuals (LSIs) as they go through various hardships in their attempt to go back to their provinces.
Their welfare, he stressed, is of paramount importance even as he emphasized the need for them to go through stringent health protocols.
"Let us prioritize the health of every Filipino. That's most important for us. But we cannot delay sending our LSIs to their hometowns," Go said in a chance interview in Sulu, where he visited the wake of soldiers who were killed by policemen last week.
President Duterte has instructed us to take care of the LSIs, to feed them and help them go home to their respective provinces, he revealed. Others who were referred to his office were already given assistance.
"Here in Manila, some LSIs have no place to sleep, no restroom to use. It is sad. They went to Manila to find jobs and be able to provide for their families but they were caught in the lockdown," Go said, referring to the limited mobility that came along with the imposition of community quarantine.
Hatid Tulong
Go said the Hatid Tulong directive of President Duterte entails the strict implementation of health and safety protocols to avoid the spread of COVID-19 as well as proper coordination with receiving local government units (LGUs).
Yesterday, the Philippine National Police (PNP) expanded its operations by securing about 10,000 LSIs in Metro Manila.
PNP chief Gen. Archie Gamboa said they are "prepared to give security" to the returning LSIs after proper coordination with the receiving LGUs.
The government's two-day "Hatid Tulong" program aims to assist thousands of students, workers, tourists and overseas Filipino workers (OFWs) who have been stranded in Metro Manila for more than three months.
A send-off ceremony was held yesterday at the Quirino Grandstand for the program, which will endx today.
The PNP also heightened security at seaports, airports and bus terminals to ensure the LSIs' smooth travels to their respective destinations.
Gamboa also instructed all police regional units to assist the LGUs and other government agencies for the strict implementation of travel guidelines as part of the measures needed to prevent the further spread of COVID-19. Emmanuel Tupas