Over 300,000 teachers undergo ICT training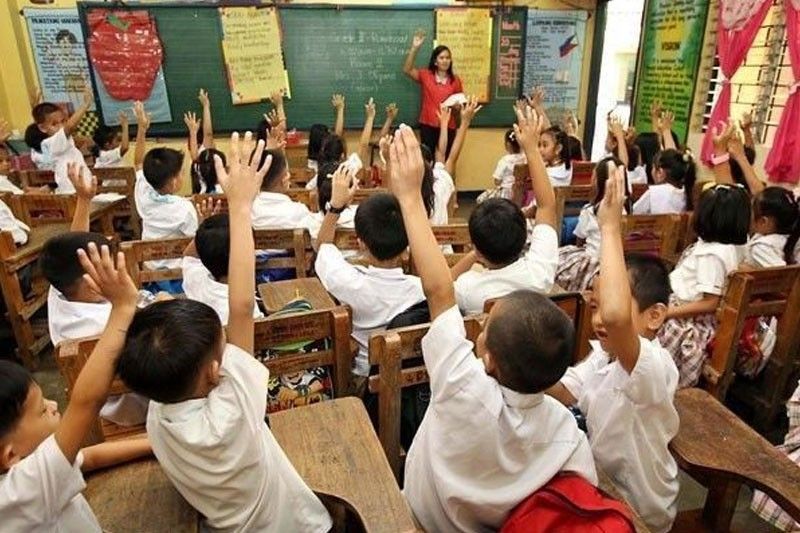 MANILA, Philippines — Two months before the opening of school year 2020-2021, more than 300,000 public school teachers have undergone training on information and communications technology (ICT)-based teaching, according to the Department of Education (DepEd).
The DepEd said it has been conducting seminars on various ICT-based teaching strategies to help educators prepare for the coming school year, which is expected to shift to distance learning due to the threat posed by the coronavirus disease 2019 (COVID-19).
Seminar topics include development of electronic books or e-books and other open education resources; introduction to programs and applications that can be used for teaching such as photo and video editing tools and capacity building on adopting the "new normal" classroom setup.
The DepEd said a total of 337,486 public school teachers and 10,521 private school teachers completed the webinars as of last Monday.
"The 40-percent trained teachers only count those who have received certificates. However, more teachers have viewed the recordings of the webinars, which are made available on the internet," DepEd Undersecretary for administration Alain del Pascua said.
"Webinars for parents and learners are currently being prepared for delivery in July," Pascua added.
The webinars will be announced through DepEd Commons, the agency's online platform for resources such as training demos, exercises, quizzes and e-books, according to the DepEd official.
While online-based education is one of the learning options that will be adopted next school year, the DepEd reiterated that parents are not required to buy gadgets for the students.
During the Laging Handa briefing yesterday, DepEd Undersecretary for curriculum and instruction Diosdado San Antonio said different modalities would be adopted next school year, depending on the capability of the households.
"There is no need to buy (gadgets) because the department is preparing printed self-learning modules that students can use. We will also distribute textbooks," San Antonio said in Filipino.
"What parents need to do is to inform the DepEd of their situation, so that the right learning delivery modality would be implemented in their schools," he added.
In addition to online-based learning and use of printed and digital modules, the DepEd also intends to use radio and television to deliver educational content to students.
The agency is conducting enrollment for the coming school year. Parents who intend to enroll their children are asked to fill out a survey form, where they indicate the capacity of their households to adopt different types of distance education.
As of yesterday morning, over 13.7 million students have expressed their intention to enroll for the coming school year. These include 13.2 million in public schools and almost half a million in private schools.
While this is only half of the student population last year, Education Secretary Leonor Briones said she is happy with the numbers, noting that it is expected to increase now that they are also allowing submission of printed documents through drop boxes.
Briones added that enrollment in private schools would also likely increase in the coming weeks.
She reiterated that there would be no face-to-face classes in the coming school year until the situation has been determined to be safe for the students.
President Duterte had earlier disallowed physical classes to resume until a vaccine for COVID-19 is discovered and made available. Duterte agreed with the DepEd proposal to adopt various distance learning strategies.
P134-B monthly loss
The economy may lose up to P134 billion for every month of delay in the reopening of classes, according to Albay Second District Rep. Joey Salceda.
In his 122-page report to the Inter-Agency Task Force on the Management of Emerging Infectious Diseases (IATF), Salceda, who chairs the House of Representatives' ways and means committee, revealed that "each month of delay in reopening of classes "could cost the economy between P94 and P134 billion in lost income and economic activity."
"We estimate the economic costs of delaying school by one month to be 0.5-0.7 percent of (the gross domestic product) this year, and 0.3-0.4 percent of the GDP for the entire productive life of this generation of students. This is an immediate-year cost of P96 to P134 billion pesos … that is bigger than even most individual programs in the economic stimulus proposals in Congress," the report submitted to the IATF last week read.
For this reason, Salceda is pushing for a "safe, equitable, and flexible" reopening of classes.
"The answer to the question of whether physical classes should resume is not a clear-cut, one-size-fits-all yes or no. The risks are varied per sector, per area and even per student. That is why a continuum of options for learning must be present to account for the differences in risk," he said.
"We, nonetheless, believe that school should resume as soon as the country is ready," he added.
Salceda warned that failure to reopen the classes as scheduled in August would have "immense and inter-generational" socioeconomic costs.
"Depriving students of the ability to learn is an intergenerational curse, considering that every year of education increases incomes by around 10 percent," he said.
Accessibility, quality of education compromised
As the DepEd is bent on pushing through with the reopening of classes on Aug. 24, a group of peasant women said the alternative modes of learning might compromise the accessibility and quality of education.
"The options under distance learning, such as online, modular, radio and television-based instruction, all involves buying gadgets such as laptop computers, smartphones, TV sets and transistor radios. On top of these are the costs of internet, load, electricity and transportation," National Federation of Peasant Women or Amihan national chairperson Zenaida Soriano said.
"Poor families have yet to recover from the losses in livelihood and household incomes. Thousands of peasant families have yet to receive financial aid from the government while production support has been limited to loans and a few seeds and fertilizers for rice farmers. How will they be able to buy gadgets or have enough load?" Soriano added.
The group said the suicide of a 19-year-old student from Sto. Domingo, Albay due to worries of high cost of enrollment is an example of the distress and anxiety of students caused by distance learning.
Soriano said distance learning puts "backward" learners and those whose parents or guardians are working full-time or have limited educational attainment at a disadvantage as it requires parents or guardians to assist the learners in their studies.
She likewise said that in a society where women are expected to take charge of household concerns, distance learning will be an additional burden, especially for those who have full-time jobs, including farmers and teachers.
The group also pointed out that there are cases where parents are working out of town or out of the country.
"With just a few months to prepare for the teachers to hone their skills in these new modes of teaching, writing and printing of modules, there is no assurance on the effectiveness of these new approaches," Soriano said. Edu Punay, Rhodina Villanueva