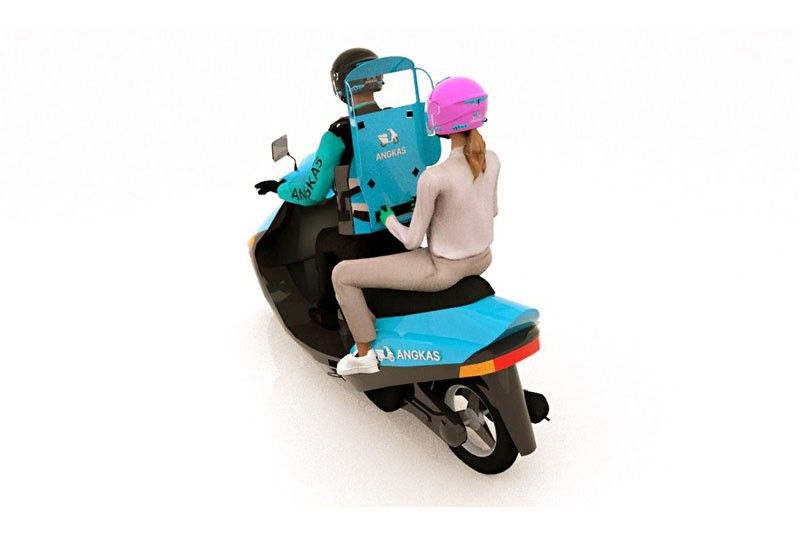 NO CONTACT: Part of Angkas' COVID safety proposal is putting in place a barrier strapped to the rider to limit physical contact with the passenger. The motorcycle taxi firm also wants passengers to bring their own helmets.
STAR/ File
Angkas submits COVID safety protocols to IATF
MANILA, Philippines — As it awaits the decision on the legalization of motorcycle taxis, Angkas has come up with a set of innovative health and safety guidelines to prevent the spread of coronavirus disease 2019 (COVID-19).
Angkas chief transport advocate George Royeca yesterday said the company has submitted a set of proposed health and safety protocols to the Inter-Agency Task Force on the Management of Emerging Infectious Diseases (IATF) to enhance the safety of motorcycle taxi services.
The Department of Transportation (DOTr), however, said motorcycle taxis would not be allowed to operate until their operations are legalized.
"The pilot study (trial period) of motorcycle taxis had already expired last April. We submitted our recommendations to the House of Representatives and are awaiting their action if they will be allowed to continue operations," the agency said.
"So, technically, there is nothing to resume in the meantime, unless a new law is passed legalizing their operations as a public transport mode," it said.
Royeca said Angkas hopes to work with the government in pursuing further studies on how to make motorcycle taxi services safer and ease the lack of public transportation in quarantine areas.
Part of the firm's proposal is to make motorcycle taxis like a shuttle service with pre-registered passengers for select companies.
Royeca said this would ensure strict contact tracing for those who might test positive for the virus in the future.
"To date, Angkas has a base of four million users that can help add to the government's contact tracing database," he said.
"We also propose that all passengers should strictly use their own helmets and carry their own face masks to limit contact. Also, all bikers will be subjected to regular COVID-19 testing," Royeca said.
Also part of the proposal is putting in place a plastic shield between passenger and driver.
"We hope to work with the IATF and the DOH to monitor the results and eventually recommend guidelines that can be adopted by both private motorcycles and motorcycle taxis alike. If the design is approved by the government and medical experts, we commit to make the final shield design mold for free to the public," Royeca said.
Vicente Belizario Jr., dean of the UP Manila College of Public Health, said the resumption of motorcycle taxi operations would help workers go to and from their places of work.
He said the plastic shield included in Angkas' proposed safety protocol would help mitigate virus transmission because it adds an extra layer of protection that will complement other safety measures such as the wearing of a helmet with a face shield and mask, and the sanitizing of hands.