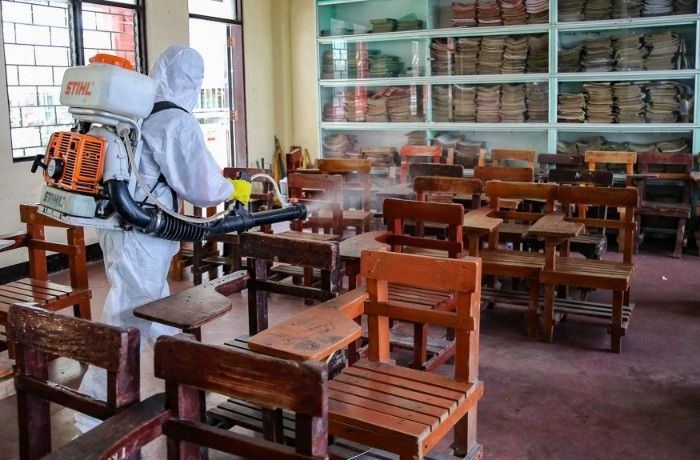 Taguig Sanitation Office sprays a disinfectant solution at bus terminals and schools to contain the possible spreading of COVID-19.
The STAR/Edd Gumban
Blended learning with face-to-face classes in private schools up to IATF approval — DepEd
MANILA, Philippines — The Department of Education on Wednesday said that blended learning, including some face-to-face classes, in private schools with small class sizes is up to the approval of the Inter-Agency Task Force on Emerging Infectious Diseases.
The institutions being referred to specifically were International Baccalaureate schools in Metro Manila. The International Baccalaureate Organization recommended that class sizes range from 15 to 20 students.
DepEd Undersecretary Nepomuceno Malaluan told ABS-CBN that much of the decision-making for the resumption of classes on August 24 is still ongoing.
"This is still a continuing policy discussion...when we near that time of August 24, if there will be a change or reconsideration on the part of the president then that will be considered. The [education] secretary as you might note is giving the president constant updates on our readiness for August 24," he said.
President Rodrigo Duterte in May announced that there would be no face-to-face classes until a vaccine for the novel coronavirus becomes available. DepEd as recently as Monday reiterated the president's statement on the matter.
Experts from the medical and pharmaceutical industry have said that a vaccine may become available as soon as 2021 but called such an outcome a long shot.
DepEd announced its plans to implement alternatives such as online classes, printed modules or learning through television and radio to ensure that education will continue.
A total of 10.6 million learners have enrolled for the coming school year, according to Department of Education Secretary Leonor Briones.
The school year 2020-2021 is scheduled to formally open on August 24 although there is legislation in place to push the date back if necessary.
As it stands, there are 26,781 cases of COVID-19 and a death toll of 1,103 in the Philippines.
As It Happens
LATEST UPDATE: August 11, 2020 - 2:42pm
Follow this thread for updates on when classes will resume, and how those classes will be conducted.
Photo: Students wearing protective face masks have their temperatures taken while entering their college campus in Manila on January 31, 2020. AFP/Ted Aljibe
August 11, 2020 - 2:42pm
A group of teachers says school heads lament late release of central funds and depleted school funds for module printing for the August 24 opening of classes.
"The stress and pressure our school heads are experiencing right now is yet another substantial proof that we're not ready to open schools on August 24. And unlike Sec. Briones' absurd claims of preparedness being relative, it is on the contrary very quantifiable, concrete, and verifiable on the ground," says Alliance of Concerned Teachers General Raymond Basilio.
August 4, 2020 - 1:52pm
A group of teachers says they received reports that the modules for this academic year won't be ready by August 24.
"Teachers were also disappointed that while they have been tasked to make the activity sheets that will come with the modules, they have not seen until today the copies of these modules, forcing them to just base the activity sheets on last year's lessons," says Alliance of Concerned Teachers Secretary General Raymond Basilio.
August 1, 2020 - 1:42pm
The Alliance of Concerned Teachers Philippines criticizes the curriculum under the basic education-learning continuity plan for the "lack of content responsive to the present health and economic crises."
"If anything, forcing 'normalcy' at this time will only further alienate students from their own lived experiences of extreme insecurity, which the COVID-19 predicament brought to their family's health, economic situation, and their future," ACT Secretary General Raymond Basilio says.
"Education must reflect the world we live in and is a promising weapon to allow all of us to surmount these crises—this will serve as solid ground for DepEd's claimed desire to bring hope to learners by arming them to actively participate as we work towards a better normal," he adds,
July 21, 2020 - 8:23am
Education Secretary Leonor Briones proposes to have limited face-to-face session per week for schools in areas with low cases of COVID-19.
In a delayed broadcast of President Rodrigo Duterte's meeting with the inter-agency task force on COVID-19, Briones says allowing limited face-to-face classes will help close gaps in education.
"We can allow face-to-face learning but to be strictly regulated in light of present conditions," Briones says, noting that stringent health standards will be imposed.
July 17, 2020 - 9:31am
The Department of Information and Communications Technology says it has allocated P7.7 billion for the implementation of the Free Wi-Fi for All in Public Places and State Universities and Colleges Program.
DICT chief Gregorio Honasan II says the budget will be used to reach 23,100 lives sites by the end of 2021.
"We are aiming to provide every public school and SUC with free Internet connectivity and access to aid our students and teachers adapt to the new normal in the education sector. This is part of our commitment to DepEd, CHED and TESDA to ensure the education sector's access to broadcast, connectivity and digital security this upcoming school year while the country is still under state of public health emergency," Honasan says.