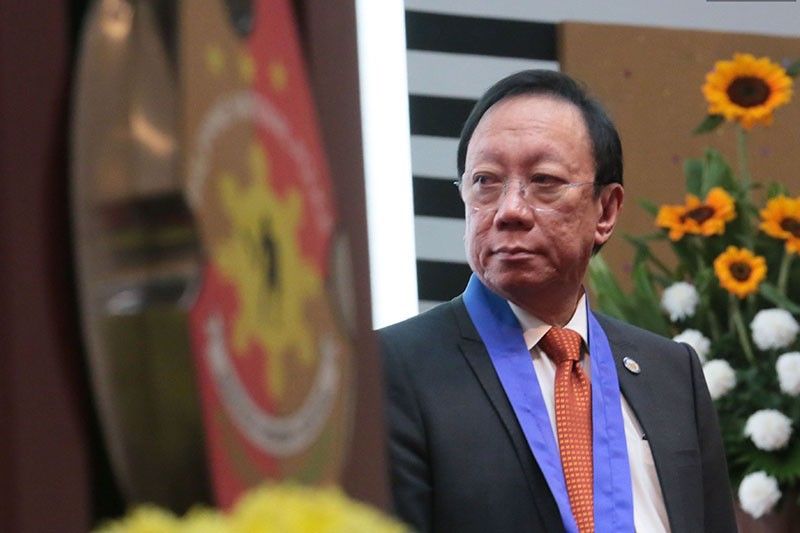 Solicitor General Jose Calida served as the guest of honor in the 67th founding anniversary of Criminal Investigation and Detection Group at the Camp Crame in Quezon City on February 10, 2020.
The STAR/Michael Varcas
Calida finally attends House hearing, reiterates alleged violations of ABS-CBN
MANILA, Philippines — Solicitor General Jose Calida finally attended a congressional hearing on issues linked to the ABS-CBN Corp.'s legislative franchise on Monday.
After skipping Senate and House of Representatives' legislative inquiries in the past weeks, Calida on Monday attended the Committee on Legislative Franchise's hearing into several bills filed on ABS-CBN's franchise and supposed violations of the law.
Rep. Jonathan Sy-Alvarado, chair of the House's good government committee, said that Calida and National Telecommunications (NTC) Commissioner Gamaliel Cordoba will be given time to "clarify their alleged interference on the exercise of our mandate."
Cordoba was earlier asked by the House to explain why he should not be cited in contempt when he did not issue a provisional authority to ABS-CBN despite giving his word to the legislative body last March.
Calida, in his opening statement, stressed that he is "not at loggerheads with Congress."
"I only cautioned NTC of its possible encroachment on the legislative power if it issues provisional authority," the solicitor general told the panel.
Calida also stressed that he is not allowed "to answer any questions of any matters pending before the Supreme Court."
The solicitor general has a pending quo warranto petition against the now-expired franchise of the network before the tribunal. He has also represented the NTC, as legal counsel, on ABS-CBN's petition for certiorari against the regulatory body's Cease and Desist Order.
The lawmakers assured that the matters that will be asked to Calida and the NTC will "be in aid of legislation only" and would not entail violating the sub judice rule, which restricts commens and disclosures pertaining to pending judicial proceedings.
State counsel's accusations vs ABS-CBN
Calida also reiterated allegations of ABS-CBN's violations of its franchise law, contained in his quo warranto petition.
"The pleadings filed by the OSG and its attached documents already bear out the sins of ABS-CBN," he said. Calida invited the lawmakers to "scrutinize" the documents they submitted to the panel.
READ: Point by point: ABS-CBN answers Solgen Calida's quo warranto petition
He stressed: "In view of this nature as grant form state a legislative franchise is not a right that can be exercised at will and pleasure. Rather it is a privilege subject to regulation under such recognition as the government may see fit."
"In cases of misuse... or abuse of the franchise, the State ought to reassert its authority and rise as a grantor, regardless of the grantees' identity and influence," Calida added.
House invites Gabby Lopez to hearing
Earlier at the hearing, Deputy Speaker Rodante Marcoleta said ABS-CBN chairman emeritus Eugenio "Gabby" Lopez III should attend the hearings "as a matter of courtesy."
Marcoleta said that there are issues that are "personal" to Lopez such as his citizenship. "I hope the representatives of ABS-CBN will find in their heart the importance of being able to motivate him, convince him to be present," the deputy speaker also said.
Rep. Franz Alvarez (Palawan, 1st District), panel chair, said they will invite the ABS-CBN executive on the next hearing.
The network has repeatedly addressed the allegations that Lopez is an American citizen.
In a statement on May 11, ABS-CBN stressed that its chairman emeritus is a Filipino citizen, born to Filipino parents.
"The Department of Justice and the Bureau of Immigration have both recognized the Philippine citizenship from birth of Mr. Lopez as contained in Identification Certificate No. 0069 dated 1 October 2002," it added.
The next House hearing is set on Wednesday morning.
As It Happens
LATEST UPDATE: July 5, 2020 - 4:21pm
ABS-CBN Corp. stopped broadcasting on its TV and radio stations on May 5, 2020 after the National Telecommunications Commission issued a cease and desist order. The network's franchise had lapsed on May 4 without action by the House of Representatives.
July 5, 2020 - 4:21pm
The Makati Business Club calls on members of the House of Representatives to renew the franchise of ABS-CBN Corp. saying letting the network back on the air "will preserve one of the public's biggest sources of news and information."
It adds that equal treatment of companies by government officials "will signal that rule of law prevailed, encouraging foreign and local investors at a time when we most need their help to create new jobs."
June 30, 2020 - 7:19pm
ABS-CBN's affiliate, Sky Cable Corp. appeals to the National Telecommunications Commission to extend the "same privilege given in the past to other companies whose franchises have expired but are currently pending in Congress to continue its operations until a resolution is passed."
"We assure our subscribers that we will exhaust all legal remedies to resume our services," it says in a statement.
"We commit to attend to the concerns of our valued subscribers and partners arising from this decision. We will refund all unconsumed prepaid loads and advance postpaid payments. We appeal to our SKYdirect subscribers and partners for understanding and patience as we undergo this process," it adds.
June 6, 2020 - 5:44pm
A lawyer asks the Supreme Court to define the powers of the Office of the Solicitor General amid issues surrounding the ABS-CBN shutdown.
Lawyer Paris Real also asked for a temporary restraining order on the cease and desist issuance against the broadcast giant by the National Telecommunications Commission.
June 1, 2020 - 10:58am
Rep. Rufus Rodriguez (Cagayan de Oro) tells his fellow lawmakers that the accusations against ABS-CBN, including alleged foreign ownership, have no basis in law.
Rodriguez points out that ABS-CBN chairman emeritus Eugenio "Gabby" Lopez III was born to Filipino parents under the 1935 Constitution. In effect, he was born a Filipino citizen.
The lawmaker also stresses that there is no violation on ABS-CBN's issuance of Philippine Depositary Receipts, which have approval of the Securities and Exchange Commission.
June 1, 2020 - 10:53am
Rep. Vilma Santos Recto (Batangas), sponsoring her bill granting ABS-CBN a franchise, says the network has helped the economy in creating economies by creating jobs for 11,000 people.
Santos Recto shares her concern to affected ABS-CBN employees as the House committees on legislative franchises and good government and public accountability resume their joint hearing on the network's franchise renewal.
"Marami pong umaasa sa mga talents ng ABS-CBN, kasama na rin po ang kani-kanilang mga pamilya. Let us give due consideration to the talents of ABS-CBN. They are also part of the workforce of the country," she says.