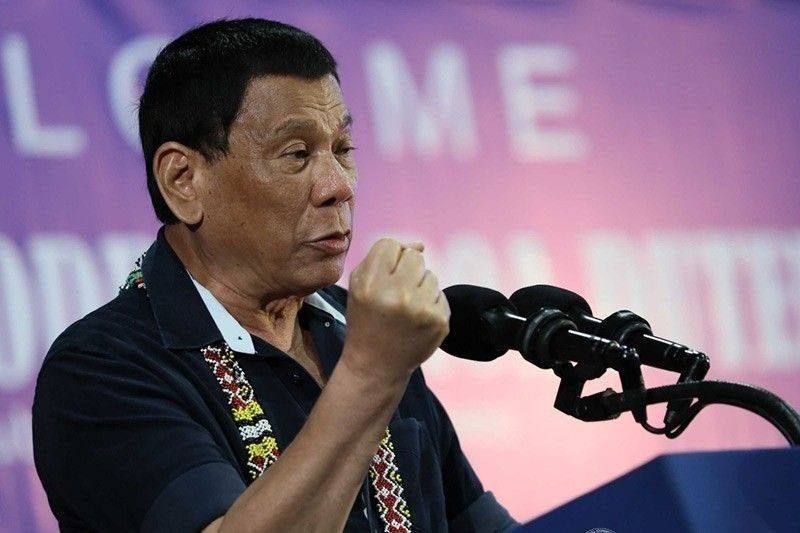 Duterte ordered the Philippine National Police to intensify patrols so the public, including those working in hospitals and health centers, would be safe and secure as they go about their daily routines.
Ace Morandante/Presidential Photo
After bleach incident, cops tasked to secure health workers
MANILA, Philippines — After warning certain groups against disrupting peace and order during the quarantine period, President Duterte has vowed to go after individuals who would harm health workers.
Duterte ordered the Philippine National Police (PNP) to intensify patrols so the public, including those working in hospitals and health centers, would be safe and secure as they go about their daily routines.
The President issued the order after learning the fate of a healthcare worker from St. Louis Hospital in Tacurong, Sultan Kudarat, who was attacked by five men on March 27.
The suspects doused the worker with bleach, believing he is a carrier of coronavirus disease 2019 (COVID-19).
Duterte denounced the incident, saying he would not mind if the suspects themselves would be doused with the same chemical as a punishment for their actions.
"There are people who do such things. I am ordering the police to go around. Don't stay in your stations, walk around in tandem and go after those rude individuals," Duterte said in a taped television address on Wednesday night.
"If you arrest them, splash their faces with what they splashed on the health worker or doctor, so everything will be even," he added.
Duterte assured the frontliners that he would support and defend them.
"Do not harm the doctors and the health workers. They're the same people who would take care of you if you would seek treatment in hospitals," he warned.
He urged the police and the military to jail local officials, including barangay officials, who would shortchanged their constituents of relief goods and cash amelioration allotted by the government for low income earners and those who belong to the informal sector.
Angered by an incident in Quezon City involving allies of the left-leaning urban poor group Kadamay, Duterte ordered authorities to shoot them dead if they would insist on disrupting peace and order.
In response to Duterte's order, PNP chief Gen. Archie Francisco Gamboa directed his men to protect healthcare workers against any threat.
To address the problem, Gamboa ordered police officers to provide health workers free transportation from their homes to their workplaces.
Gamboa earlier ordered his men to secure hospitals and ensure the safety of its workers as well as arrest anyone who will attack them.
'Social vigilantes'
The National Privacy Commission (NPC) condemned what it described as "social vigilantes" who attacked or threatened health workers.
The attacks were unacceptable and perpetrators should be arrested and prosecuted in accordance with the law, according to NPC chief Raymund Liboro.
"We denounce people who irresponsibly publicize the personal data of persons under investigation (PUIs) and monitoring (PUMs), exposing them to danger even graver than the novel coronavirus itself," Liboro said in a statement issued yesterday.
"Our health workers, as well as the PUIs and PUMs under their watch, are not the enemy. They are on the battlefront of the public health emergency, doing their part to contain the crisis and deserving support and compassion from the rest of us," he added.
Liboro said the so-called social vigilantes are those who take it upon themselves to enforce their views on what they consider appropriate beliefs and behavior.
"The health workers are being attacked as a group, prompting a number of them not to wear uniforms in public out of fear of being discriminated against or worse, assaulted," Liboro said, adding the NPC is ready to take action against these social vigilantes. – Christina Mendez, Emmanuel Tupas, Rainer Allan Ronda, Robertzon Ramirez.