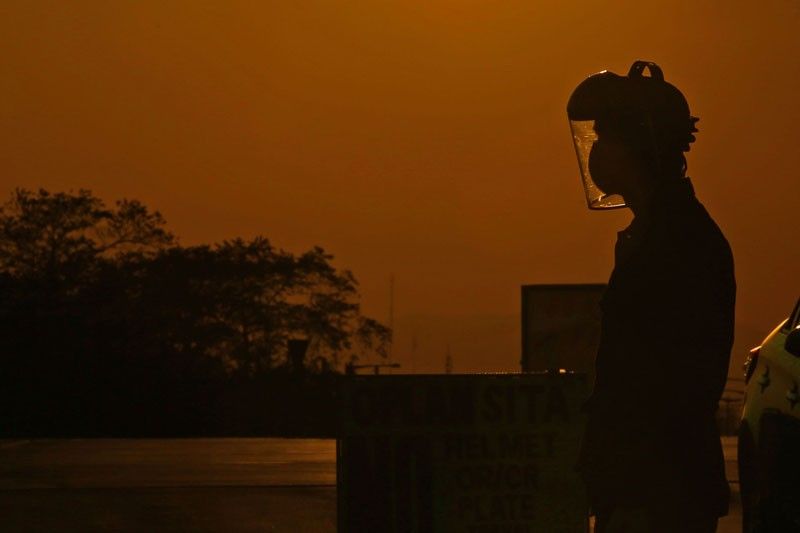 The new deaths were a 70-year-old male from Quezon City, a 71-year-old male from Iloilo and a 78-year-old male from Manila. All had no travel history, the Department of Health (DOH) said.
Walter Bollozos
COVID cases surge to 1,418; deaths at 71
MANILA, Philippines — Confirmed coronavirus disease 2019 (COVID-19) cases yesterday surged to 1,418 while three new deaths pushed to 71 the number of fatalities due to the infection.
The new deaths were a 70-year-old male from Quezon City, a 71-year-old male from Iloilo and a 78-year-old male from Manila. All had no travel history, the Department of Health (DOH) said.
Health Undersecretary Maria Rosario Vergeire said 343 new cases brought to 1,418 the number of COVID cases yesterday.
She attributed the surge in the number of confirmed positive COVID cases to the improvement in testing capacity as well as the active contact tracing of those exposed to COVID-positive individuals.
Also yesterday, the DOH reported seven new recoveries, bringing to 42 the total number of recoveries.
One of the new recoveries was a 13-year-girl from Quezon City. She was asymptomatic and discharged from hospital after one negative test result for infection on March 16.
Others who recovered were a 32-year-old female from Makati, a 35-year-old Quezon City resident, a 41-year-old male from Tarlac, a 35-year-old male from Caloocan, a 44-year-old male from Pasig and a 33-year-old male from San Juan.
"We are appealing to the people to abide by quarantine rules or cases will continue to rise," Vergeire said in a press briefing as she stressed the importance of early detection and treatment in the recovery of patients.
She said the DOH is coordinating with the Chinese embassy and the Department of Foreign Affairs for the arrival of experts from China.
"We have observed that there is no new cases being recorded in Wuhan and we want to replicate that and stop the COVID," she said.
Vergeire also announced that volunteer health workers who would be deployed to COVID referral hospitals would be provided with allowance and accommodation while they are undergoing 14-day quarantine after serving a two-week duty.
Aside from the daily allowance, she said volunteers would be given hazard pay, transportation allowance and in case they get sick, their medical expenses would be shouldered by PhilHealth.
Anthony Dofitas, one of the doctor volunteers assigned at the Philippine General Hospital, said they have volunteered their services because they know how grave the situation is.
"This is not just any war. We want to do our part in stopping the COVID," Dofitas said.
Vergeire condemned the harassment and violence committed against health workers after receiving a report that misinformed individuals splashed bleach on a health worker for fear of getting infected with the virus.
"Let us give importance to the sacrifices of our health workers. At this time of crisis, we should not harass or discriminate against them," she stressed.
She said the DOH had already started the distribution of personal protective equipment for health workers in government hospitals nationwide.
As of yesterday, the department recorded 874 persons under investigation and 6,321 persons under monitoring.
A total of 2,686 people have been tested for COVID, it said.
'Community quarantine effective'
Presidential spokesman Salvador Panelo yesterday disputed claims that the growing number of COVID-19 cases reflected the failure of the Luzon-wide enhanced community quarantine implemented by the government.
"Some quarters expressed the opinion that such increased number of COVID-19 cases shows that enhanced community quarantine or partial lockdown is ineffective in flattening the curve. We beg to disagree," Panelo said in a statement.
"As the manufacture and supply of testing kits become available, plus the establishment of additional COVID-19 testing centers, there are more people being tested now than before, necessarily the hitherto unknown cases of COVID-19 have surfaced hence the galloping increase in number," he said.
Panelo said few COVID-19 cases were reported two weeks ago because of the lack of testing kits, and that the number of cases could have been "staggering" if the lockdown were not imposed.
"With unrestricted movement of the population, with each individual being a potential carrier, the coronavirus would have an untrammeled leap-frogging from one person to another," he said.
Revilla staff succumbs to COVID
Meanwhile, a long-time male staff of Sen. Bong Revilla yesterday succumbed to COVID-19.
"I lost my staff and friend of almost 30 years to COVID-19 this afternoon. I ask everyone for prayers, especially for the loved ones he left behind," Revilla said in a statement.
"Everything was so fast and sudden. He had been with me since my acting days – through the ups and downs, the thick and thin – and now he's gone," he said.
He thanked his departed staff for loving him and his family, especially during their difficult times.
"We had a good run. I will miss you. It will not be the same," Revilla said.
The senator reminded Filipinos that COVID-19 is virulent and makes no distinction on its victims.
"I pray that no one else experience the pain that we're going through now," he said. – With Alexis Romero, Paolo Romero