Parañaque curfew violators tortured?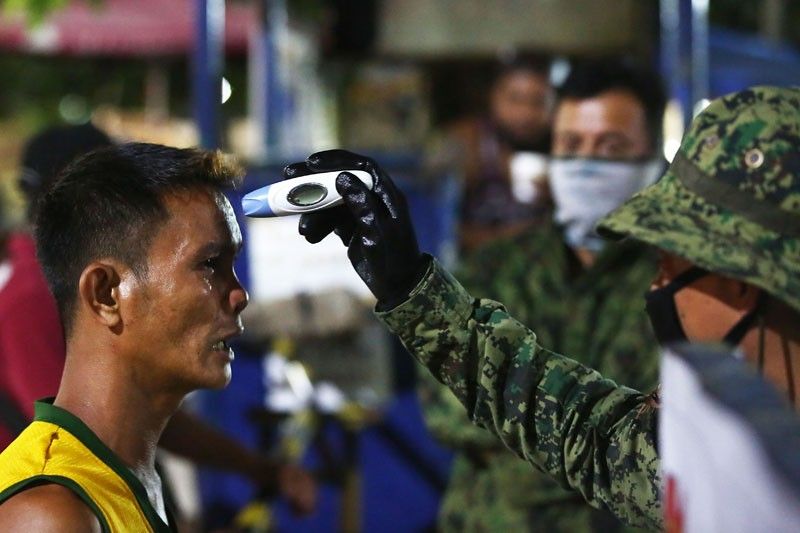 MANILA, Philippines — A barangay in Parañaque drew criticism for leaving violators of the city's 24-hour curfew to sit under the heat of the sun.
Barangay San Isidro chairman Noel Japlos posted on Facebook on Monday a photo of several people sitting on monobloc chairs in the middle of a basketball court.
"Everyone caught violating the curfew we will place here," he wrote in the caption.
The post has since been deleted.
Some netizens questioned the legality of the move, saying it is torture.
Japlos, in an interview yesterday, said it was "not punishment," noting there was not enough space in the barangay hall.
"We placed them in an open area for social distancing. We do not have any punishment for curfew (violators)," he said.
Japlos said authorities merely verified the names of those apprehended.
"We just looked for a venue," he said.
National Capital Region Police Office (NCRPO) director Maj. Gen. Debold Sinas said the barangay officials were "merely recording their names to determine the recidivists and for future reference."
Pasig rolls out mobile markets
The Pasig City government yesterday rolled out "mobile palengke" flatbed trucks converted into grocery stores, which would allow residents easy access to rice, meat and vegetables while Luzon is under enhanced community quarantine.
Mayor Vico Sotto said five of the city government's trucks would stop by certain barangays to sell food items sourced from the city's Mega Market.
He said the initiative would complement the distribution of 400,000 grocery packs in each barangay.
"I would like to remind people how big these operations are. It is impossible to perfect these in a hurry," Sotto said, adding that it could take up to seven days to make the rounds of impoverished areas in Pasig.
Overpriced scanners, gloves
Five persons were arrested for allegedly selling overpriced thermal scanners and surgical gloves during an entrapment operation along Boni Serrano Avenue in Quezon City on Monday night.
Karen Perfecto, Anthony Obuyes, Allan Iglesia, Domingo Belchez and Ronald Condrillon yielded 25 cartons of surgical gloves and two cartons of thermal scanners worth P317,500.
Criminal Investigation and Detection Group (CIDG) director Maj. Gen. Joel Napoleon Coronel said the suspects hoarded and sold the scanners and gloves for P6,100 and P310, respectively.
The rates are way above the standard retail prices set by the trade and health departments, which are P1,000 for thermal guns and P160 for surgical gloves.
Window hours in Caloocan
The Caloocan City government yesterday imposed window hours for residents to go to markets and groceries for essential needs.
Residents took to Facebook to complain about how the window hours for going outside resulted in congested markets, making social distancing impossible.
In a phone interview, Mayor Oscar Malapitan stood firm on the window hours so that people would have no business going outside except to buy essential goods.
The Interagency Task Force on Emerging Infectious Diseases has not authorized the imposition of window hours in the implementation of the community quarantine.
Caloocan residents are given from 6 a.m. to 9 a.m. and 4 p.m. to 7 p.m to go to the wet market to buy goods. Those going to groceries in malls and pharmacies are given the period from 6 a.m. to 7 p.m.
Metro Manila cop tests positive
A patrolman from the Manila Police District (MPD) was the first among Metro Manila's police to test positive for coronavirus disease 2019 (COVID-19), the NCRPO confirmed yesterday.
Sinas said the police officer, assigned to one of the MPD's stations, was deemed a person under investigation (PUI) on March 17.
The police station has been ordered disinfected and the police officer's colleagues have begun their 14-day quarantine.
"As soon as the decontamination takes place, other police officers will take over the duties and responsibilities of the station while the colleagues are considered PUIs," Sinas said in a statement.
Also on March 17, a sergeant assigned to the MPD-CIDG died of respiratory failure secondary to pneumonia at the Adventist Medical Center Manila after being diagnosed with a tonsil infection. His test result, released later, indicated he had COVID-19.